Pacific coaches give new wrestling rules mixed reviews
by
Dave Ornauer
February 1, 2006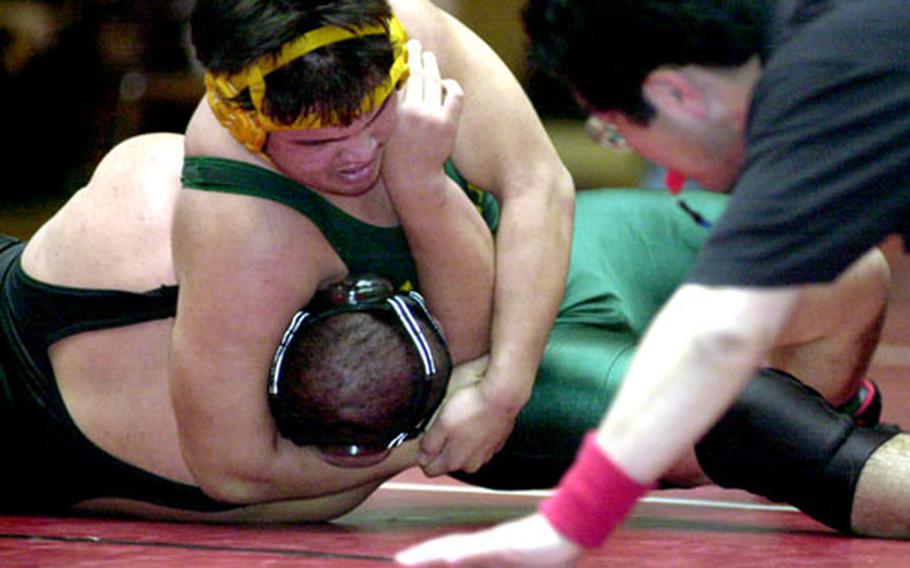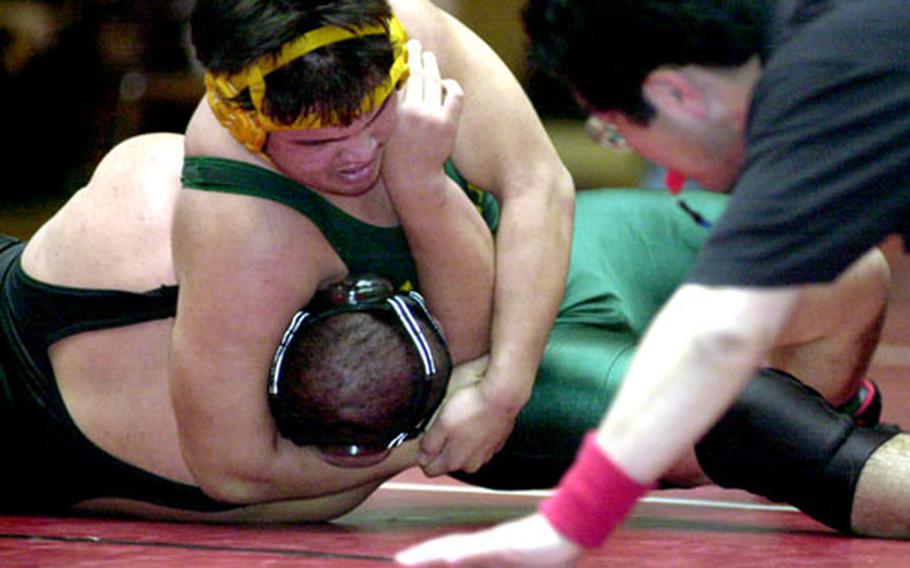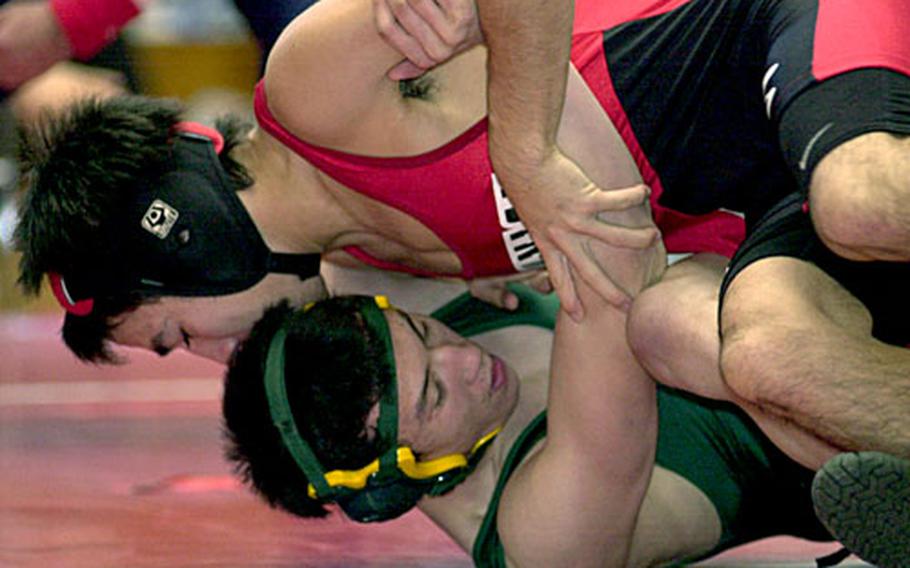 YOKOSUKA NAVAL BASE, Japan — Some of the new rules implemented in wrestling this season, designed to promote aggressive wrestling, are instead having the opposite effect, Pacific high school coaches say.
Speaking at Saturday's Kinnick Invitational "Beast of the Far East" Tournament, a handful of coaches complained that the new International Wrestling Federation (FILA) rules include loopholes that permit wrestlers to seize the lead, then stall out the remaining time to win a period.
"A guy goes up by two points, you don't see him wrestling aggressively," said Go Yamada, a former Far East tournament champ who's now an assistant coach at his former school, Nile C. Kinnick. "There's more stalling, and there's no 'passive' call."
"I don't think they're having the intended effect," added Jon Rhodes, who's coached high school wrestling for 39 years and will retire after 15 years with St. Mary's International at the end of this season.
In an effort to make the sport more TV and spectator friendly, FILA drew up what Rhodes called its "most radical rule changes yet."
Pacific wrestling is governed by international freestyle rules.
The changes, coaches complained, mainly play into the hands of defensive, passive wrestlers.
Decisions are determined by periods won, rather than total points. No longer must a wrestler score at least three points to win; one is enough to win a period, and wrestlers are not penalized for passive wrestling.
Time and again at "Beast," a wrestler would score a takedown, two-point tilt or three-point throw, then circle around the ring or tie up his foe to prevent him from rallying.
"It encourages passive wrestling, rather than aggressive wrestling," Rhodes said.
"Two points and stall. Two points and stall. You can avoid being aggressive by just running around the ring. That's not the intent. The intent of the sport is to wrestle aggressively," said coach Steve Schrock of Kadena.
One wrestler who felt some of the rules worked to his benefit was Steve Courtney of Kubasaki. The defending Far East champ at 148 pounds wrestled folkstyle rules in high school in Virginia two years ago, the old FILA rules last year in his first season at Kubasaki, then the new rules this year, which he says suit him best of all.
"It works to my advantage," he said. "I'm not the strongest on my feet. I'm a strong mat wrestler. I can gut wrench over and over. Plus, the two-minute periods, you can go harder instead of pacing yourself for two three-minute periods. You can get a 6-0 lead in 45 seconds in the first and second periods and you're done. I'd rather be wrestling these rules."
Other wrestlers expressed mixed feelings, including Yamato Cibulka, last year's Far East 158-pound champ who, like Courtney, struck gold at "Beast" on Saturday.
"Unlike other years, you can gut all day and win all your matches. So you teach a rookie the gut wrench, and he'll be unstoppable," he said, adding that the winning by periods instead of points "makes it more exciting. It revolves around which wrestler is conditioned enough to stay up for three rounds and who has the most heart to win the third round."
But the passive aspect, he said he could do without. "I like aggressive wrestling. You get more out of it than just pushing your opponent out of bounds, getting cheap points like that, then just control the whole match. No technique involved in that."
To a man, coaches said that FILA should not have dumped the passivity penalty, that just penalizing a wrestler for running or being pushed out of bounds isn't enough to encourage wrestlers to be aggressive.
"There should still be passivity," Schrock said.
That sort of help won't come for another four years, until FILA's next rule changes. Until then, coaches will teach their wrestlers to work within the current parameters, Yamada said.
"We're teaching them to circle more, make sure you don't step out of bounds, stay on your toes, look to push your opponent out of bounds, and work on multiple tilt holds," he said.
Still, most coaches said they'd rather that things hadn't changed so radically. "I'd rather be wrestling under the old rules," Yamada said.