Outside hitter Jackson making an outsize impact for Falcons
by
Gregory Broome
September 18, 2018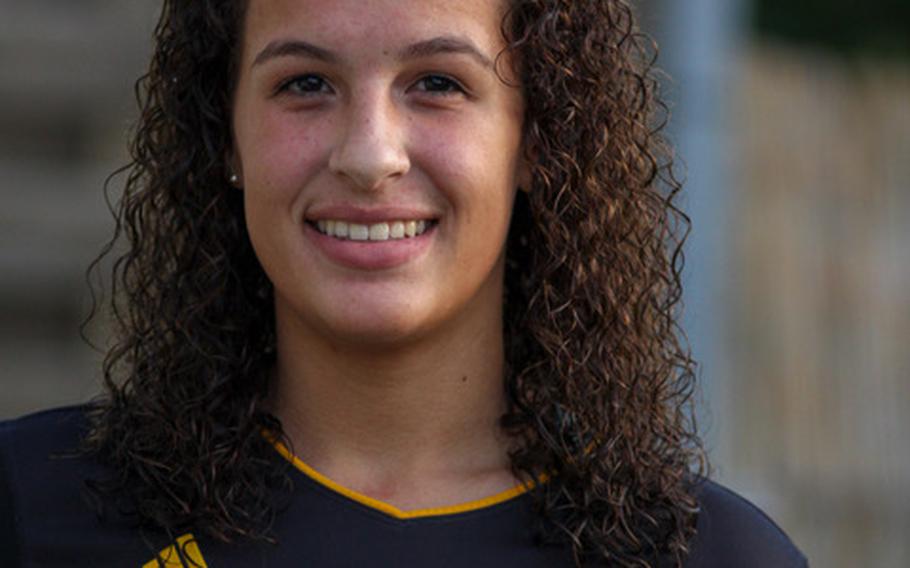 When Cecelia Jackson arrived from Texas, Vilseck volleyball coach Brian Swenty "saw her potential immediately" as an "impact outside hitter."
On Saturday, that impact was undeniable.
The senior turned in a powerful all-around performance in the Falcons' grueling 25-15, 25-17, 21-25, 27-25 defeat of Black Forest Academy on Saturday. Jackson stuffed the stat sheet with 13 digs, 10 kills and five service aces, demonstrating both her dominance up front and her advanced all-around skill set.
"She has a wicked jump float serve," Swenty said. "And has the ability to terminate from anywhere on the court with a wide range of shots."
Swenty said that Jackson "struggled a little with consistency" as an outsider hitter last season but has "grown leaps and bounds" since. This year, Jackson "could be one of the best outside hitters in DODEA-Europe," Swenty said.
Jackson's emergence bolsters Vilseck's presence at the net, elevating a group that also features senior middle blocker Tedeja Marshall and sophomore outside hitter Bela Fedorisin. That core has the Falcons poised for a lengthy run in November's Division I European tournament.
Jackson, of course, will have a major impact on her team's postseason fortunes.
"She never leaves the floor and is crucial to our success," Swenty said. "She can do it all with proficiency and is only getting better."
broome.gregory@stripes.com
Twitter: @broomestripes