Osan springs upset on Seoul American
by
Alfredo Jimenez
September 14, 2009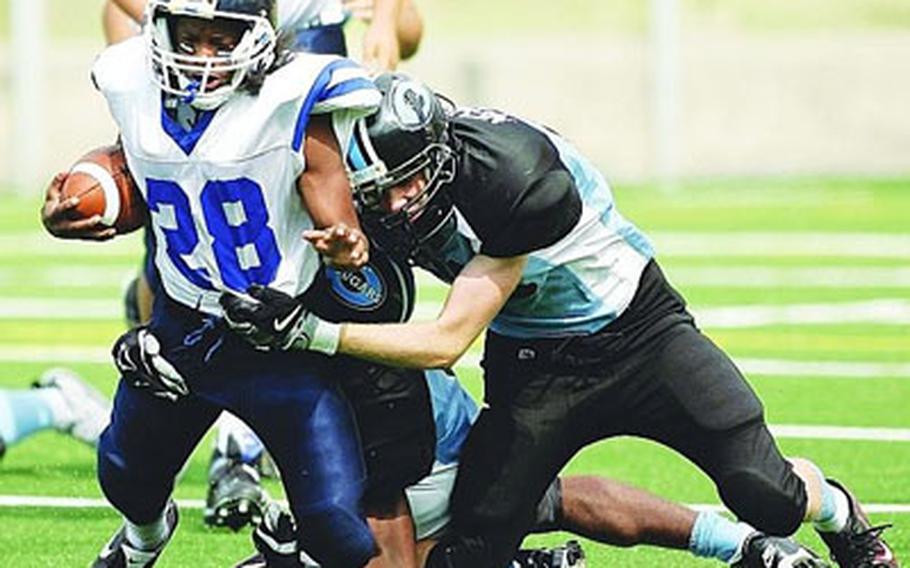 OSAN AIR BASE, South Korea — Coach Mike Miano was the first to admit his Osan American Cougars were too small to compete with the bigger, faster defending Far East Class AA champions from Seoul American.
So the smaller, slower Cougars used relentless defensive pressure and took advantage of Falcons mistakes to end a three-year victory drought against their large-school brethren.
Falcons freshman quarterback Brandon Morton fumbled at the goal line and Cougars linebacker Michael Gilliam scooped the ball and ran into the end zone to help Osan shock the Falcons 12-0 Saturday at newly christened Cougars Field.
"I've always said defense wins championships," Miano said. "Our defense played incredibly tough."
"There are no excuses for our play today," Falcons coach Alan Morton said. "We just got beat by a better team that worked hard for the win."
The Falcons were hindered by penalties, including two unsportsmanlike conduct calls, eight offsides, one pass interference and a nonexistent running game. The Cougars allowed only 108 yards of offense, forced five fumbles and recorded three sacks to send the Far East champions to the canvas, battered and bruised.
"That fumble happened because the running back forgot what to do," Brandon said. "He's been hurt and hadn't run that play in a while."
After Seoul's Demetrius Johnson recovered a fumble at the Falcons' 35-yard line in the third quarter, the Falcons gave the ball back on the very next play when quarterback Michael Mascolo's pitchout was recovered by Cougar defensive linebacker Tim Neher.
Also, the offensive line could not contain Gilliam. The 240-pound linebacker broke through the Falcons' line twice and assisted on a third sack to stop Mascolo, and ultimately feasted on Brandon Morton for the key play of the game.
"Everything happened so fast," Gilliam said. "But it was all in the moment and I'm glad I was there to score the touchdown. Nonetheless, it was made possible by my teammates and their unbelievable willingness to never stop trying to get to the ball."
If Saturday's game is any indication, the Cougars are off to a good start in their bid to win their first Far East Class A title since 2005. The Falcons hadn't lost to Osan since a 35-23 defeat on Sept. 16, 2006.
Osan made a winner of Miano, who served as a defensive assistant for 10-time DODEA Japan champion Yokota last year and for Class A runner-up Daegu American in 2007.
Second, after weeks of practicing at other sites, the defending Class A runner-up Cougars finally got a chance to play on their new field. Osan's 51st Fighter Wing, U.S. Forces Korea and DODEA partnered to come up with the $700,000 needed to give the field a facelift.
"We're happy that we're able to provide a lasting facility for the community, not just for the high school football team, but for youth activities as well," 51st Fighter Wing commanding officer Col. Tom Deale said.
---
---
---
---