Home Team
Osan principal also wearing coach's hat
by
Dave Ornauer
February 3, 2016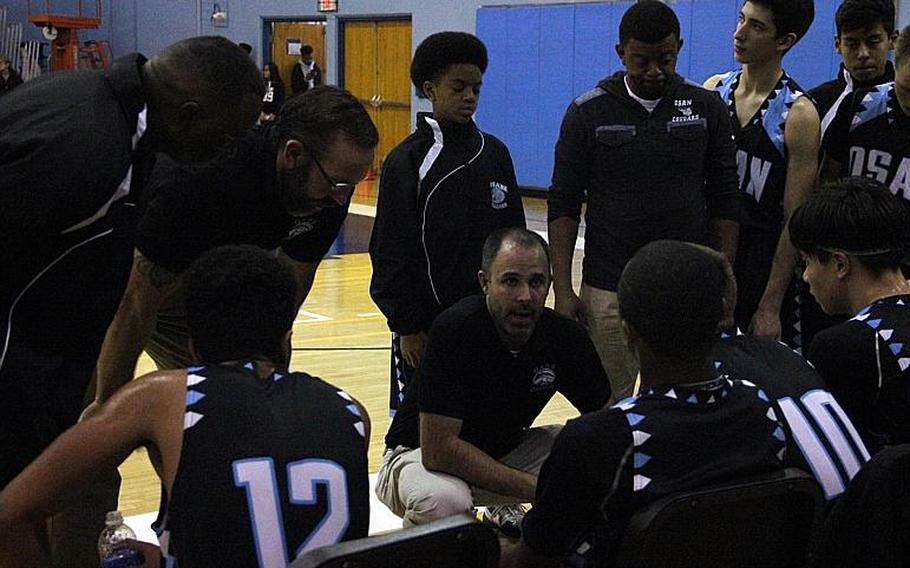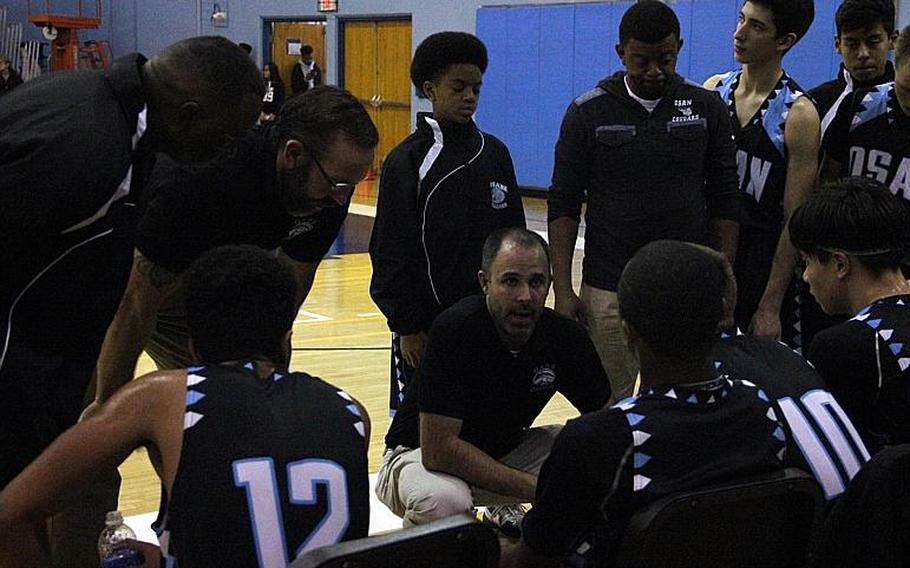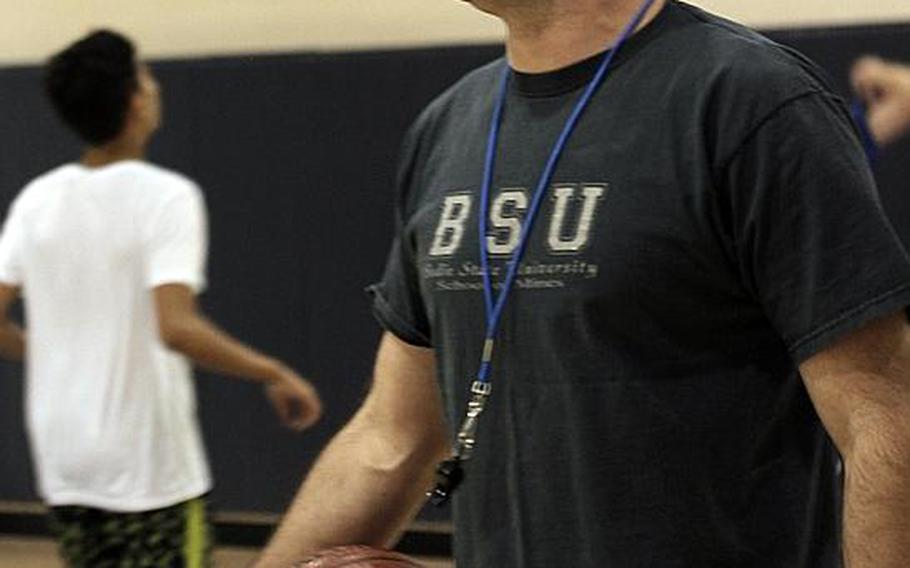 It's not at all unusual to see high school principals at DODDS basketball games. Attending such events is a part of the job.
Seeing one striding along the baseline while coaching a team, though, is a different matter.
So Osan principal – and head boys basketball coach – Morgan Nugent is covering some rare ground while guiding the Cougars this season.
Nugent is believed to be the first principal in at least the last 30 years to be the regular head coach of a DODDS varsity team.
Despite finishing tied for fourth in the regular season a year after winning the Korea Blue tournament title for the first time, principal/coach, athletics director and players agree the experiment has largely been positive.
"I think he's really enjoyed it," athletics director Linda Concepcion said. "It's been good for him. He's remembering what it's like to be a teacher-coach. He sees what teacher-coaches go through (and) the kids see him in a different light."
Nugent taking the coaching job did raise a few eyebrows within the DODDS Pacific area office and the DODDS Korea district office, the latter to whom Nugent reports directly as principal. But both eventually gave their blessing, officials said.
There is the argument that as coaches principals could have their attention occupied with wins, losses and things other than their primary job: running the entire school. And what might happen when there are differences of opinion between the coach and the athletic director – who just happens to report to the principal. Or what happens if the coach faces any disciplinary action? All of those have been discussed, officials say.
According to DODDS Pacific athletics coordinator Don Hobbs – himself a former coach at Kubasaki – nothing in DODDS' Pacific Area Interscholastic Athletics Manual prohibits a principal from coaching.
And though no DODDS coaches make a fortune coaching, Nugent is a bargain. As an administrator, he can't get paid for such an extra duty. So he's essentially coaching for free.
Nugent might have been happier if his Cougars had won more than three games. And if his team had a fully healthy starting lineup from Day 1. Four regulars - Sung DeAngelo, Justin Maglalang, Darron Miller and Matthew Burbee - spent much of the early season out with injuries.
Nugent says he's seen much in a different light as a coach. "It requires a lot of additional time, hours, later nights, longer hours on weekends, time away from family," he said. "There are some sacrifices that have had to be made."
Last year's coach, James Toliver, transferred to the States, and though the word went out repeatedly throughout the Osan school complex, nobody stepped forward to take over. Thus, Nugent raised his hand, he said.
"We needed to have a coach," Nugent said. "It's not right for our kids not to have somebody to coach, especially somebody who has a passion for it. I could have assigned somebody, but that would have been a recipe for disaster. On top of it, it gave me a way to really remember why I got into education."
Nugent hadn't coached since his days as an assistant back in his hometown of Coleville, Calif., just prior to joining DODDS in the late 2000s, and last was a head coach at Oak Ridge (Mo.) in 1998-99.
In his time at Osan, and three years prior spent at Matthew C. Perry in Japan, Nugent spent time in the classroom teaching government and economics "just so I don't lose touch," he said.
"It's so easy to get so busy with administration that you forget the education piece. It beats the day-to-day grind of administration. You get to interact with kids, see a whole different light and side of them, see what they're dealing with and see what we can do on our end to make it a better experience and help them through tough times overseas."
Within DODDS, coaches are primarily classroom teachers working extra-duty contracts. In addition to lesson planning and grading, coaches also must do everything from arrange bus and billeting for road trips.
"It's important to remember the challenges that coaches face," Nugent said. "It makes it easier for them. It's easy to assign tasks, but when you haven't done it (coach) in awhile, you lose that human touch and you need to remember that to do a better job in (Nugent's) position."
Coaching also helps Nugent and the people who work under him "strike a balance" between what he calls the "three pillars" of education.
"The principal needs to be supportive not just on the academic side but the athletics and the arts," he said. "If we put too much emphasis on any one of the three, you're dooming yourself to failure with parents and kids. You have to balance yourself with all three."
So far, no parents have openly voiced disagreement with his coaching style or a player's playing time. "Kind of shocking to me," Nugent said.
He's drawn just one technical foul, in a 42-40 loss Jan. 9 to Daegu; a second one in the same game would have resulted in his disqualification and a trip to the district superintendent's office. "Thankfully, that hasn't happened," Nugent said.
His players seem to have taken to the school's head man also being the team's head man.
"He's a fantastic coach," DeAngelo said. "He runs the team very well. He's very good at organizing and teaching the players, gets them to know what they need to do, to understand what they need to do."
Nugent says he enjoys the camaraderie with the players and the Cougars' stature as the Davids playing against the Goliaths.
"Unfortunately, we haven't slain them," Nugent said, pointing to the Cougars' record and the myriad injuries. "We haven't had much of a chance to play together this year. The kids have had to overcome adversity and challenges, but they learn and grow from that."