Home Team
Osan pitcher weighs long-term health, love of baseball
---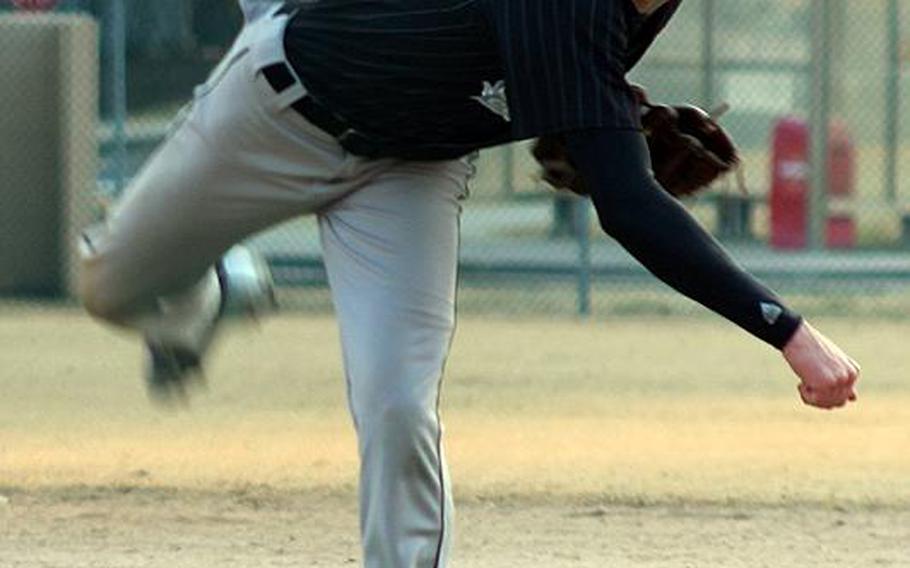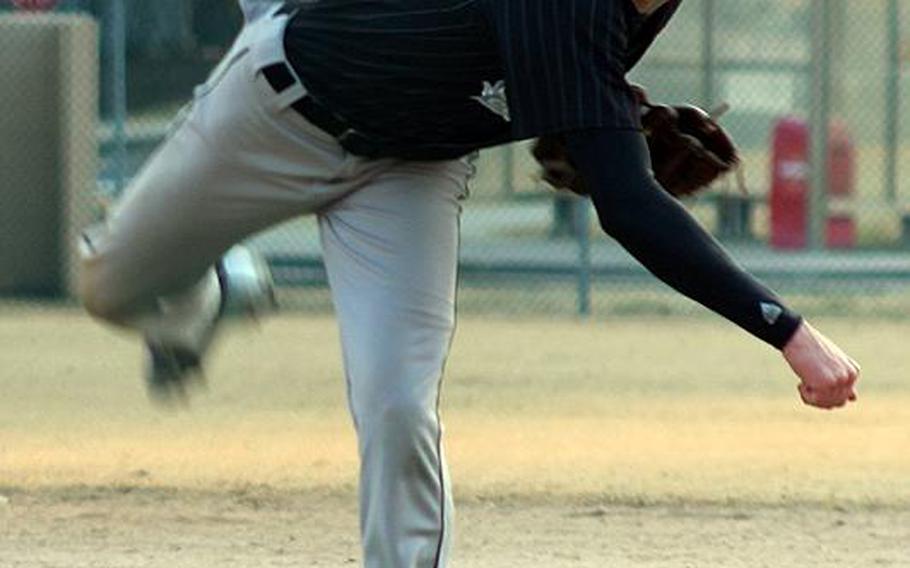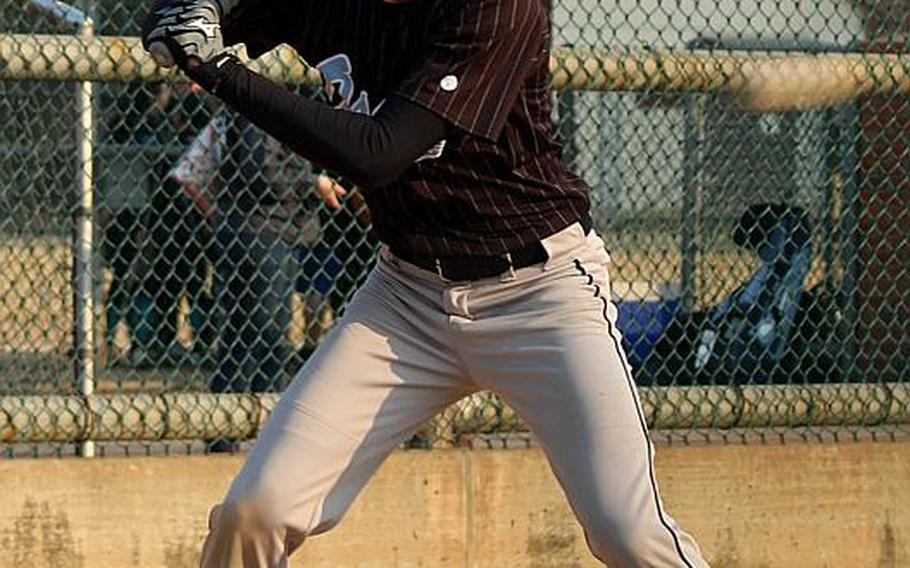 Aaron Misner's comeback stalled last week.
His Osan Cougars led Seoul American 5-0 last Friday, but the game began slipping away and the senior right-hander was inserted in relief to help stop the bleeding.
To no avail. Misner is still on the mend after shoulder surgery last fall following a separated shoulder suffered during football season; now, his elbow was acting up. He had faced four batters, given up two hits and the Falcons were charging back.
"Coach, I don't have it," Misner said to Don Tusha when he visited the mound to talk to his pitcher.
Taking no chances, Tusha, the Cougars' second-year coach, removed Misner, erring on the side of protecting his player's health rather than gambling it for the sake of one game, which the Cougars would eventually lose to the Falcons 6-5.
Wednesday, Misner took to the mound again, pitching 2/3 of an inning in Osan's 8-8 tie with Humphreys. He struck out two and gave up two hits. He didn't report any discomfort.
It's a balancing act that many players and coaches face: They both want to win, and win now, but to do it at the risk of the player's health?
"It was definitely really hard, sitting on the bench after I came in and sat down," Misner said. "But I didn't want to keep throwing, tear a ligament or a tendon and be out for the season. Conserving my arm and tending to my health and not sit in a hospital bed."
"You have to take care of your kid," Tusha said, adding he already had Misner on a pitch and inning count and didn't want to hurt the comeback by making him throw too much.
"He's come a long way from that surgery," Tusha said. "We didn't know whether he would be able to pitch as recently as the last six weeks."
Misner's shoulder was hurt during Osan's homecoming football game Oct. 9 against Songdo, a Korean school.
Diving after a loose ball, Misner separated his throwing shoulder but remained in the game, saying that likely due to adrenaline and the emotion of it being homecoming, he felt no pain until he was taken to the emergency room as a precaution.
"Getting a painkiller shot, I was thinking, 'Wow, my shoulder is separated,'" Misner remembered. "I wanted to stay in and continue playing and get Osan its first victory on homecoming. You wish you could go back in time and not dive for the ball, but it is what it is."
Capt. Nicolas Skordas, an orthopedic surgeon, performed arthroscopic surgery to repair ligaments that stabilize the AC (acromioclavicular) joint atop his throwing shoulder.
Next came several months in a comprehensive shoulder rehabilitation program to engender full shoulder mobility and strengthen the muscles to regain normal throwing function.
Whether that would come about worried Misner, he said. "I was definitely incredibly scared that I was never going to be able to throw again. It was depressing, to say the least. It was a driving force for getting on the mound, pitching for Osan and be better than I was."
"For awhile, I couldn't lift my arm over my head, the pain was so unbearable," Misner said. "The therapy plan whipped me back into shape and was the biggest help in getting me back on the mound and pitching."
Misner began throwing off a mound in late February. "It was terrifying, getting up there and hoping I don't throw out my arm, pop the shoulder back out," he said. "My arm wasn't used to the motion. It definitely took me awhile for my muscles to remember how to deliver the ball."
Tusha did what he could to save wear and tear on Misner's arm, having him play first base, where he'd be catching throws more than throwing.
"Limit the amount of throwing he does, try to limit the number of times he has to throw during the week and monitor pitch counts," Tusha said. "(He may not) like it sometimes (but) I'll pull him out generally after three innings, that's the limit for him."
He got the opening-day start for the Cougars on March 23 vs. Humphreys. He threw shutout ball the first three innings, during which Osan took a 9-0 lead. Two pitchers relieved and the Blackhawks cut it to 9-8 before Misner was re-inserted and got the final out to save his own win.
"I wasn't throwing at full speed, I was very conscious of my shoulder, didn't want to throw my arm out in the opener," Misner said. "I got up there and did what I had to do. It ended up turning out in my favor."
But then came the four-batter stint against Seoul American, reminding both player and coach that such a rehab will have its ups and downs. It takes a player being honest and a coach who can read his players well to know when the player should say when.
"Aaron's pretty good about it. He's pretty honest. He'll tell you when he's hurting," Tusha said. "You have to have a good relationship with your kids and trust what they tell you about their arm and whatever it is that ails them."
Misner's value stretches well off the field, Tusha said. "I wish I had 15" of him, he said. "He's a model student. He doesn't just carry the team from a physical standpoint. He's everything a coach can ask for as a leader and a student-athlete."
Misner says he'll push ahead despite the setback last Friday, knowing that his next pitch could be his last pitch, or that he might be able to push through the entire season and beyond.
"Definitely not getting hurt is my main concern, but … I'm living for the moment. Whatever happens, happens. You have to live with the consequences and live with the benefits," Misner said. "So far, I'm taking it game by game, week by week, and hoping for the best."
Twitter: @ornauer_stripes
---
---
---
---