Osan men, Yongsan women win Pacific-wide hoops titles
by
Dave Ornauer
December 21, 2007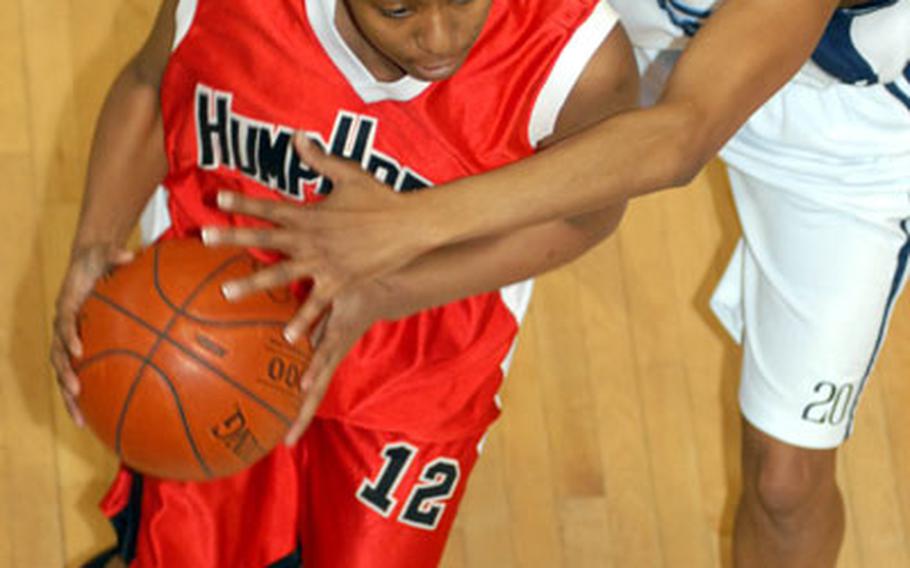 OSAN AIR BASE, South Korea — Brandon Hawkins' knack for hitting free throws almost at will and Breena Harrell's clutch play at the right moment helped pace Osan's men and Yongsan's women to early Christmas stocking stuffers:
Hawkins shot 14-for-18 at the foul line and finished with 21 points as the host Defenders pulled away in the second half to defeat Yongsan Garrison 91-73 and win the Osan Pacific-wide Open Holiday Basketball Tournament men's title.
On the women's side, Harrell scored a team-high 19 points, none bigger than her steal and layup with 2:51 left that put Yongsan ahead for good 69-68 on its way to a 74-68 overtime victory over Camp Humphreys.
Osan's men won the tournament for the second straight year and eighth time in Tony Jones' 15 years as Defenders coach. Yongsan's Runnin' Rebels won the women's crown for the second time in three years.
Men's championshipOsan Air Base 91, Yongsan Garrison 73: Steven James put Osan ahead to stay 17-16 on a three-pointer 10:45 before halftime. The Defenders survived seven early lead changes and four ties. Hawkins scored 14 of his 21 points in the first 20 minutes.
"Practice makes perfect," Hawkins said of his shooting touch, the result of sandwiching sets of 10 to 15 foul shots between series of jump shots, sessions that last as long as two hours.
"You have to get where you don't think about it; you step on the court and it just comes," said Hawkins, 22, an airman first class from Hampton, Va., in his first year of varsity military ball.
Osan coach Jones and Yongsan coach Kenneth Johnson say Hawkins is "going places." Johnson feels Hawkins might end up on the All-Air Force team someday.
Johnson blamed a "lack of execution" on the part of the Rebels' offense and foul trouble for the defeat. "We got into the bonus too early in the first half; they (Osan) got a cushion on us, and we couldn't recover."
Hawkins sank his final two points with 2:03 left, giving the Defenders their biggest lead 89-65.
Montae McFarland chipped in with 21 points, James 13 and Rico Bachelor 12 for Osan. Onterio Hammond hit four threes and finished with 21 points to pace Yongsan, and Kendre Fletcher added 16. High-scoring Rebels guard A.J. Haskins fouled out with just seven points.
Women's championshipYongsan Garrison 74, Camp Humphreys 68 (OT): Harrell stripped the ball from Bulldogs guard Kesha Harper, who with four fouls could only hope that Harrell would miss the ensuing layup. It went in, the last of the game's 13 lead changes.
"She (Harper) was trying to do too much with the ball. I just took off with it the other way," Harrell said.
That the Bulldogs, who dressed just eight players and were plagued by foul trouble throughout, hung with the Rebels as long as they did was a testament to the team's heart, coach Lolita Lyles said. "They played their heart out and just didn't quit," Lyles said.
Humphreys center Lia Green, a former college player at Alabama-Birmingham, suffered most from foul difficulty. She picked up her fourth with 15:29 left and sat all but two minutes the rest of the way. She fouled out with 1:49 remaining with 13 points and 18 rebounds.
"That was huge. Just what we needed," Harrell said.
"Very crucial," Lyles said of losing Green. "It takes the big girl off the floor, who can get the rebounds and score. We needed her in the second half and overtime."
Still, Harper scored 28 points, hitting seven three-pointers, and Humphreys had a chance to win at the end of regulation. Robin Mitchell, who scored 20 points, was fouled at the buzzer on a three-point try, but hit only two of three shots to knot it 66-66.
Terri Cage scored 16 for Yongsan before leaving with a charley horse in her left leg. Shelia Soileau scored her 14 points in the second half and overtime.
---
---
---
---