Osan, Kadena seem like class favorites
---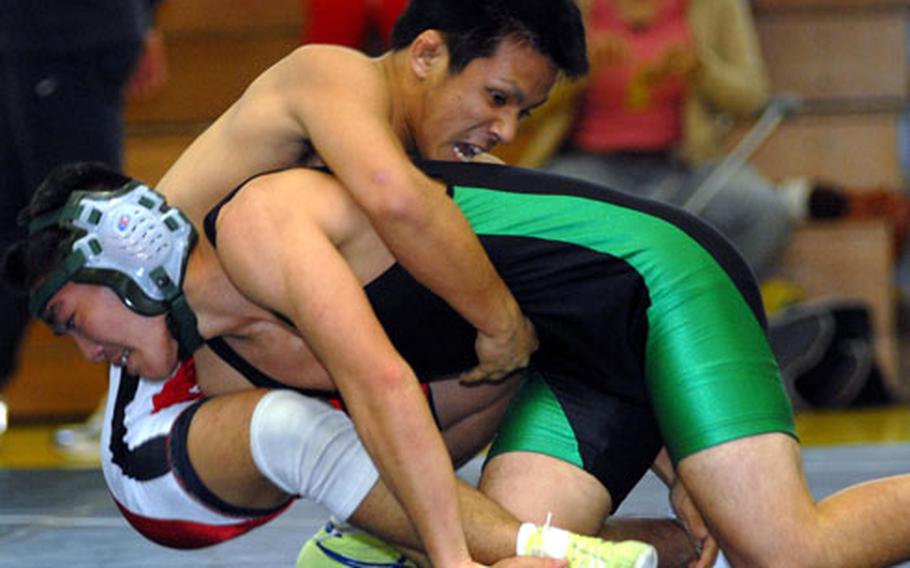 Need a glass ceiling shattered? Look no further than Osan American's wrestling team.
Two years ago, it produced the first small-school athlete to win the DODDS-Pacific Far East Tournament's Outstanding Wrestler award (Carlos Albaladejo).
Last February, the Cougars' Emily Albonetti became the first female to place and earn team points in tournament history.
Will the first Far East Class A team title banner be far behind?
"It could be very interesting," second-year Cougars coach David Hemmer said. "I don't want to jinx myself, but we have a pretty good shot."
For the first time in the tournament's 34-year history, team titles will be given for both Class AA (enrollment of 300 or higher) and Class A schools. That change was made at last spring's Far East Activities Council meeting, and most coaches see it as a good thing.
"It provides a lot of inspiration for smaller teams," Hemmer said. "It gets the kids fired up. They've been beating their heads against the wall going up against the bigger schools with full teams."
"The larger schools are competing for first, second and third; the smaller schools are competing for first, second and third. It's a win-win," said E.J. King coach Thomas Wright.
Still, occasionally you'll have a team like last year's Robert D. Edgren squad that held its own against Class AA opposition.
"It all depends on how things go," Edgren coach Justin Edmonds said. "Some would prefer to have things as they were."
Hemmer says he likes his chances at a Class A title. Osan fills 12 of 13 weight classes, and he speaks highly of four of those 12: Jacob Davis (115 pounds), Derek Becker (129), Michael Gilliam (heavyweight) and two-time Far East runner-up Jesse Crockett (215).
Edgren brings to the table a young squad which features 158-pound contender Darrel Morris. Daegu American brings a solid 158 pounder of its own in Greg Jones.
"Edgren's going to be tough. They have a lot of balance and good skills, a couple of guys who look like they have a real shot at the championship," Hemmer said. "It's going to be a dogfight. The championship will be decided by one or two points."
At the Class AA level defending champion Kadena appears to be an odds-on repeat favorite. Coach Steve Schrock says his Panthers, including returning champion Harry Bloom, are not resting on their laurels.
"We must accept it, embrace it for what it is and keep wrestling," Schrock said of being the favorite.
"We're going in confident. We are not overconfident. There are wrestlers and coaches who want to beat Kadena. If we're the team somebody wants to knock off, we must be doing something right."
They'll face a Kanto Plain Association of Secondary Schools champion Nile C. Kinnick squad that boasts reigning Outstanding Wrestler Cameron Butts. Yokota brings three returning Far East champions to the table, Mark Meade (108), Chris Cournoyer (115) and Tony Presnell (168).
"I have a good feeling," Yokota coach Brian Kitts said.
Far East Wrestling Tournament
Dates: Feb. 11-14, 2009.
Site: Foster Field House, Foster Athletics Complex, Camp Foster, Okinawa.
Participating teams: Seoul American; Kadena; Kubasaki; Guam High; Robert D. Edgren; Nile C. Kinnick; Yokota; Osan American; E.J. King; Zama American; Daegu American.
Format: Individual round-robin for seeding purposes on first day. Double-elimination individual tournament on second and third days. Dual-meet tournament on fourth day.
Schedule of events: Wrestling begins at 9 a.m. all four days. Approximate time of individual freestyle finals, 4 p.m. Friday. Approximate time of dual-meet final, 5 p.m. Saturday.
Awards: Team awards to top six finishers in individual and dual-meet tournaments. Individual awards to top six finishers in each of 13 weight classes. Team scoring is in a 10-7-5-3-2-1 point system.
Team championship leaders
Kubasaki, 20
Kinnick, 6
St. Mary's International, 6
Kadena, 4
American School In Japan, 4
Seoul American, 3
Zama American, 2
Yokota, 2
---
---
---
---