Osan boys advance in Far East tourney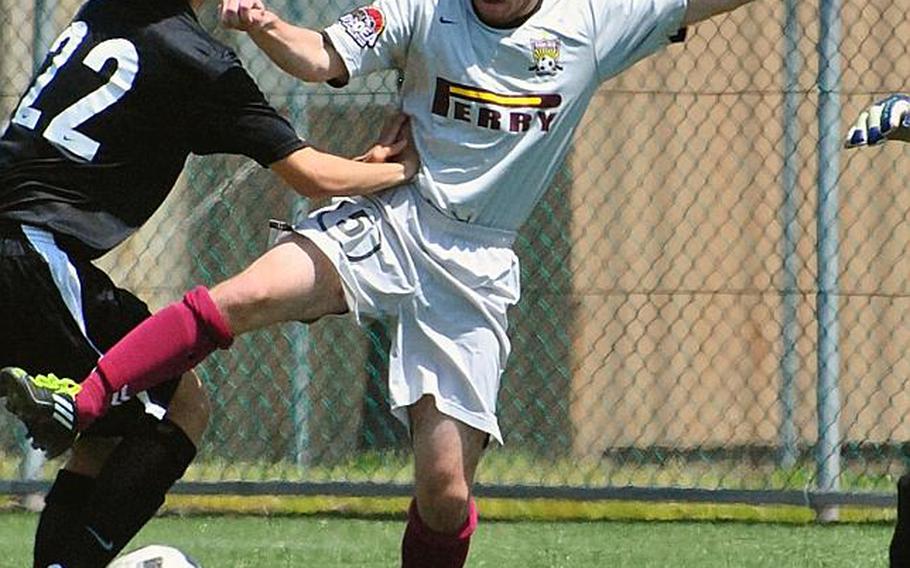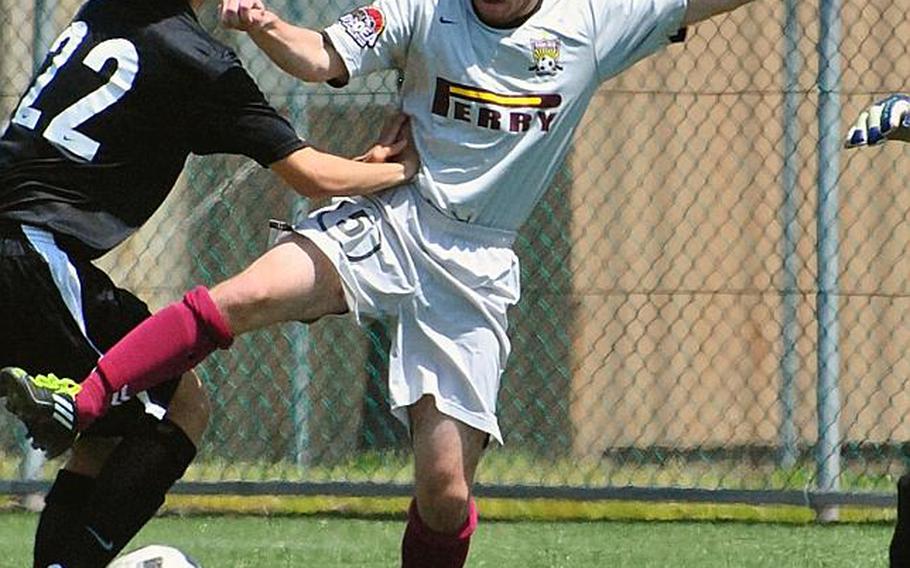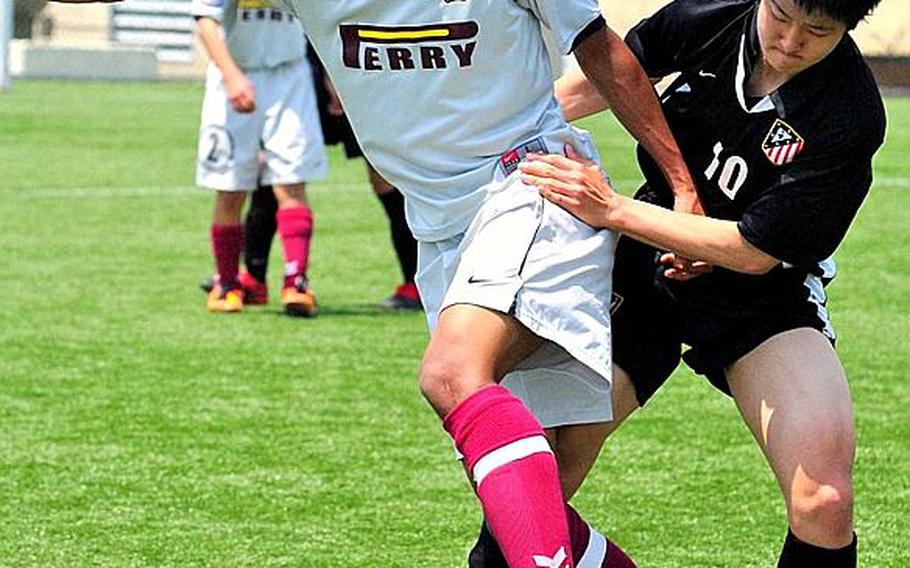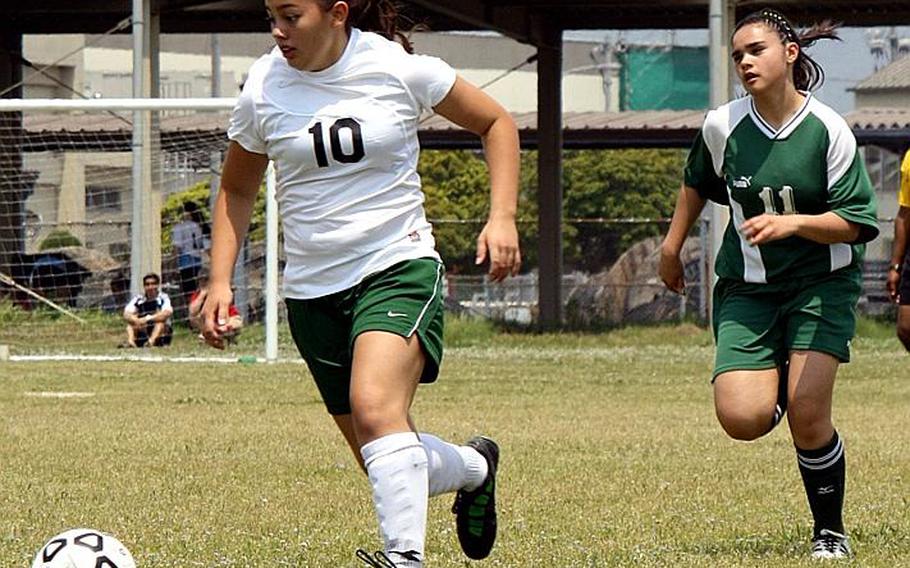 Every May, it seems, Osan American's girls soccer team challenges for yet another Far East Division II tournament title.
This year, it appears as if the boys have designs on joining them at the top of their own tournament.
Jacob Davis and Morey LaMonda each scored a goal as the Cougars reached Wednesday's champion-bracket semifinal of the Division II tournament at Camp Humphreys, South Korea, beating International Christian-Uijongbu 2-0 on Tuesday.
"I think we impressed ourselves," Osan's second-year coach David Hamilton said after the Cougars improved to 2-0-1 in the tournament, equaling their entire win total of the regular season and league tournament.
Osan won its round-robin pool, then drew ICS-Uijongbu, the Korean-American Interscholastic Activities Conference Division II regular-season champion, in the first round.
"Now, the boys have a lot of confidence; they think they can go pretty far," Hamilton said.
What turned things around from a 2-13-2 record entering Far East?
"They understand better than they did earlier this season," Hamilton said. "Better chemistry. They're clicking. We're finally getting the offense together and scoring more than we have."
Osan on Wednesday faced Matthew C. Perry, DODDS Japan's best regular-season team, in the next round, something Hamilton said he'd wanted.
"We were kind of hoping for Perry; they won it last year and we'd like to see how we do with them," he said.
Meanwhile, Courtney Ouellette and the Cougars girls seized the top seed and a first-round bye entering the Division II double-elimination playoffs starting Wednesday by completing pool play 4-0-2. Ouellette, a senior who missed much of the season with a knee injury, assisted on three Osan goals on Tuesday.
Osan played host and pre-tournament favorite Perry to a 0-0 tie, then Perry fell to Daegu American 2-1, knocking the Samurai into the third seed.
"It happens. That's why they do pool play," Samurai coach Rick Stanford said.
After Monday's play got washed out, play began in the Division I tournaments on Okinawa. Heavy afternoon showers left Kadena Air Base's Ryukyu Middle School field and Kubasaki High School's Upper Field a muddy mess.
"It's awful. It's dangerous," Kadena boys coach Tom McKinney said. "Somebody's going to get hurt."
"It's really slippery," Kinnick girls coach Nico Hindie said prior to the afternoon showers. "One mistake, the ball hits a puddle or mud and the game can turn completely. But that's what we have, and no rain is a happy sight."
Players did take their turns slipping and sliding through the goo.
"Nothing we can't handle," said goalkeeper Vicky Hollingshead of the Kinnick girls, who were two points ahead of defending girls champion Seoul American in Pool B.
Kubasaki surprised American School In Japan and led the Mustangs 12-10 in Pool A after one day.
On the boys side, Seoul American parlayed three wins and a tie into 32 points, the best among DODDS teams in the seven-team round-robin pool. Coach Steve Boyd credited the tough KAIAC Division I season for the Falcons' early success.
"Any time you have a competitive league, that's going to happen," he said.
Weather forecasts call for 60-percent chance of rain on Okinawa on Thursday and Friday, the last two days of Division I play.
Student-journalists Erika Brun (Daegu American), Taylor Mynderup (Osan American), J.C. Chambers, Danielle Rosales and Nick Krenek (Matthew C. Perry), Stephanie Mobley, Zabrina Comia, Alex Zermeno, Avery Lennard and Jacob Bishop (Kadena) and Sonora Willeford, Allani Alvarado, Kristin Heath-Wood, Cody DeVries, Amber Overton, Angelina Furusho, Tammi Ragan, Grant Loftesnes, Miasha Nakahara, Tiajha Nakahara, Hannah Soule, Ashley McDaniels and Matt Criswell (Kubasaki) contributed to this report.
---
---
---