One record falls on hot day at the track
by
Jennifer H. Svan
May 26, 2017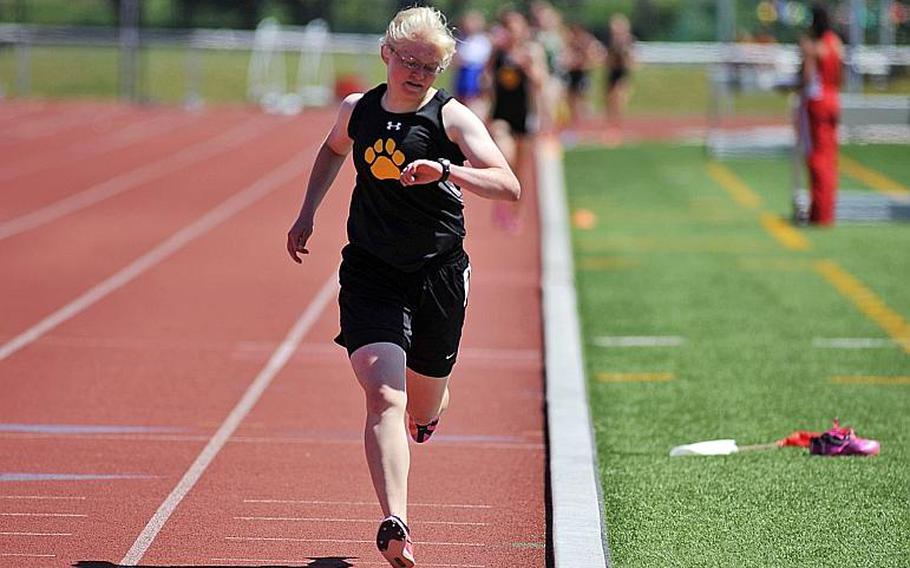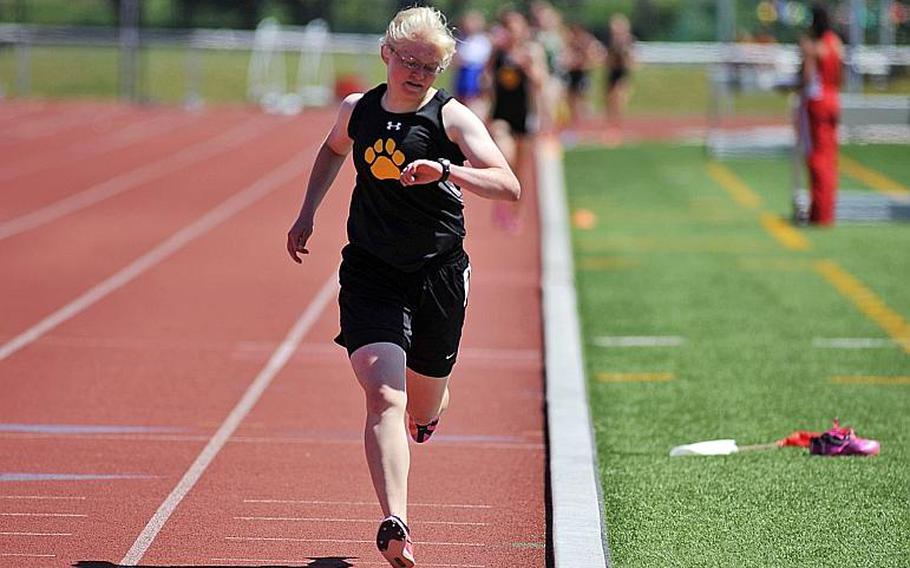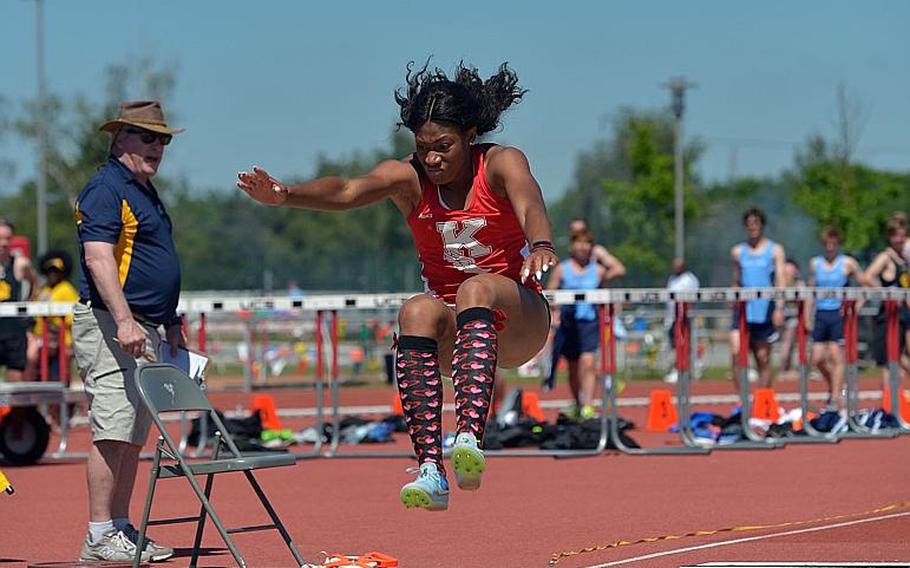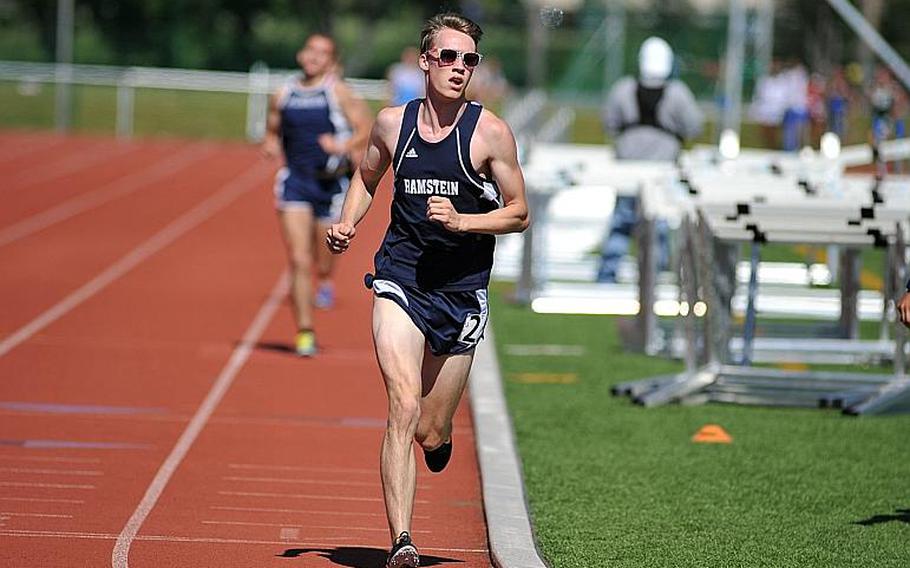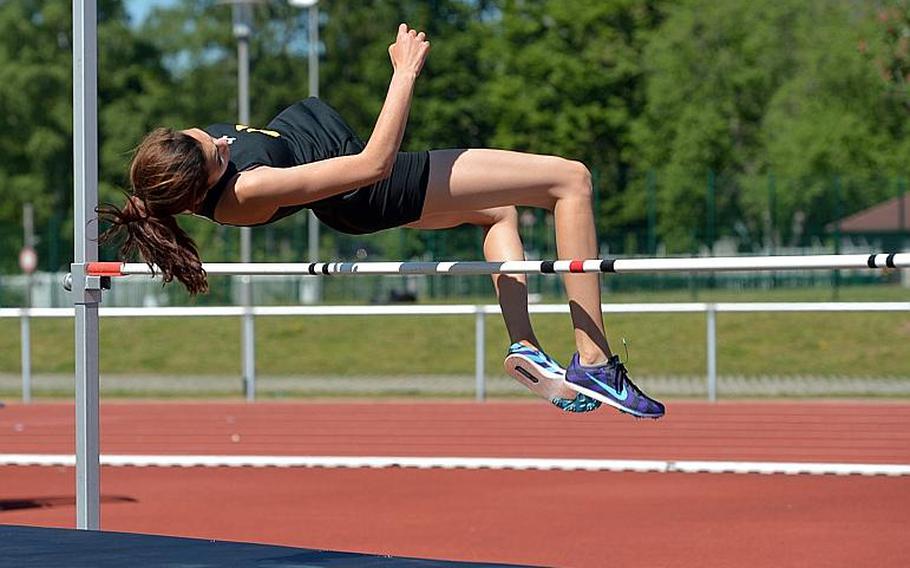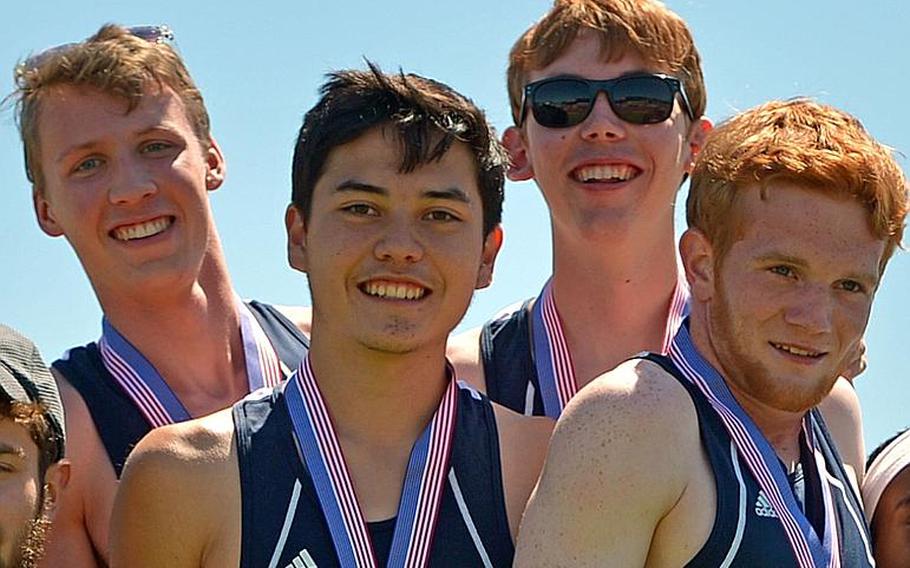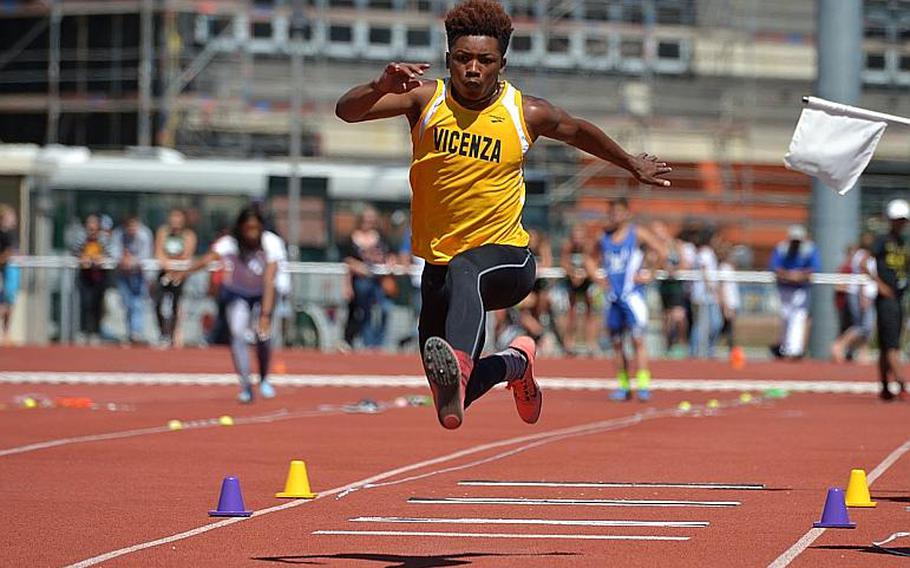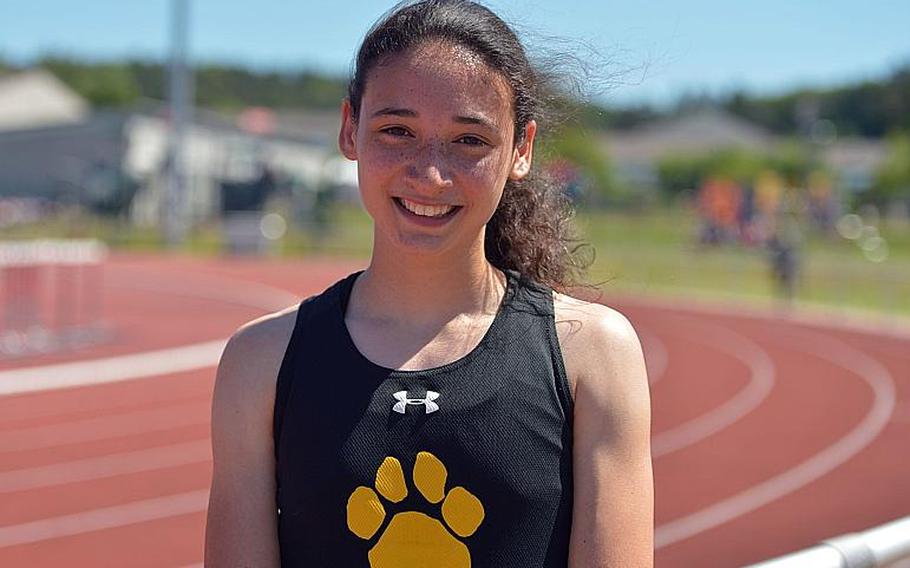 KAISERSLAUTERN, Germany – Some track and field records set by athletes attending U.S. military schools in Europe have been on the books for decades.
That's not the case with the boys' 3,200-meter run.
The former record – a 9 minute, 53.19 second clocking run by Kaiserslautern's Michael Lawson in 2013 – was toppled Friday by Ramstein senior Colin McLaren during the first day of the 2017 DODEA-Europe Track and Field Championships.
McLaren strode to a 9:51.90 to take the 3,200 title and the record.
"It feels good," McLaren said. "It's nice to achieve another goal I had for myself."
McLaren was among dozens of athletes from across Europe to compete on the track and in the field at the Kaiserslautern High School stadium, which by afternoon, was baking under a withering sun.
Some poured ice water over their heads to stay cool, while coaches and parents hovered with water bottles.
The athletes return Saturday for the final day of competition starting at 10 a.m. for what is forecast to be another hot day.
No other records fell Friday, but Kaiserslautern's Jada Branch has the girls' longstanding 400 record in her sights in Saturday's finals. Branch ran a 58.59 in her preliminary heat Friday. The current record of 57.30, set by Hohenfels' Christina McDuffie, has stood since 2000.
Branch ran the top time in the 200 preliminaries Friday and defended her title in the long jump - but by less than an inch.
Her best mark of 17 feet, 6.5 inches was good enough to beat a strong effort by Black Forest Academy senior Erin Fortune, who jumped 17-6 to get silver. Fortune's leap was nearly 2 feet better than her best all year.
Branch said she didn't expect the final results to be so close.
"Half an inch is a huge difference but it's (also) so close," she said. "I'm proud of Erin and everything she's done this season and I'm proud of myself.
"We've all put in the work this year," she added, referring to herself, Fortune and Wiesbaden's Korizmah Colston and Corban Jackson, who were third and fourth, respectively.
In the boys' 3,200 relay, the Ramstein quartet of juniors Nick Clinton and Jose Serrano, senior John Casey and McLaren hung on to beat Lakenheath, clocking a season best 8:18.93 to the Lancers' 8:19.84.
McLaren opened up a big Royals' lead on the third leg, a gap that Lakenheath junior Austin Burt whittled away at and nearly erased on anchor. Burt ran a split of 1:59 to close within a few strides of Serrano at the finish.
"If I had maybe a few extra steps, I think it would have been a different race," he said.
The Stuttgart girls also had a standout day. Junior Rachael Dickenson won her first European track title in the 1,600, running a personal best 5:16.49. Tatiana Smith, a sophomore, was second in 5:32.65. Smith later won the 800, leading a 1-2-3 sweep for the Panthers.
Stuttgart sophomore Annika Rivera beat out seniors Eleanna Bez of Ramstein and Fortune in the high jump when she cleared the bar at 5-2 on her first attempt at that height. Bez and Rivera couldn't match Rivera and settled for second and third, respectively.
While Dickenson and Smith earned their first individual European crowns, a familiar face in the winner's circle was Bitburg senior Elise Rasmussen in the shot put.
Rasmussen threw 33 feet, 9.25 inches, to win her third title in four years for Bitburg in the event.
"I felt really prepared for today and I was really excited to just finish the season out with a bang, and for Bitburg, too, since this is its last year," she said, referring to the school's closure at the end of this academic year.
Ansbach senior Joxua Baughman also capped his track career with a victory, winning the discus throw with a toss of 124-9. Unlike Rasmussen, this was Baughman's first title in the event, coming a year after he finished second at Europeans by 3 inches.
"It feels good," he said. "It's a relief, sort of a weight off my shoulders."
Track and field newcomer Brandrick Cullors of Vicenza took first in the triple jump. The junior outleapt Vilseck junior Devin Gamble, 42-1.5 inches to 41-11.5 inches in his first year competing in the sport.