DODDS-Europe track - Day 1
One record falls, more in sight today
by
Kevin Dougherty
May 20, 2011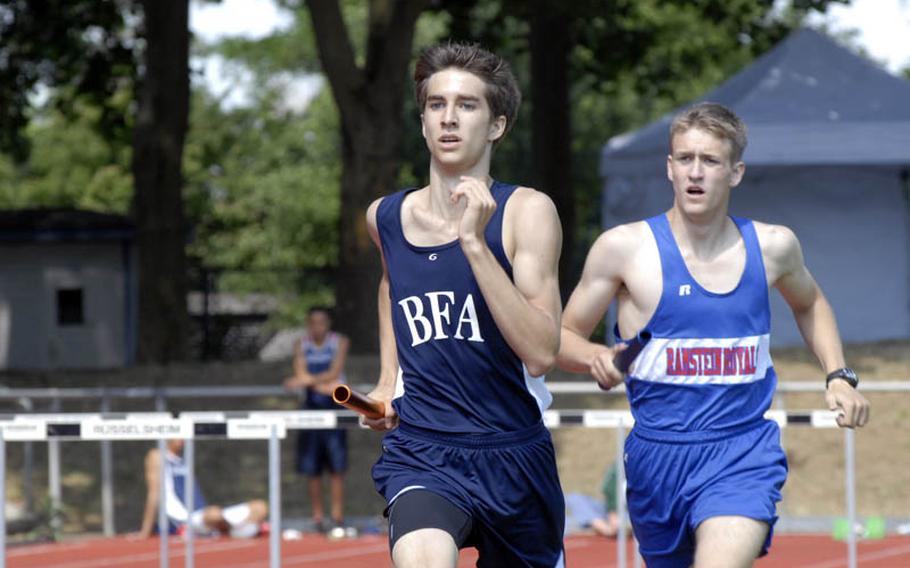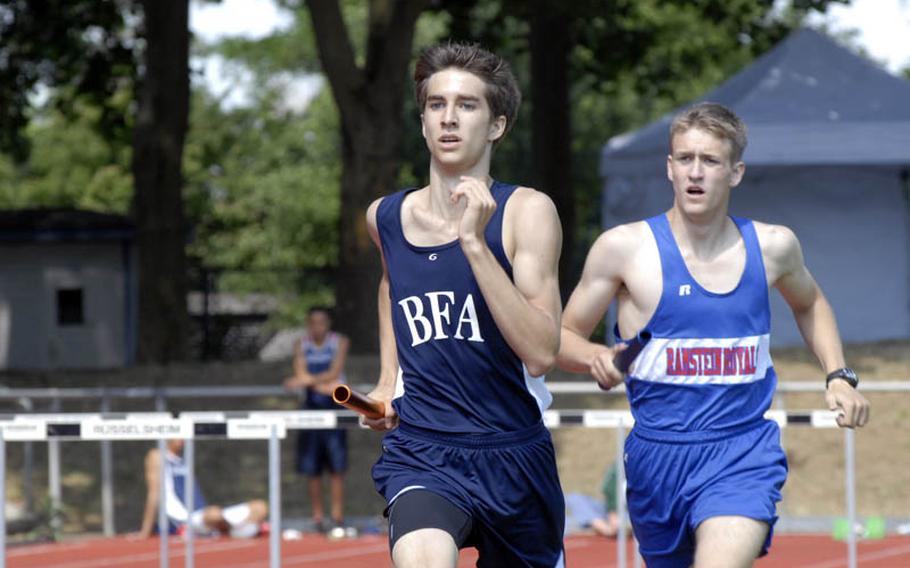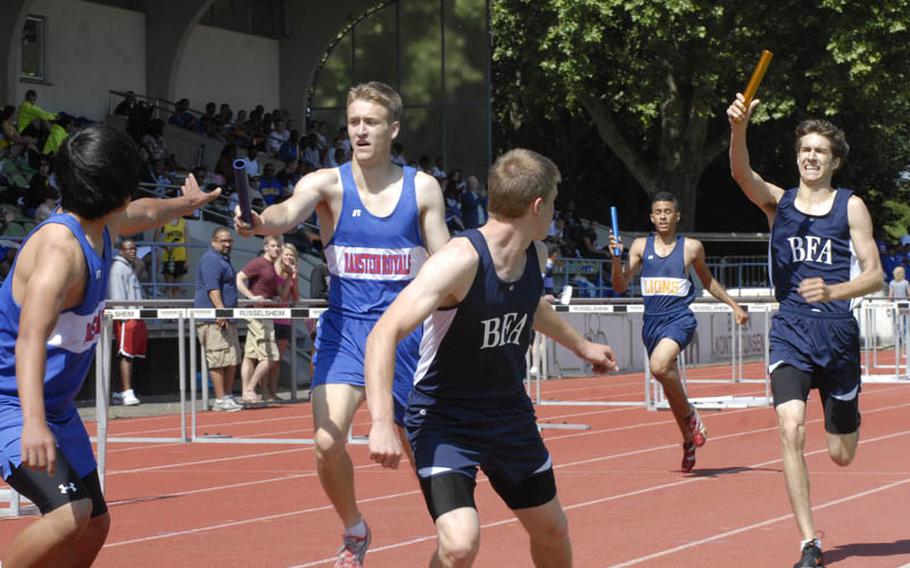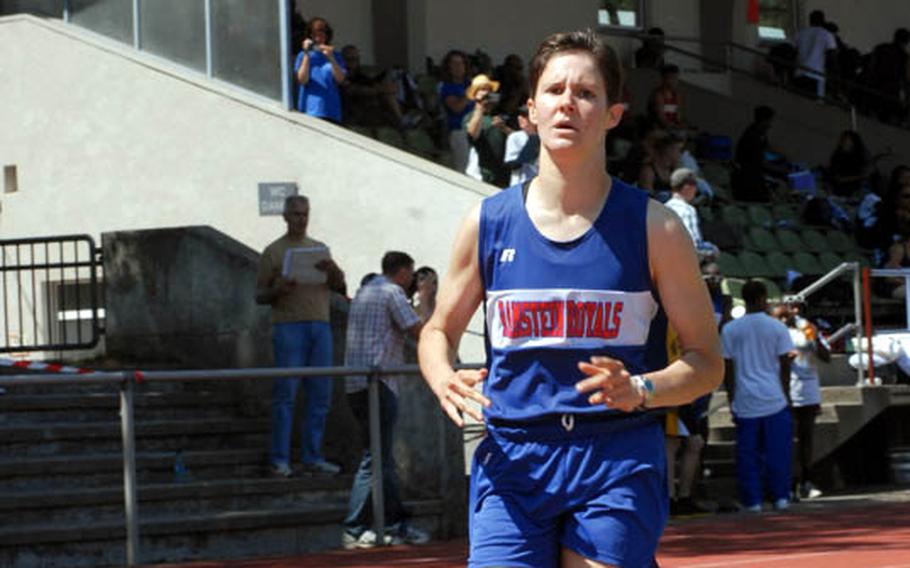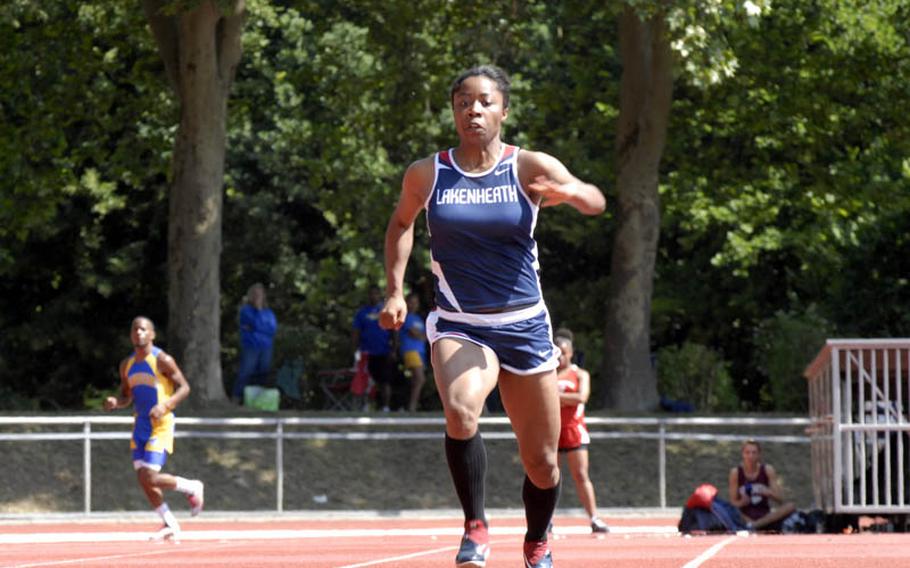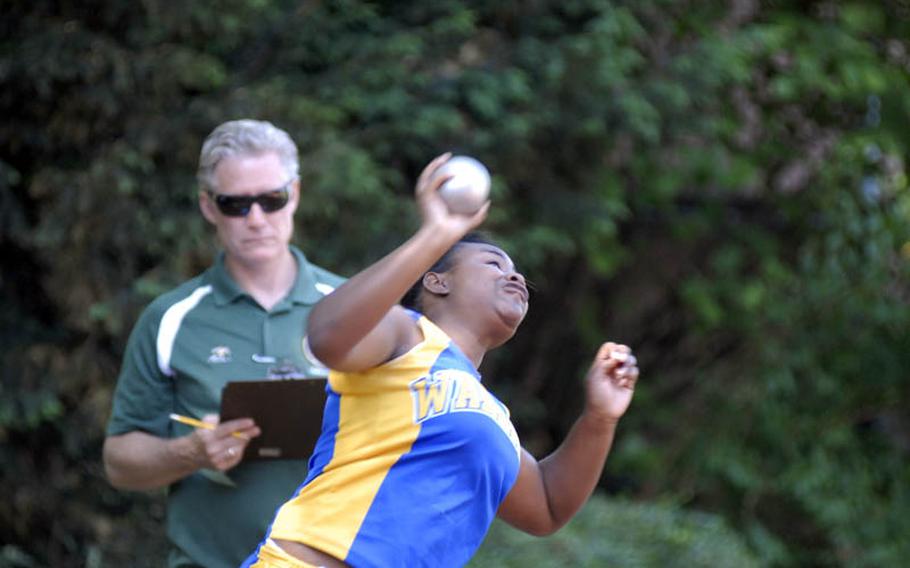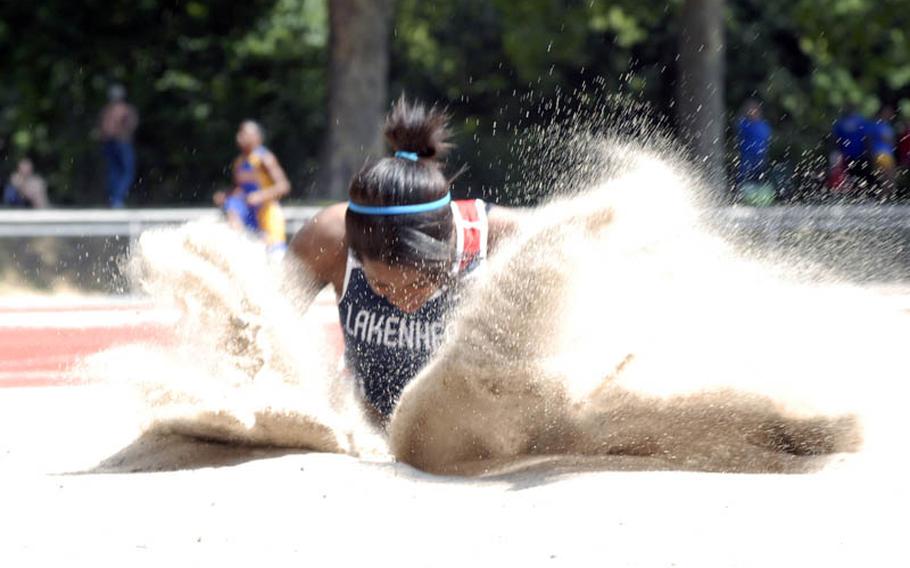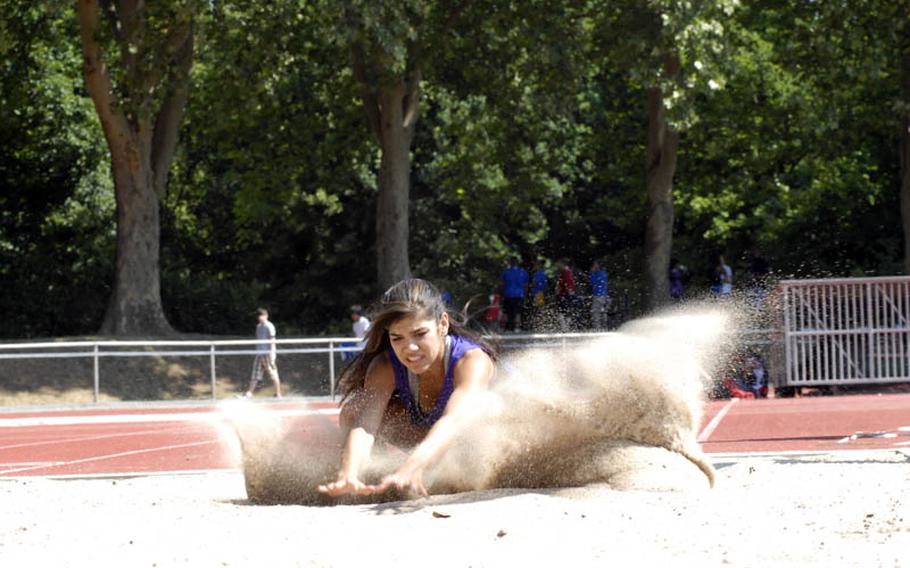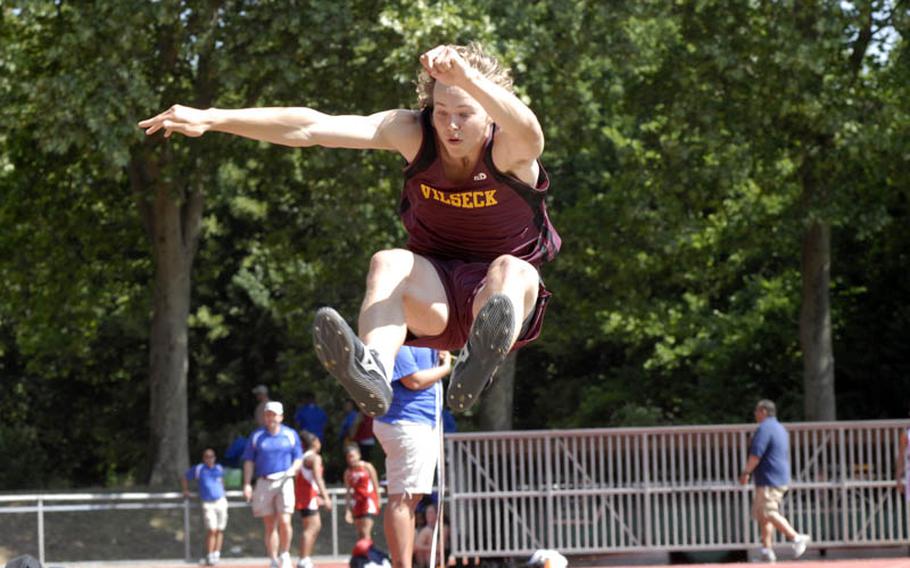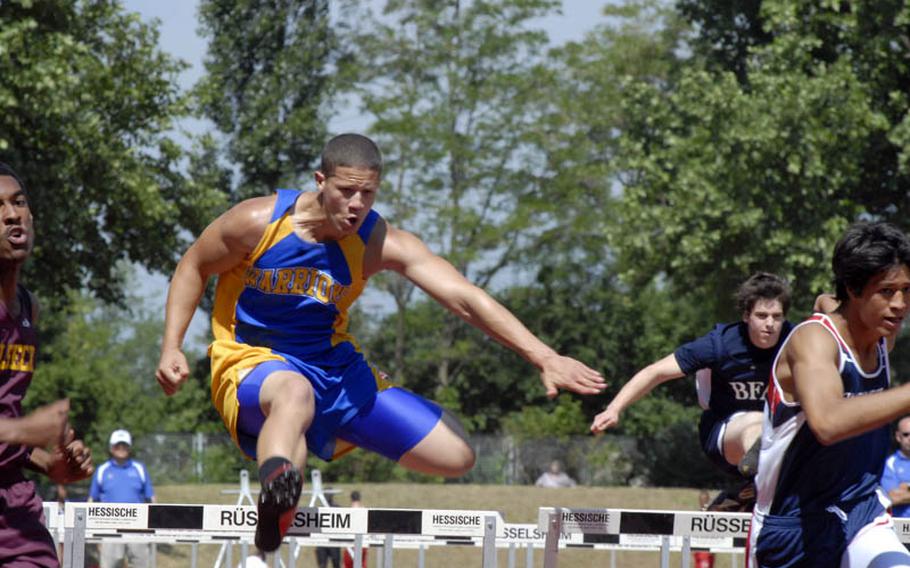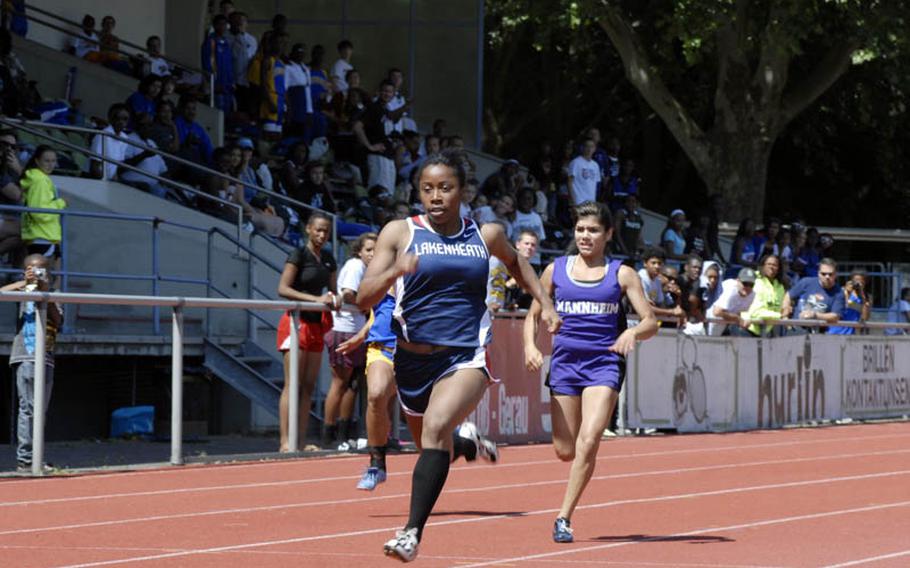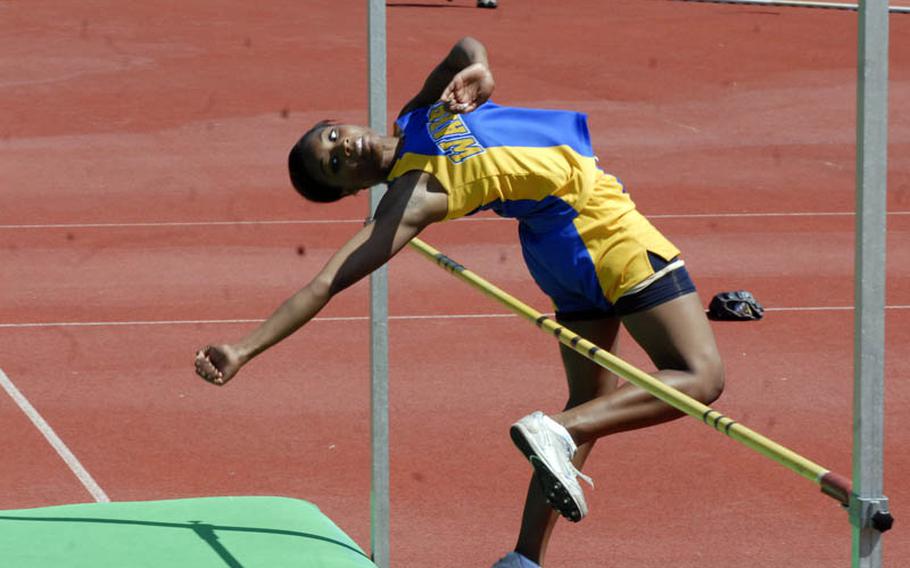 RÜSSELSHEIM, Germany — The day before her 1,500 meter race, Jessica Kafer came up with a series of mantras she would use for each of the four laps Friday. The first was: "This is it."
The "it" is the DODDS-Europe 2011 Track and Field Championship, and the 17-year-old Ramstein High School junior repeated that as she started the race on the opening day of the two-day event in which more than 350 athletes from high schools across Europe are participating. The first day included preliminary events and nine finals. Five of the finals were field events, the rest were races, ranging from the boys 3,000 meter run to the girls 800 meter event.
One of the finals was the 1,500, which Kafer won with a time of 4 minutes, 50.19. Patch sophomore Morgan Mahlock was second in 4:56.85, while two of Kafer's Ramstein teammates rounded out the top four.
Kafer said she kept her other mantras racing through her head as she ran each lap. "Just keep pushing" was for lap 2, "Go all out" for lap 3 and "Now, now, now, now" for the final one.
"It's all mind tricks," she said after the race. "I think [succeeding in] the 1,500 is all mind tricks."
One DODDS-Europe track and field record fell Friday when Black Forest Academy's boys 4x800 meter relay team eclipsed the old record set by BFA in 2002. Anthony Purpero, Ben Kronk, David Grano and Trevor Hope finished in 8:09.56, beating the old mark of 8:13.20.
BFA had to run fast, because Ramstein was right with them. The Royals, which entered the race with the best time of the year, finished second in 8:12.18, also better than the old mark.
"It's been a while since BFA broke a DODDS record," Hope said. "We've got other goals."
Hope, like other competitors, had, well, high hopes. Even some of the winners seemed, at times, a bit disappointed they didn't run faster, leap higher or throw farther in the championships.
"You always throw better in practice than in a meet," said Brennan Goodnature, a senior from Naples who won the discus throw for the second year in a row. "I can toss it. I'll take the win."
He threw for 135 feet, 11 inches to outdistance Ramstein's Justin Dickey (128-4.5) and Bitburg's Darian Billups (127-4.5).
In other finals:
• Rio Harris, a Kaiserslautern senior, won the girls 800 meters with a time of 2:17.89. Teammate Ashley Santos, a sophomore, finished four seconds back in second.
• Lakenheath senior Jasmin Walker won the girls long jump, with a leap of 18-08.75. Halfway through the competition, Walker had to step away to participate in a 100 meter preliminary race. When she returned to the pit, she had three jumps left, and scratched on each. Still, her mark was enough to defend the title she won last year, although she hoped to do better. "I was looking to jump in the 19s," she said.
• In the girls high jump, Tara Lookabaugh, a Ramstein senior, missed a DODDS record by one inch. She cleared the bar at 5-4. "I really wanted to tie or break the record," Lookabaugh said. "I'm still happy, though."
• Wiesbaden sophomore Alexcia Hodge took first in girls shot put with a throw of 31-02.
• Hohenflels senior Leon Atkins won the boys triple jump with a mark of 43-09.25, nudging out Heidelberg junior Wayne Dawkins who jumped 43-06.
• And in the boys 3,000 meters, Ramstein sophomore Jack Scranton and junior Carl Lewenhaupt finished first and second, respectively. Scranton's time was 9:04.05. "I can do better, but this was just an awesome race," Scranton said.
Scranton's comment was a common refrain among Friday's competitors. The threat of showers never materialized and the fine, balmy weather had many thinking of records.
After qualifying for tomorrow's four-person sprint medley, Payton Bodecker and Anna Muzzy of Vilseck were heading back to their seats in the stands, comparing notes. Their unofficial time was 4.32.95, good enough for first place and a berth in Saturday's final.
"We're going to run even faster tomorrow," Bodecker promised.
Action resumes at Saturday at 11 a.m. at the Stadion Rüsselheim on Am Sommerdamm.