Home Team
One of Macias' stats raises eyes - and a bit of ire
---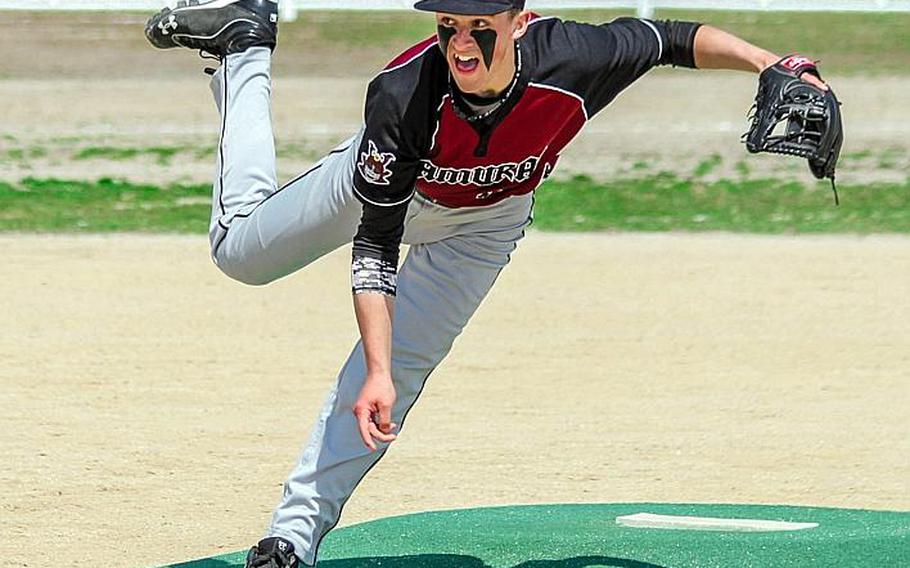 MARINE CORPS AIR STATION IWAKUNI, Japan – Is it the smoothest pickoff move in all of DODEA-Japan baseball? Or is it a balk that umpires simply aren't calling?
It depends on who one talks to. But there is no disputing, Matthew C. Perry sophomore right-hander Garrett Macias and his stats – particularly the number of baserunners picked off – are some of the most talked about in the league.
A month into the season, Macias is 3-1 as a starter, including an 8-1 win over defending Far East Division II champion Yokota. He has struck out 38 batters in 17 2/3 innings.
And he's solid offensively, as well, carrying a batting average of .580 entering this weekend's league tournament at Zama.
But it's the six baserunners he's picked off base that are causing much of the discussion.
"To me, it looks like a balk," said coach Steven Ferch of Yokota. Coach Chad Stark of Nile C. Kinnick, the one team that put a dent in Macias' pitching win-loss ledger, agrees. They suggest the move starts with a motion toward the plate.
Both Macias and his coach-father, Frank Macias, counter that Garrett's pickoff move is a sound baseball play that catches runners napping.
"It's very deceptive," Frank Macias said. "It's not a balk. It basically catches the runners being careless."
His son notices runners' tendencies on the bases, something that Frank Macias says is part and parcel to the other position Garrett plays – catcher. "He sees runners kind of wandering," the elder Macias said. "He has a different view as a catcher. He sees the whole field."
For his part, Garrett says the art of the pickoff is much like the gambler at the poker table – never let your opponent get a hint of what you will or won't do.
"Sometimes, I know I'm going to pick off a runner, but I never look there (at that base)," he said.
"I always look to see if they're off the base. If they're wanting to go, they take an extra step to try to make it safely. I'm not going to show them … anything; I keep a straight face for everything."
Garrett Macias has been playing baseball virtually from the time he was able to walk, learning the game when he was living in Mannheim, Germany, where his father taught and coached before transferring to Perry three years ago.
"I fell in love with the game then, and I love it just as much now," Garrett Macias said.
Garrett has invariably been the youngest in youth programs in which he's played, his father said, taking part in programs in Germany for 13 to 15 year olds when he was as young as 10. He's also been attending stateside summer camps the last few years.
Last summer, Garrett played 48 games in various camps at every infield position, on the mound and behind the plate. "He's not so cubbyholed as a baseball player because he's so athletic," Frank Macias said.
Garrett doesn't focus as much on pitching speed as he does location, Garrett said. "Last year, I struggled a lot and when I do, it allows hitters to put a good swing on the ball. This year, on an 'on' day, I can put the ball wherever I want."
His success at bat comes mainly from "staying compact" and hitting solid line drives, not trying to overdo it, not swinging for the fences every time up, he said. "If you hit it hard, you've got a chance."
The younger Macias also dabbles in football and basketball, having helped the Samurai to D-II runner-up finishes on the gridiron in November 2014 and on the hardwood in February 2015.
"Football and basketball are kind of his hobbies; baseball is his passion," Frank Macias said. "His baseball IQ is through the roof."
Despite their arguing that the pickoff move is not quite legal, both Stark and Ferch speak highly of Garrett.
"He's an awesome kid," Stark said. "He plays the game the right way. He's a great student of the game. He has all the intangibles. He's fun to compete against."
"He cleans them up," Ferch said. "I love Garrett. He's a fantastic player and a great competitor. He's an asset to any team. I wish he was on my team."
Garrett still has the rest of this season and two more to play before moving on to the next level, but it's something he says he already has his eyes on. And whatever he does, another of his coaches, Samurai basketball assistant Ronnie Pride, says Garrett is primed to succeed.
"The kid is very coachable and wants to learn," Pride said. "Anything Garrett puts his mind to, he's going to work hard at it, be it school, helping somebody; he's just the type of kid who wants to excel."
Twitter: @ornauer_stripes
---
---
---
---