Home Team
One = dangerous, two = deadly for Bitburg
---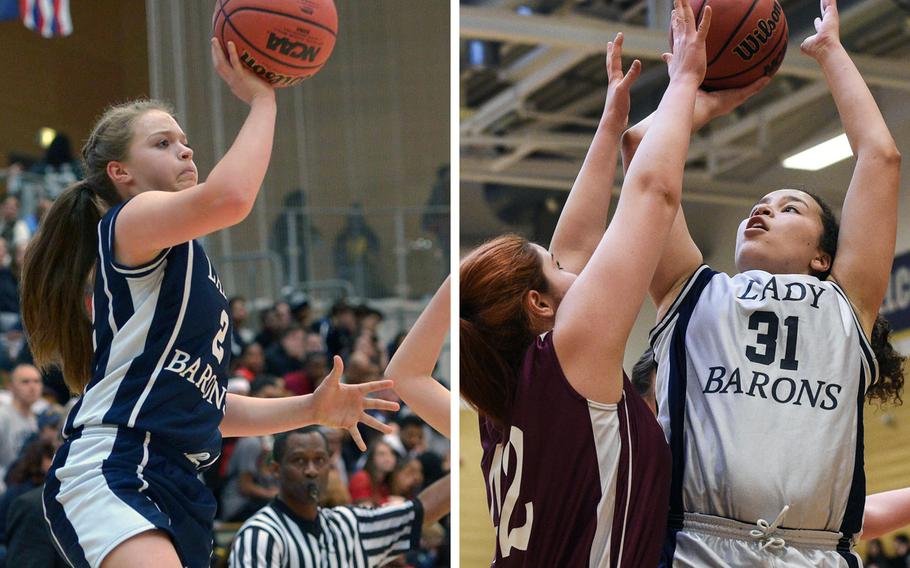 An elite point guard is enough to make for a very competitive DODDS-Europe Division II girls basketball team.
A post player with size and skill can have the same impact.
The combination of the two on one team, however, creates a champion. And, perhaps, a dynasty.
The Bitburg Barons currently enjoy such abundance. Running point for the Barons is Alexa Landenberger, one of the most skilled and savvy playmakers at any level of DODDS-Europe hoops. Manning the paint for Bitburg is Elise Rasmussen, a center who pairs a soft touch around the rim with a punishing approach to defense, rebounding and general low-post physicality.
The combination of a perimeter star and a low-post anchor is a well-known path to basketball success at all levels of the game. But such a combination rarely materializes in a pond as small as lower-division DODDS-Europe basketball. Bitburg coach Chris Howard knows how fortunate his program is.
"Together they give me the inside-outside game," Howard said, "which forces teams to try and cover both."
The Barons' on-court results have proven just how difficult of a task that is. .
Bitburg went 12-4 last season on the way to the Division II European championship. Landenberger and Rasmussen each earned All-Europe second-team recognition for their efforts.
This year, the unbeaten Barons have won all six of their games by double digits entering this weekend's title-game rematch with Black Forest Academy. Last weekend, Landenberger totaled 34 points, 11 assists and 12 steals and Rasmussen posted consecutive double-doubles as Bitburg twice trounced divisional rival Hohenfels by a combined score of 106-29.
The presence of the other makes basketball a much smoother experience for both Landenberger and Rasmussen.
"It's great because you really don't have to rely only on your guards," Landenberger said. "You have that post that you can always go to. It makes it easy for you. She's always going to be there."
Rasmussen enjoys a similar safety net when things get tight in the paint.
"It's nice knowing that if I'm trapped I can pass the ball out," Rasmussen said.
That kind of chemistry points to another reason for the pair's dominance. Landenberger and Rasmussen were friends before they were teammates, and their friendship has only grown from the experiences they've shared with the Barons.
"Once we started playing together last year, it kicked in and transferred on to the court," Rasmussen said. "Now it just happens naturally."
Still, Landenberger and Rasmussen don't take their dominance for granted. On Sundays, following DODDS-Europe's standards Friday-Saturday schedule of games, the two often meet up to plan future successes. They review the plays that didn't - or, more often, did - work in previous games, discuss upcoming opponents and work on developing the fundamental skills they'll need to extend their careers into the collegiate ranks.
Howard has high praise for both of his star players.
Landenberger has "put in the time and effort" to reach her current status among DODDS-Europe elite point guards, the coach said.
"It has been a pleasure to watch her mature and combine her talents with those around her," Howard said.
Rasmussen, meanwhile, has the natural basketball advantage of size, which Howard said "separates her from other players.". But she's worked hard to maximize those innate gifts.
"She has used her talents and size to be dominant on both ends of the court," Howard said.
Landenberger and Rasmussen are both juniors who expect to return for their senior seasons in 2016-17. If current trends continue, they might graduate as three-time European champions, the ultimate validation of their considerable and complementary talents.
"It's really our goal to make each other look good," Rasmussen said.
So far, so good.
Twitter: @broomestripes
---
---
---
---