One big race left for cross country runners
by
Gregory Broome
October 24, 2013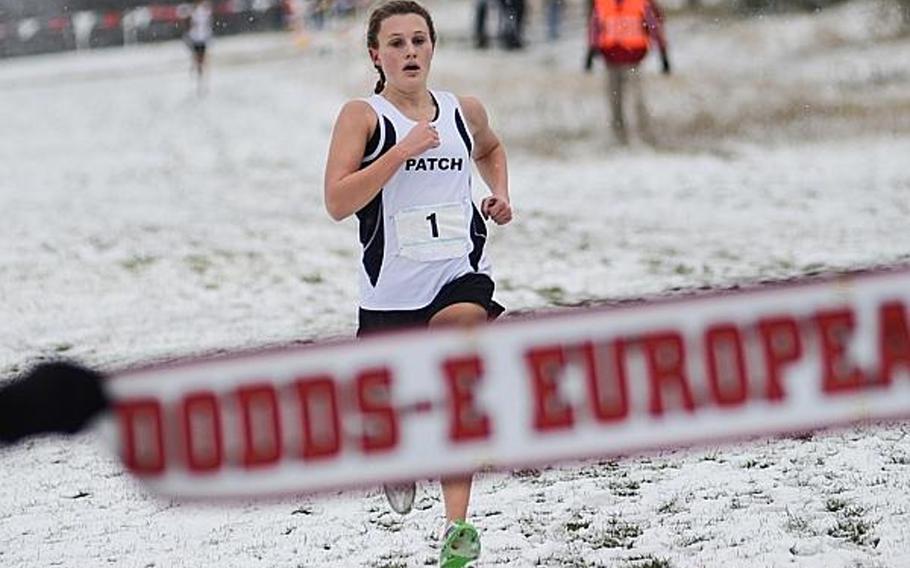 DODDS-Europe will crown its boys and girls cross country champions Saturday at Rolling Hills Golf Course in Baumholder, Germany.
Surprise October snow flurries settled over last year's race at Rolling Hills, but the unseasonable weather had little obvious impact on the race. Michael Lawson of Kaiserslautern and Baileigh Sessions of Patch claimed the individual titles they were projected to win.
Weather reports indicate that snow is highly unlikely this year. Instead, a recent spate of rain is expected to continue drag on into Saturday, making Rolling Hills a sloppier course than competitors might prefer.
Like last year, however, whatever weather befalls Baumholder on Saturday will fall the same on everyone.
"If it rains, they all race in the rain," Patch coach Philip Bailey said.
Kaiserslautern coach Dennis DePriest added that runners should be prepared for rain. The Rolling Hills course is "over 95 percent" grass, so participants would be well-advised to don spikes for a surer foothold in rain or shine.
Here's a look the top contenders for individual and team honors:
Girls Patch senior Sessions is back for one last run, and this race is hers to lose. Unfortunately for her competitors, it's been a long time since she's done that.
Sessions won her second consecutive European title last fall, and has cruised unbeaten through the regular season. It seems only graduation will stop her dominant reign.
That won't stop the field from trying. Several racers have hovered in the 20-minute range this year, close enough where a few twists of fate could open a path to victory Saturday.
Ramstein's Madison Morse ran a blistering 19:29 last weekend at Kaiserslautern. Though it wasn't a head-to-head win over Sessions, the time was the best of any DODDS-Europe girl this season, and makes last year's ninth-place finisher perhaps the most serious upset threat.
Beyond Sessions and Morse, the short list of expected contenders includes Incirlik's Kellie Rutherford, SHAPE's Alina Salgado, Brussels' Kirsten Carson and Naples' Caroline Bracken.
Ramstein and Patch expect to duel for the team championship.
Boys Nearly every Division I school has at least one viable contender to take over the top spot vacated by Lawson. That should make for a tight and unpredictable race.
Patch's Mitchell Bailey, Ramstein's Josh McDowell, Wiesbaden's Ryan Parker and Alex Wieman, Kaiserslautern's Michael Close and Vilseck's Ben Nelson are all capable of breaking the finish line. Bailey beat McDowell by a single second Oct. 5 in what might be a preview of Saturday's stretch run.
The team race is equally unpredictable. A first-place finish for Bailey or McDowell would boost the Panthers and Royals. But deep Wiesbaden figures to place several runners in the top 10; even if one of its entrants doesn't finish first or second in the individual race, the Warriors could win the war.
Coach Travis Schupp called his team "uncommonly talented" and said that competition among the team's many top-flight runners pushed them to an unbeaten season.
On Saturday, we'll see if that trend holds up as the field expands.
Twitter: @broomestripes