Once focused on hoops, Naples' Taylor now a two-sport star
by
Rusty Bryan
October 26, 2006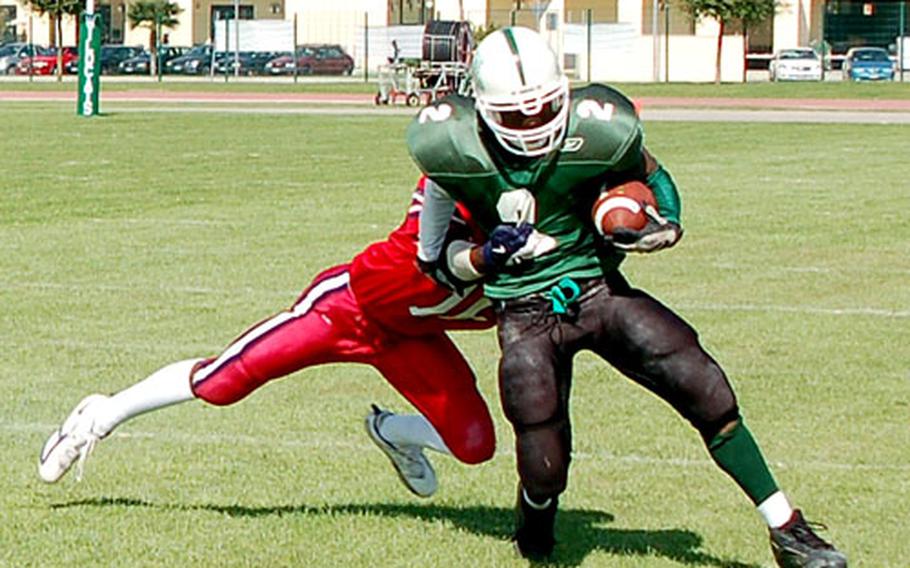 It would be stretching the truth to call Naples senior tailback B.J. Taylor an overnight sensation.
But not by much.
Taylor, 17, had nothing but basketball on his mind when he transferred into Naples from Killeen, Texas, this summer. His daily visits to the gym, however, helped transform him into a two-sport star.
"Our team was doing some weight training, and they noticed B.J. working out," Naples coach Jim Hall said by telephone Monday.
"They said, 'Coach, you've got to come see this guy.' "
"Basically, we're always looking for guys we think can contribute," Hall said. So he went to see Taylor, and was impressed with the dedication and athleticism of the 5-foot-8, 140-pounder.
"He told me he was a basketball player," Hall recalled. "I told him, 'Give me two weeks, and I'll make you a football player. He thought about it a while, then called me. 'OK,' he said, 'I'll give you two weeks.' "
Why after three high school years without playing a down of football did Taylor decide to take the plunge?
"There's no [offseason basketball] conditioning program here," Taylor said Tuesday by telephone. "I decided to play football to get into shape for basketball."
Turner proved to be instant offense for the Wildcats.
"I was just going to play defense," to minimize his chances at being injured, Taylor said.
"But that didn't last long. They had me playing tailback, kick returner, on the PAT team and the 'hands team' on onside kicks," Taylor said.
"It was hard to learn all the holes — 'two-hole,' 'three-hole' and all that, but I did all right."
All right is an understatement. In his first high school game ever, Turner rushed for slightly over 300 yards and six touchdowns in a 54-40 victory at Vilseck.
"It was clear his basketball skills and vision really helped his spin moves," Hall said. "He can start and stop and change directions instantly. I told him I could throw a dime on the ground, and he could dance on it and give me nine cents change."
There's more to rushing than elusiveness, however, and Hall is schooling Taylor on that.
"We're working with him to get him to lower his shoulder and take on tacklers," Hall said.
The lessons are taking hold. After six games, Turner has amassed 816 yards on 96 carries for the undefeated Wildcats. His total undoubtedly would be more than 1,000 yards had his coaches not decided to limit his touches to 21 over the past two games.
"He had a partial shoulder separation against Würzburg," Hall said. "We have two other tailbacks, so we rested him a bit. He wasn't real happy."
Has his success raised the possibility that football will replace hoops as his main passion?
"I'm not going over my head," said Taylor, who hopes for a basketball scholarship to a school that will help him become an architect. "I'm a basketball player, but I'm not going to forget the game I'm playing now."
And there is also the looming possibility of playing for a European Division II football title before basketball season begins. Naples must get past Baumholder in a home game this weekend to qualify for the final on Nov. 4.
"It'd be great," Taylor said, "to go all the way to the top playing football for the first time."