Football AOY
Olive did what needed to be done for unbeaten champs
by
Gregory Broome
November 9, 2019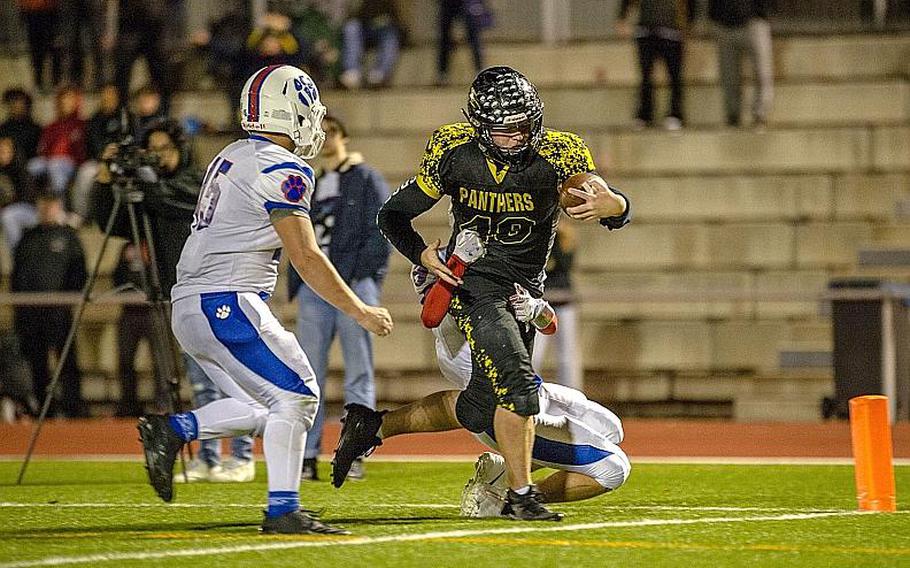 Great football teams are built around players like Josh Olive.
Olive, the all-around standout for the undefeated DODEA-Europe Division I champion Stuttgart Panthers and the 2019 Stars and Stripes football Athlete of the Year, contributed to his team's historic season in nearly every way possible.
"I just play whatever the coaches want me to," Olive said. "and whatever gives the team the best chance to win."
With a background primarily as a lineman - and long one of DODEA-Europe's elite at the position - Olive continued to throw what Panthers head coach Billy Ratcliff called "crushing blocks" to free up ballcarriers for big gains. But he also regularly found the ball in his own hands this fall, rushing for 485 yards as a powerhouse fullback, averaging just over six yards per carry and scoring seven touchdowns. He also averaged nine yards per reception as a part of Stuttgart's pass attack.
"That's an offensive lineman's dream," Olive said of those diverse offensive opportunities.
On the other side of the ball, Olive proved an ongoing nightmare for opposing offenses. Ratcliff called Olive "impossible to block one-on-one," and explained that his presence absorbed the attention of the offensive line and created opportunities for teammates to make plays. That laid the foundation for a defense that held opposing offenses to under 104 yards per game and produced 29 turnovers. All the while, Olive found time to make highlight plays of his own, posting 29 tackles, eight tackles for loss and a fumble recovery.
Those considerable stats are even more impressive in the context of Stuttgart's overwhelming dominance this season. The Panthers regularly built early multiple-touchdown leads this fall, including in the playoffs, allowing Stuttgart to spread snaps around to all of its players but thereby reducing the opportunities for Olive and the team's other star players to pad their individual numbers.
Ratcliff stressed that Olive's stats would have been "much higher" given a more conventional workload, and Olive is not the type of player to enjoy a view from the sidelines. But Olive added that he was "100 percent happy" to see the entire roster play and contribute to the Panthers' third title in the last five seasons.
"I just wanted to win the championship," Olive said. "I wanted to win a ring with my brothers, and we ended up doing that.
"I'm very happy with that."
broome.gregory@stripes.com Twitter: @broomestripes