Okinawa wrestlers enjoy second friendship meet
---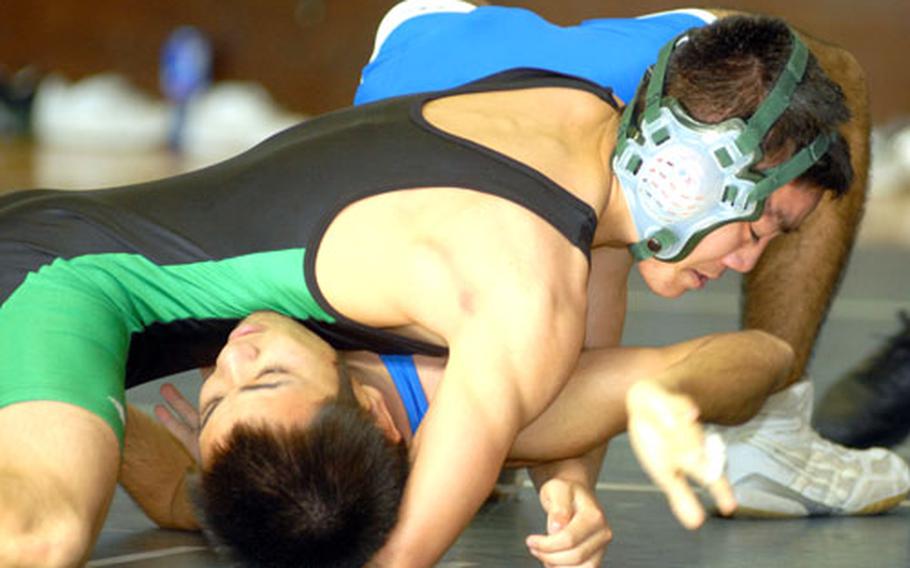 Much more than a gold medals was on the line in the 2nd Okinawa-American Friendship Wrestling Tournament on Saturday.
The event provided valuable preparation for Okinawa Activities Council rivals Kadena and Kubasaki for the Far East tournament next month. Meet founders said the tournament strengthens bonds between Japanese and American teams who depend on each other for competition.
"This furthers our competitive reach," Kubasaki athletic director Fred Bales said, noting that only in the past year have Japanese high schools been willing to wrestle Kadena and Kubasaki competitively.
"And it's been a positive experience for us. It's the quality of competition we need at both OAS schools. And there's the friendship aspect," Bales said.
"Our kids are seasonal wrestlers. The Japanese are year-round wrestlers. We each have varied techniques. We can learn from them, they can learn from us, and we can each become more complete wrestlers."
Wrestlers from Kadena and Kubasaki competed against 41 wrestlers — up from 15 last year — from five Japanese high schools. They contested 126 bouts in nine weight classes over nine hours at Kadena Air Base's Nakayoshi Fitness Center.
"They brought a lot, which was good," Kubasaki coach Terry Chumley said. "I'd like to have as many of them as possible come join us."
The three reigning Far East champions in the event, Kubasaki's Scott Wood and Kadena's Chris Hoshaw and Jacob Bloom, each came away victorious, along with senior Far East title contender Cody Cash of Kadena.
Wood captured the combined 108/115-pound gold. Bloom beat his younger brother Harry to win the combined 141/148-pound division. Cash lost in the semifinal, but rallied to win his next three bouts and the 158-pound gold.
"He could barely lift his arms afterward," Kadena coach Steve Schrock said of Cash.
"They (Japanese) are some really good guys," Cash said. "You get to try out moves that you don't normally try and see how they work against different wrestlers. And they all wrestle differently."
Hoshaw continued on the road to defending his Far East title by avenging a loss to Kubasaki's Josh Bales during Thursday's OAC dual meet at Kubasaki. Bales decisioned Hoshaw 2-0 (1-0, 1-0) on Thursday; Hoshaw answered the call Saturday 2-0 (3-2, 2-1).
It's becoming a rivalry, they acknowledged after Saturday's bout.
"He works," Hoshaw said of Bales, against whom he's 5-3 dating back to Bales' freshman year last season. "He gives me a really good match every time, even last year, when he was new. He helps me out. He helps me improve; he helps me get better."
"He's good," Bales said of Hoshaw. "He makes me work. He makes me motivated to do better."
Signs of life for Kubasaki girls
After losing its first 12 games of the season, the Kubasaki girls basketball team has shown signs of life in the past week or so.
The surge began with an 87-41 victory over Yomei on Jan. 12 and ended with Saturday's 57-51 defeat of Hokuzan. Those games sandwiched a 76-74 overtime loss to Maehara on Saturday and a 60-46 loss last Tuesday to Kadena, leaving Kubasaki at 2-14.
"Opportunity was knocking," coach Bob Driggs said of his team, which missed seven of 10 foul shots in Saturday's loss to Maehara.
"Those have been our Achilles' heel. But we're definitely moving in the right direction. We're turning the corner. I keep telling the girls to not be satisfied with what we've done."
Junior Gaby Falco scored 18 points in each of Saturday's games.
"She's been a solidifying factor," Driggs said of Falco. "And our guards have stepped up."
---
---
---
---