Okinawa teams sweep titles at Kadena softball tourney
---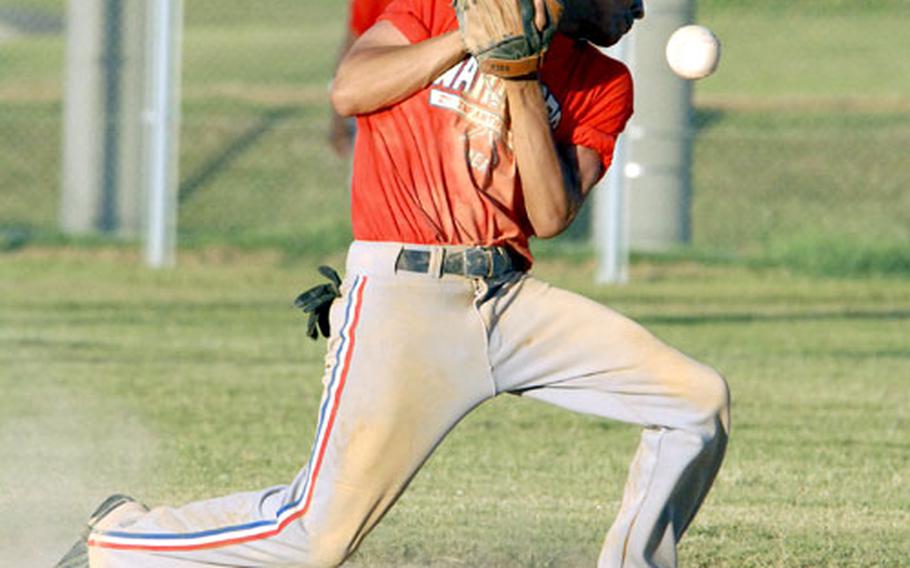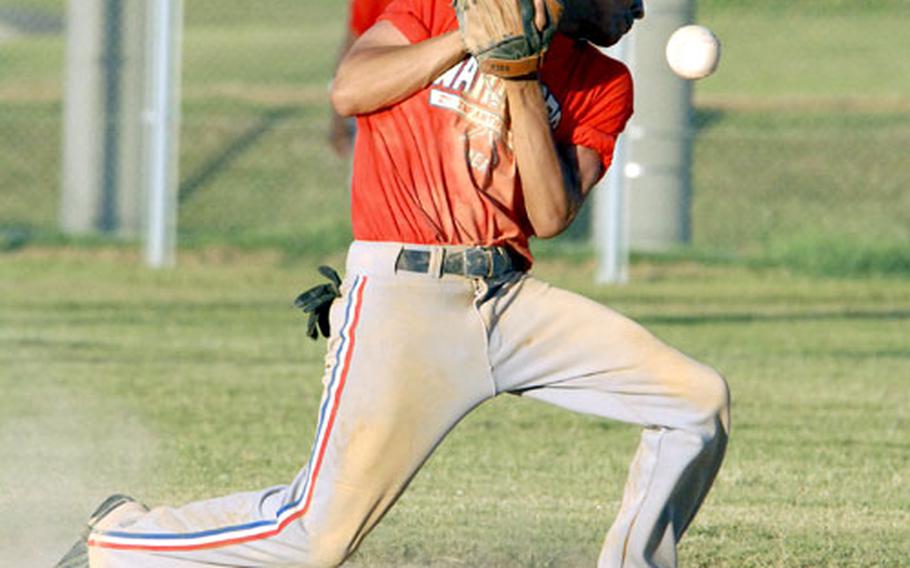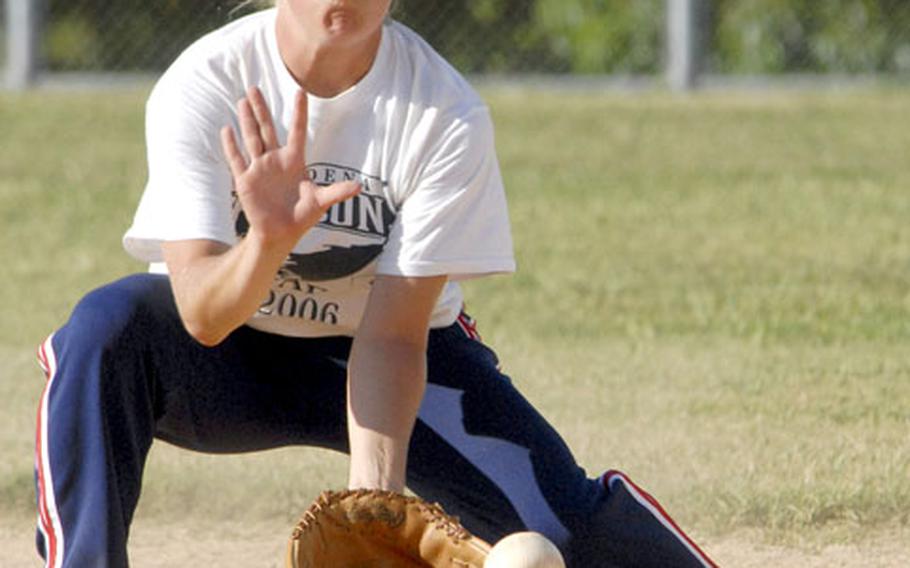 KADENA AIR BASE, Okinawa — Dazzling glovework saved the day for the American Legion Post 28 men and the Kadena Falcons women, helping Okinawa teams to a sweep of the championships in the Yard Busters Pacificwide Open Softball Tournament Sunday.
Second baseman Chris Souza and first baseman Pokey Haynes combined on two rally-killing double plays in the fifth and sixth innings, and Souza doubled in the go-ahead run in the fourth to power Legion past Area I of South Korea 19-10 in the second of two men's title games. Legion won the first one 17-9.
On the women's side, second baseman Katherine Braun began a rundown with a throw home and leaped to snag a line drive on successive plays that snuffed out a sixth-inning rally, and the Falcons responded with eight runs the next inning to blow past host Yard Busters 16-9 in a one-game women's final.
Men's championship
American Legion 17-19, Area I 9-10: American Legion took the hard road to the championship. It needed to win six consecutive games over an eight-hour span to overcome a 14-13 loss to the Okinawa Shogun in the first game of the double-elimination playoffs.
Souza's double drove in Jim Flagg with the run that put Legion ahead to stay. It came after Kurt Tom's sacrifice fly tied it. Eduardo Santiesteban drove in two more runs with another sacrifice fly, and Legion scored 11 unanswered runs in three innings to lead 19-9.
In the first game, Santiesteban broke a 2-2 tie with a double that scored Souza, men's most valuable player Joey Chastain and Dan Miller each stroked RBI singles, Chadd Malin hit a two-run double and Tom a blasted a two-run homer as Legion scored seven times in the second inning to lead 9-2.
Women's championship
Kadena 16, Yard Busters 9: After Vonda Ware's double knotted the game at 8-8 in the sixth, Braun took a throw from the outfield and fired home to catcher Darlene Rayburn, catching Yard Busters runner Missy Fisher in a rundown. Phyllis Jernigan then singled in the go-ahead run, but Braun prevented any further damage, leaping to snag a liner for the second out and catching a popup for the third.
Kadena promptly loaded the bases with none out, scored one run on an error, then Tyshia Bland crushed a line drive up the middle, between fielders to the fence, clearing the bases. The Falcons sent 13 batters to the plate and scored eight times.
Kadena appeared in complete command, leading 8-2 after four innings, but Yard Busters chipped away, getting two-RBI hits from Kayt Warner and Stephanie Holt and a run-scoring single from Rachel Conaway to get within 8-7 in the fifth, setting the stage for the late drama.
2006 Yard Busters Pacificwide Open Tournament
At FourDiamonds Complex Kadena Air Base, Okinawa
Day 2 results
Final round-robin standings
Old School Division (men)
American Legion Post 28, Okinawa 6-1
Kadena Air Base, Okinawa 5-2
Club Red, Okinawa 4-3
Misawa Air Base, Japan 4-3
Mystery Machine, Okinawa 4-3
Area I, South Korea 4-3
18th Oper. Support Squadron, Okinawa 1-6
Shogun, Okinawa 0-7
Double-elimination playoffs
Men
Sunday's games
Kadena Air Base 7, 18th Operational Support Squadron 0, forfeit
Area I 8, Misawa Air Base 1
Shogun 14, American Legion 13
Club Red 10, Mystery Machine 1
Area I 9, Kadena Air Base 3
Club Red 8, Shogun 6
Misawa Air Base 7, 18th Operational Support Squadron 0, forfeit, 18th Operational Support Squadron eliminated
American Legion 11, Mystery Machine 1, Mystery Machine eliminated
Misawa Air Base 10, Shogun 9, Shogun eliminated
American Legion 17, Kadena Air Base 4, Kadena Air Base eliminated
Area I 10, Club Red 8
American Legion 13, Misawa Air Base 1, Misawa Air Base eliminated
American Legion 18, Club Red 3, Club Red eliminated
American Legion 17, Area I 9
American Legion 19, Area I 10, Area I eliminated
Most valuable player: Joey Chastain, American Legion
Women
Sunday's games
Area I 11, Misawa Air Base 1
Yard Busters, Okinawa, 12, Okinawa Typhoons 0
Kadena Air Base 13, Area I 0
Misawa Air Base 2, Okinawa Typhoons 0, Okinawa Typhoons eliminated
Kadena Air Base 13, Yard Busters 3
Area I 9, Misawa Air Base 5, Misawa Air Base eliminated
Yard Busters 7, Area I 2, Area I eliminated
Kadena Air Base 16, Yard Busters 9, Yard Busters eliminated
Most valuable player: Melissa Heyen, Kadena Air Base
---
---
---
---