Okinawa teams learn on the fly
---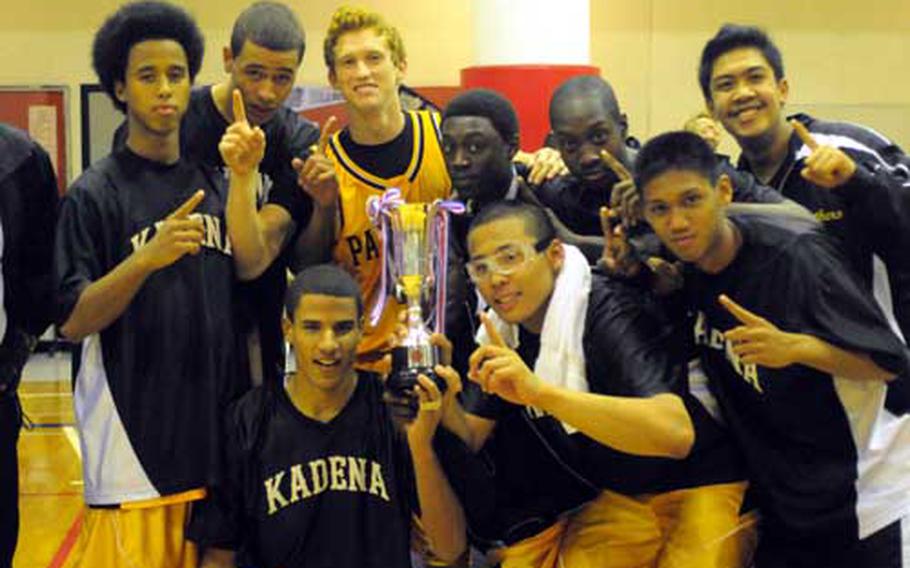 TAI TAM, Hong Kong — Be they novice or experienced, all four Okinawa teams took a little something home from last week's 40th Hong Kong International School Holiday Basketball Tournament.
Kadena'a and Kubasaki's boys and girls teams went up against some of the best American and international teams East Asia has to offer, getting solid competition from teams they rarely see and building up their teams in the early part of the season, coaches said.
"It's great. Every year, we look forward to coming here," coach Robert Bliss said. His Kadena boys, who got 24 points from tournament MVP Taiyo Robertson, beat host Hong Kong International 81-65 in Saturday's final, leading by as many as 25 points in the second half.
Faith Academy, behind MVP Kelly Hardeman, won the girls title for the second straight year, holding off a late charge to beat Heep Yunn of Hong Kong 64-61.
Programs such as Hong Kong, 10-time Far East boys champion Faith Academy and Southeast Asian power Singapore American provided the Panthers "good, quality opposition," Bliss said.
"The Okinawa teams are great, but it seems we don't get many games against top teams. We like this tournament for a lot of reasons."
One of them, said coach Jon Fick of fifth-place Kubasaki, is how the tournament provides "a big measuring stick to see where we are. A lot of teams here are in midseason, whereas we're just starting out."
Kubasaki lost to defending Far East Class AA champion St. Mary's 90-73 on Friday, then won a rematch 75-70 to take fifth place.
Kubasaki gets different looks that help Fick and his boys prepare for the regular season and the Far East tournament in February at Yokota High School, Fick said. "You see a variety of styles that help prepare you," he said.
While Kadena's and Kubasaki's boys enjoyed relative success, the girls teams, each young and rebuilding, struggled a bit while using the tournament as a sort of baptism of fire, coaches said.
"The girls learned about some of their roles and how to prevent mistakes in preparing for Far East," Dewayne Pigge' of Kadena said. "This tournament is a great opportunity, a great fine-tuning. We had a rough start, but I can see the progress and improvement."
His Panthers lost a heartbreaker Saturday 69-67 to Kubasaki, which boosted the Dragons into the fifth-place game and left Kadena out of the running for a placement trophy for the first time since 2001. Dragons first-year coach Stephanie Davis said her charges made progress similar to Kadena's girls.
"They started to learn how to gel, about chemistry, how to talk on the court, about themselves and how they fit in the team dynamic," Davis said. Her Dragons lost the fifth-place game 68-45 to Hong Kong.
---
---
---
---