Okinawa teams capture MLK tourney titles
by
Dave Ornauer
January 23, 2003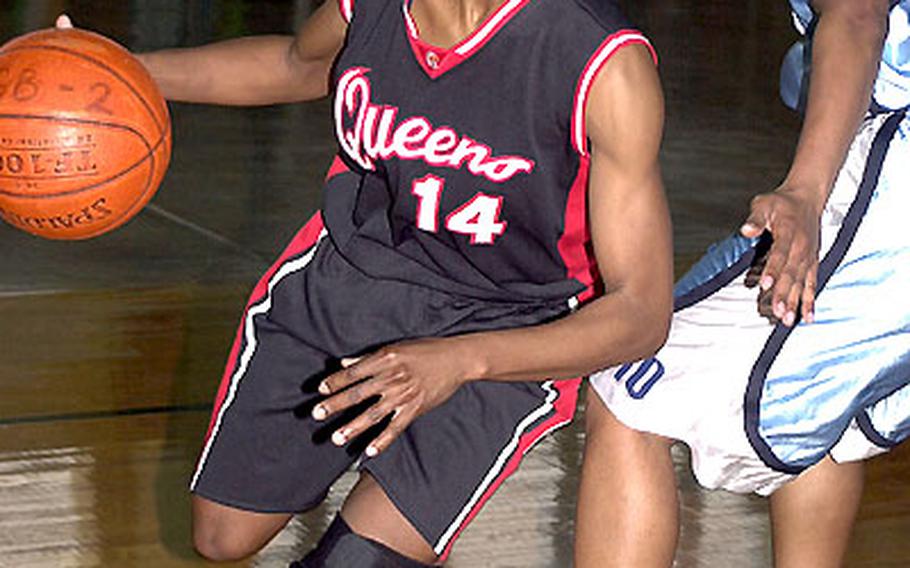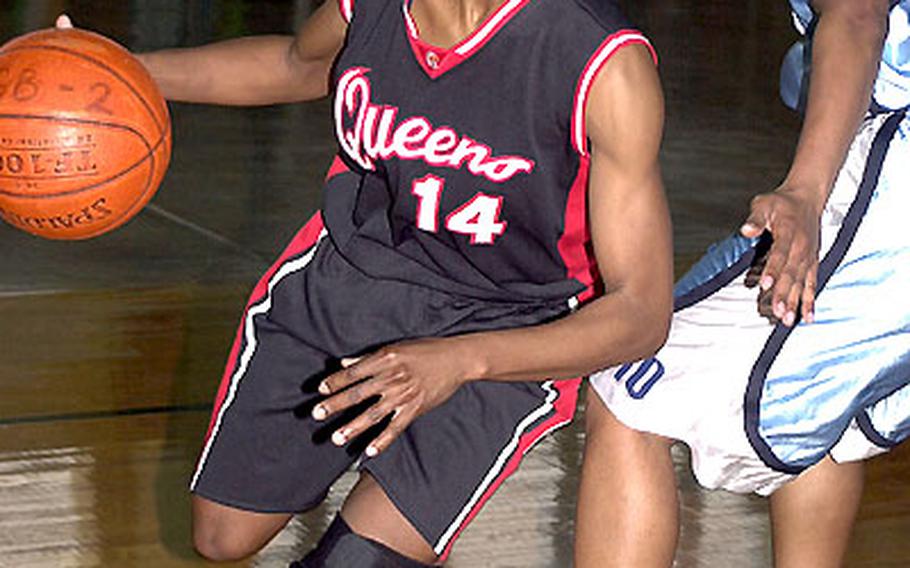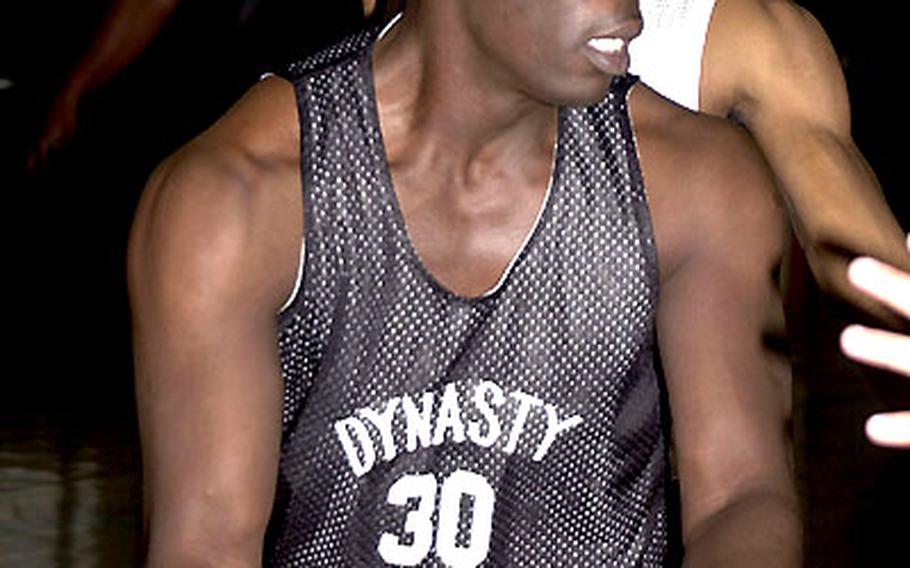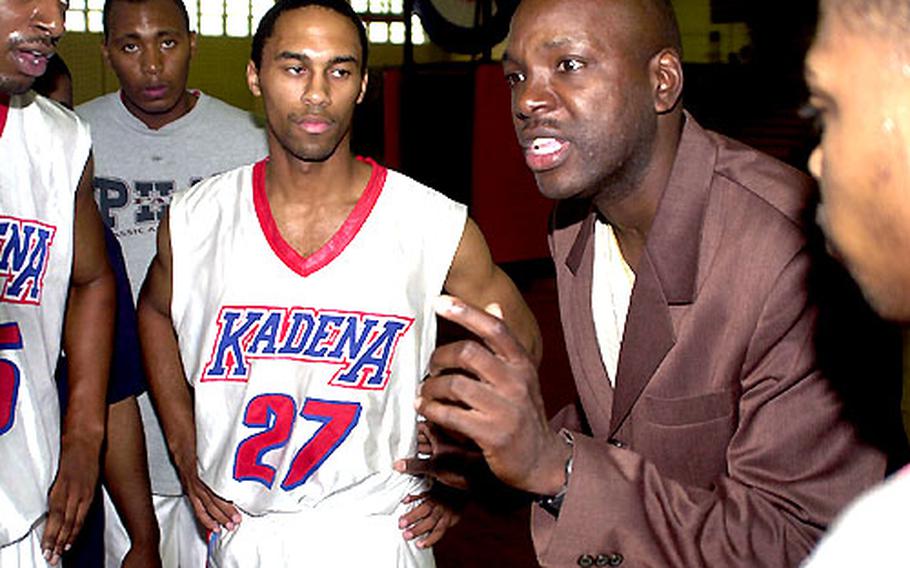 CAMP FOSTER, Okinawa — The Queens reigned supreme. The Falcons soared.
Monday was a day for local teams to celebrate as the Okinawa Queens and Kadena Falcons captured the women's and men's championships in the 12th Martin Luther King Invitational Basketball Tournament.
The Queens ended Korea's Yongsan Runnin' Rebels' five-year title run, leading from start to finish in a 65-49 triumph. The Falcons won their first MLK title, leading wire-to-wire in topping Dynasty of Okinawa 77-68.
With all eyes on Dynasty making it three straight MLK titles, and Korea's Osan Defenders trying to win all three major Pacific-wide invitationals in one season, the Falcons became the "forgotten team," Kadena coach Edward Gadson said.
"Nobody respected us," Gadson said. "Nobody thought we would be here. Osan, Dynasty, everybody except Kadena. We went out to prove we were ballplayers and we did. Solid team effort."
Depth played as big a part as any for the Falcons; 12 of their 13 players saw significant minutes and 11 scored, with MVP Thomas Jackson netting 17.
"That's pretty much how it's been," Gadson said. "In practice I split them up in different ways so when they go out on the court, they all know how to play with each other."
Jackson's performance, including 15 second-half points to hold off a Dynasty rally, came just three weeks after he returned from a deployment to the Persian Gulf.
"When he came back from deployment, he added all the spark to the team at the point guard position," Gadson said.
Power forward Elvin Davis "did a good job crashing the boards," Gadson said, adding that assistant coach Kevel Ellies was a "big addition" to the team a month ago. "He added a lot to the bench. Kept me straight."
Terrence Brown scored 11 of his 15 points in the first half as the Falcons raced in front by as many as 16. Julius Johnson's bank shot in the lane with 4:49 left in the half made it 32-16 Kadena.
Dynasty, which had five players from the team that won the tournament the past two years, Down Town, didn't quit. It cut it to 61-59 with 6:22 left on James Burnett's rebound tip-in.
"We weren't taking care of the ball," Jackson said of the reasons Dynasty almost caught up.
Dynasty got no closer, as the Falcons outscored them 16-9 the rest of the way. "Sheer will, determination and unity within our team helped us turn it around," Jackson said. Brown finished with 15 points; Davis had 12.
"It's like that sometimes," said Burnett, who fueled the rally with 12 of his 16 points in the second half. "We lost our concentration. We lost what got us back within two."
Orvin Wooten of Dynasty had a game-high 25 points.
Taking their second major tournament title in less than a month, on the heels of winning December's Osan Pacificwide Invitational in Korea, was a goal the Queens had aimed for since the summer, when the team was formed, All-Tournament guard Chrystal Smith said.
"We had championship on our minds and we came together of one accord," she said. "This is what we've been wanting for six or seven months."
She and a relentless Queens defense set the tone. Smith scored the game's first nine points but the Rebels rallied to within 11-9 on Michelle Barksdale's bank shot with 9:08 left in the half. Yongsan got no closer, falling behind 65-45 with 2:12 left on Smith's free throw.
Smith scored 19 points. Tournament MVP Trancye Foster added 14 despite each finishing with four fouls, as did center Robin Szilagyi.
"They're a quick, strong team," said Yongsan's Tracey Coursey, who led all scorers with 29 points, 23 in the second half. "We had a few injuries. We weren't going to give up. Not enough gas in the tank. A lot of people didn't think we'd get here. I'm very proud of this team."
12th Martin Luther King tourney awards
Men
Most Valuable Player-Thomas Jackson, Kadena
All-Tournament Coach-Ed Gadson, Kadena
All-Tournament Team-Terrence Brown, Thomas Jackson, Kadena; Orvin Wooten, George Baez, Dynasty; James Oliver, Yongsan; Darryl Harmon, Osan
Team Sportsmanship Award-U.S. Naval Hospital Camp Lester
Three-Point Long-Distance Shootout-1, Juandero Hurt, Yongsan; 2, Mike Walters, Kadena
Slam-Dunk Contest-1, Kinzie Moore, Spotlight; 2, Brian Cassell, U.S. Naval Hospital Camp Lester
Women
Most Valuable Player-Trancye Foster, Okinawa
All-Tournament Coach-Clarence Franklin, Okinawa
All-Tournament Team-Trancye Foster, Chrystal Smith, Robin Szilagyi, Okinawa; Tracey Coursey, Yongsan; Nicole Bowman, Osan; Theresa Gittens, Kadena High
Team Sportsmanship Award-Kadena High
Three-Point Long-Distance Shootout-1, Katie LaGrave, Kadena High; 2, Katrina Lawrence, Yongsan