Okinawa sprinters take aim at OAC championship meet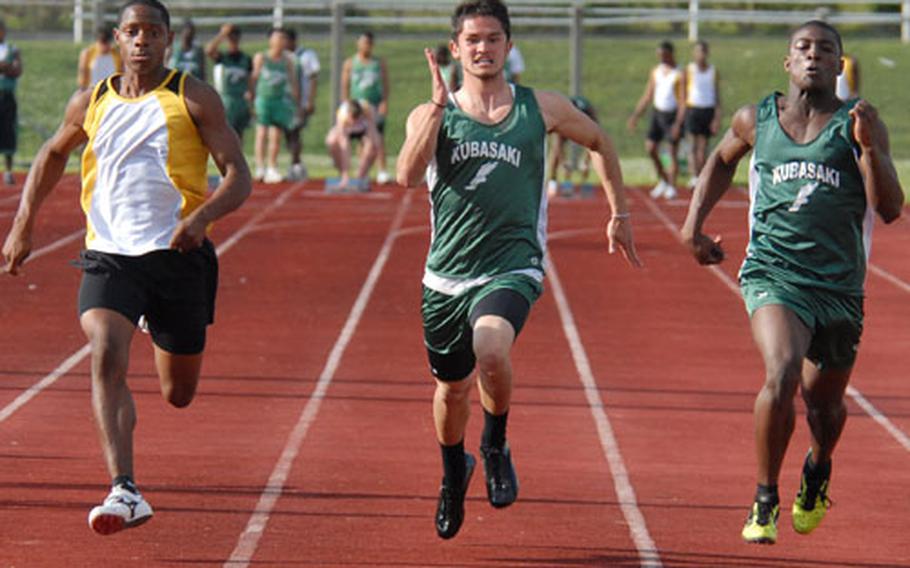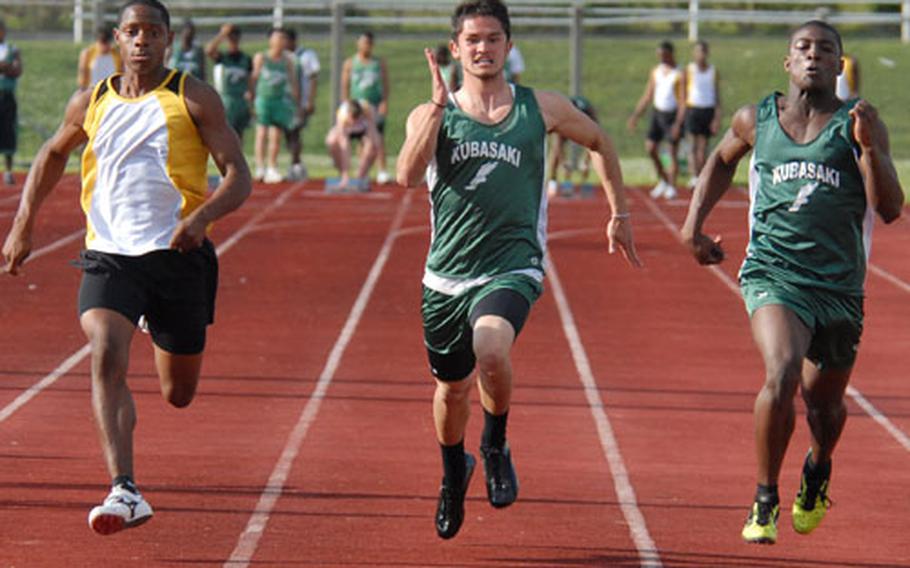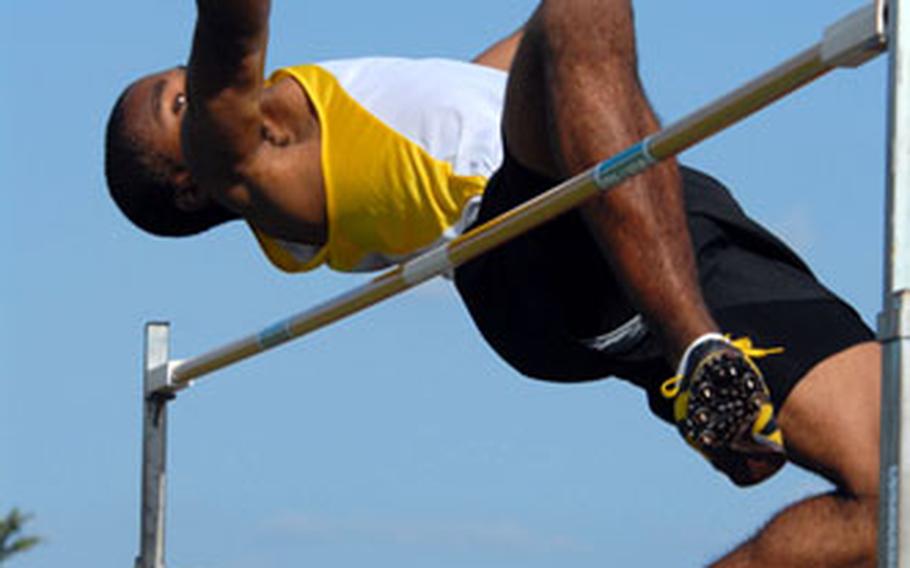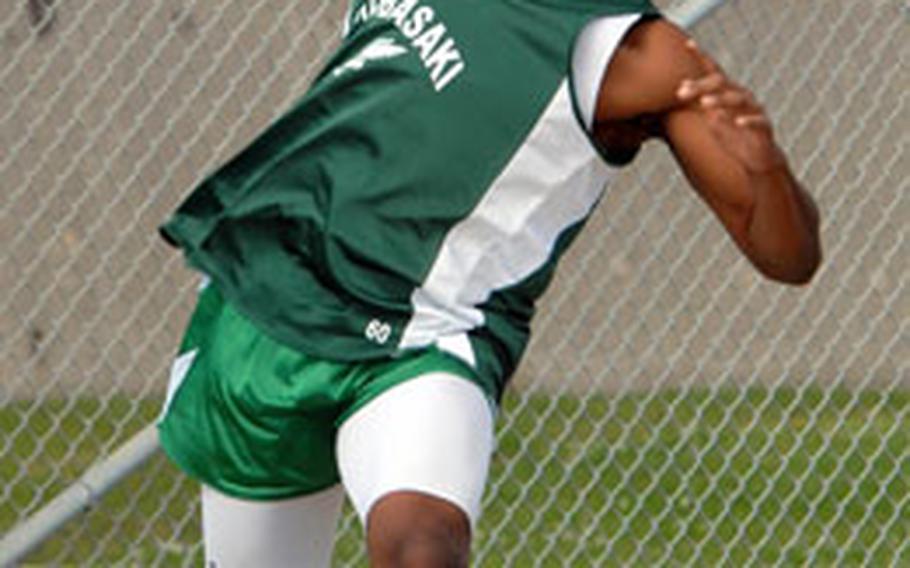 All season, Marquette Warren had been losing the 100 meters by tenths or hundredths of a second to his Okinawa Activities Council track and field rivals.
On Friday, Kubasaki's junior sprinter finally broke through in the final regular-season meet before the OAC district championship next Friday at Koza City Stadium.
Warren blazed the 100 in 10.62 seconds, the top time in Japan this season, beating his own personal best by almost a second. Kadena's Brandon Harris was second (11.12) and Kubasaki's Michael Bennett took third (11.25).
Now, Warren says he has his eyes set on Mike Petty meet champion Shun Bowens of Kadena, who sat out Friday's meet due to undisclosed reasons.
"I can catch him," Warren said. "It's something I've been looking forward to all season. He's fast, but he's catchable."
Warren's not the only one with his eyes on the district record of 10.6 set by David Mackson of Kubasaki in 2002.
Harris, for example, felt he'd beaten Warren to the tape Friday. "I thought I caught him," Harris said, adding that the OAC championship meet is "going to be a wild field."
On the girls' side, Kadena's Lorien McKinney recorded the region's best time, 12.62 — one of three girls who ran under 13 seconds on Friday.
"We've been working hard this week in practice," McKinney said "I hope to get into the lower 12s. I think it's possible."
Kubasaki's 20-year coach, Charles Burns, predicted two or three sprint records alone would fall in the district championship, which will be held at an off-base venue for the first time.
"The weather is starting to warm up and that's the secret to running good," Burns said, adding that having medals and qualifying for the May 17 Kanto Invitational in Tokyo "on the line (will) make a difference. They perform better."
Lightning strikes twice in Daegu girls' soccer victoriesComing off the one-week spring break, Daegu American's defending Far East Class A Girls Soccer Tournament champion team struck for 1-0 victories over Taejon Christian International and Osan American within 48 hours, each goal coming in the seventh minute.
"It was nice to score early rather than play catchup," coach Ed Thompson said, crediting the return of junior stopper Linda Martinez to the lineup after she missed two games with an ankle injury. "She captains the defense. Her return has been key for us."
Despite not having senior Erica Anglade and her 20 goals in the lineup due to a scholarship engagement, Seoul American prevailed Friday 3-0 at TCIS behind freshman Katie Bolander, who scored twice and assisted on junior sister Jessie's goal.
"Their biggest role this season has been as playmakers," coach Lori Rogers said of the Bolanders. "They know who to give it to, know where to go with it, know where to put it and they're not afraid to shoot from outside the 18, which is where their goals came from."
Weather intruded greatly on DODDS-Japan matches played Friday at Misawa Air Base. Host Robert D. Edgren's boys split their two matches, losing 1-0 to Nile C. Kinnick after blanking Matthew C. Perry 3-0.
"I wouldn't want to be out there," Edgren coach Justin Edmonds said of playing in 40-degree weather with mist and sea fog. "You have to make sure the players are warmed up. You don't want them pulling a muscle or something."
"It was nasty," Perry girls coach Chris Anderson said after his Samurai survived a late Eagles rally to edge Edgren 3-2. "Tomorrow's supposed to be nice. We'll see how that goes."
Ashliman faces surgery; Kinnick baseball streak endsZama American's girls must make play the rest of the season without sophomore striker Aubrey Ashliman. She's scheduled to undergo surgery to repair a torn anterior cruciate ligament in her left knee on Tuesday at Yokota Hospital.
Ashliman scored a Japan-record 50 goals as a freshman in 2007. Her freshman sister, Mallarie, has a team-leading 15 as the Trojans have gotten off to a 7-2 start, the best in school history.
Nile C. Kinnick's baseball team's 21-game winning streak came to an end Thursday at Fuchu Civic Stadium, where American School In Japan edged the Red Devils 7-6 in a game called in the sixth inning due to rain.
Will Edgren's baseball team ever play again this season? Weather fouled up the Eagles' plans to host Yokota on Saturday — the third straight playing weekend in which the Eagles' games were rained or snowed out.
Edgren is 0-6 so far this season, losing three games at Yokota on March 8 and at Zama on March 15.