Okinawa H.S. football: This week, close game were the rule
by
Dave Ornauer
October 25, 2004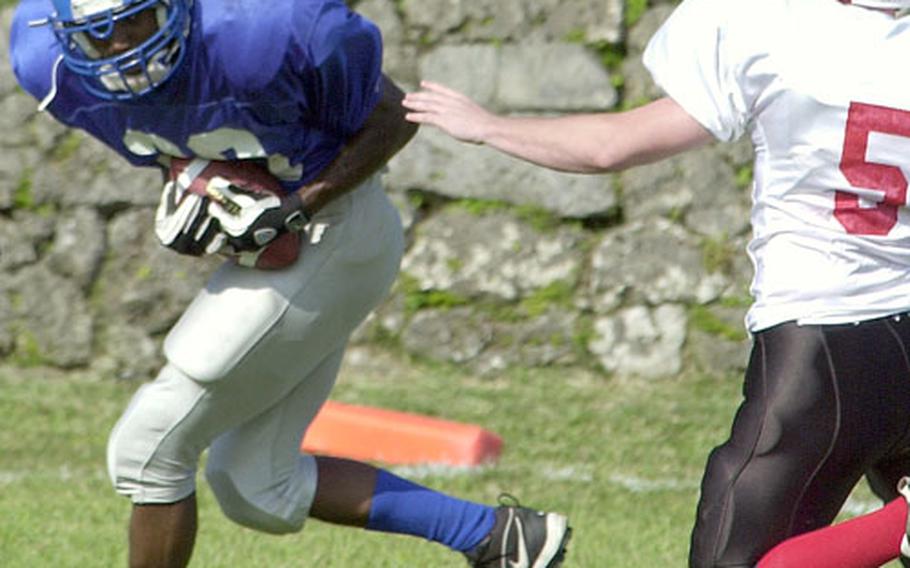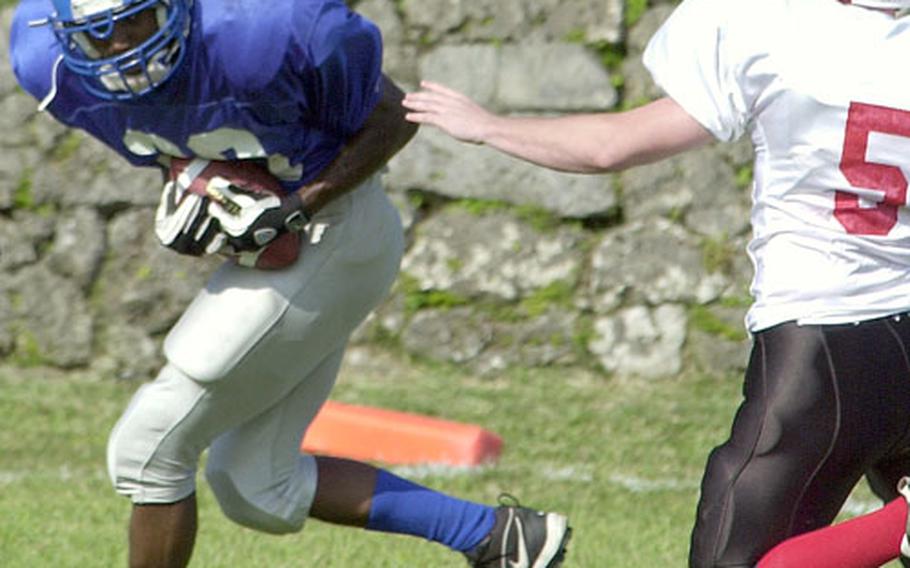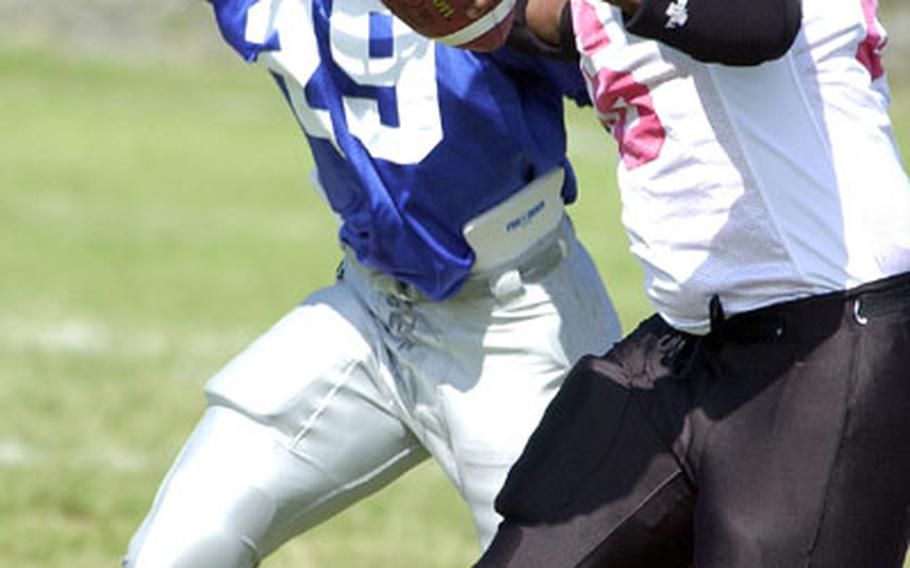 CAMP COURTNEY, Okinawa — Call it "Squeaker Saturday" in the OFL.
After last weekend's games, which resulted in three blowouts by an average margin of 47.7 points, both of Saturday's Okinawa Football League games went down to the wire.
Foster-Futenma's defense forced three turnovers, recorded three sacks and even posted a first-quarter touchdown, and backup quarterback Gabriel Bolden's lone pass went for a touchdown in a 13-7 victory over Schwab.
Thomas Aragon completed just five passes in 18 attempts, but three of them went for touchdowns, helping Courtney-Hansen rally past Kinser 19-14.
Foster-Futenma 13, Schwab 7
A defense that has allowed just 13 points and 14 yards in three games got the Bulldogs on the board first, when Adrian Virges sacked Juventino Camarillo at the Panthers' 5, and the ball popped into the end zone, where James Rose fell on it.
"The defense was awesome," Foster-Futenma coach Lee Mew said. "The defense has won the game every game for us this season. A lot of good people, all of those guys are stepping up."
Rose, Clifford Sales and Al Wilson each added sacks, Corey Pitts intercepted a pass and Royce Allen recovered a fumble.
Though the Bulldogs outgained the Panthers 295 yards to minus-6, Foster-Futenma's offense managed only one touchdown, Bolden's 22-yard pass to Thomas Culberson near the end of the first half. Schwab's defense forced four turnovers.
Mew blamed the lack of scoring mainly on lack of offensive practice.
"The games are won on Monday, Tuesday and Wednesday in practice," he said. "Then the players can come to the game and execute well. It's getting all the players to practice consistently."
The Panthers hung around until the end, with Camarrillo hitting Jermaine Parlow for an 18-yard touchdown to cut the final margin to six points with 6:17 left. Schwab had one last chance with 2:54 left, but didn't move the ball and the Bulldogs ran out the clock.
"We have to work on blocking and executing offensively," Schwab coach Robert Bufkin said. "The defense is there. It did what it was supposed to. But we have to get the offense in gear."
Courtney-Hansen 19, Kinser 14
Aragon finished with 120 passing yards, including touchdown passes of 2 yards to Vedel Poindexter, 56 to Geovanny Riveria and 23 to Dustin Pellot, the last of which rallied the Titans from a 14-13 deficit with 58 seconds left in the third period.
That complemented a running game spearheaded by William "Bull" Caton, who gained 153 yards on 27 carries. The Titans outgained the Knights 353-139.
"We needed to get a win," said coach Tony Bowman, whose Titans lost their previous two games 40-0 loss to Foster-Futenma on Oct. 16 and 52-3 to Kadena on Oct. 2.
It didn't come easily. The passing of Carl Stevens (7-for-20, 131 yards) kept the Knights in the contest, as did a 229 all-purpose yards performance by Deonte Harper.
John Hooks accounted for both Knights touchdowns, a 1-yarder that cut it to 7-6 in the first quarter and a 3-yarder early in the third period that made it 14-13 Kinser.
The Knights had three more chances deep in Titans territory late in the fourth quarter, but came up empty.
"Kinser had me worried right to the end," Bowman said.
Like Foster-Futenma's Mew, Kinser coach John Glaister felt that with more practice, his team could have performed better. "We have the talent," he said. "We just need the heart and dedication."
Dave Ornauer/Stars and Stripes
Schwab Panthers running back Brandon Boron is wrestled down by Foster-Futenma Bulldogs defender James Rose during Saturday's Okinawa Football League game at Courtney Bowl, Camp Courtney, Okinawa. Foster-Futenma outlasted Schwab 13-7.