DII/DIII baseball championship
Ogletree, Jaguars' offense too much for Bitburg
by
Gregory Broome
May 27, 2017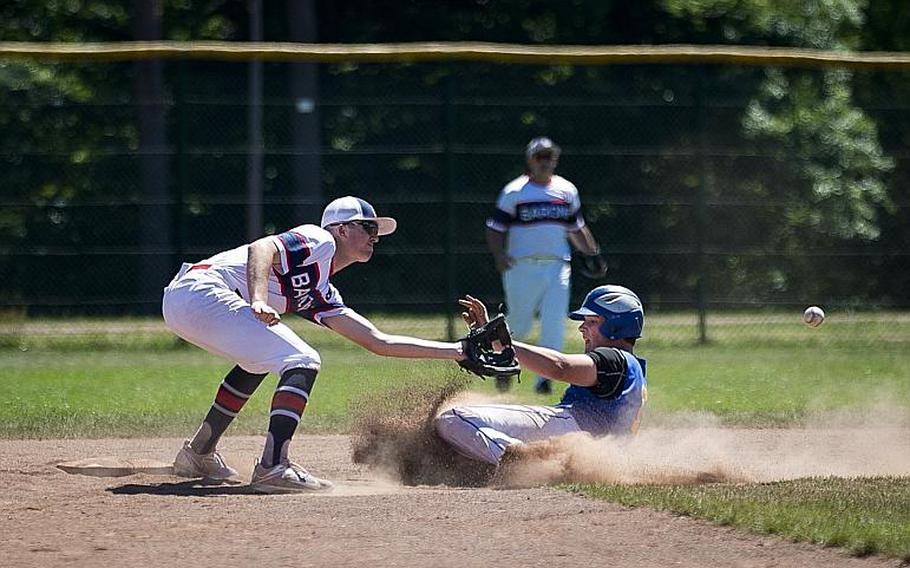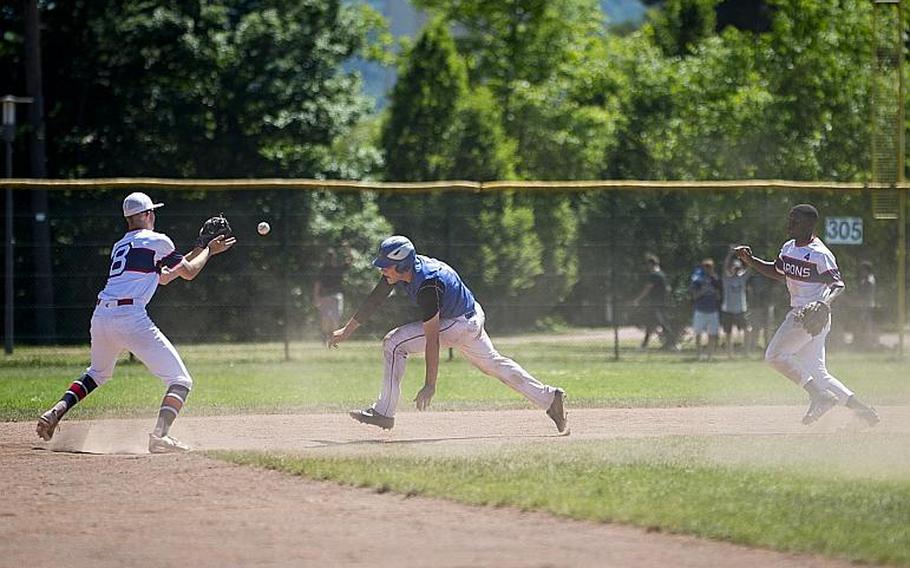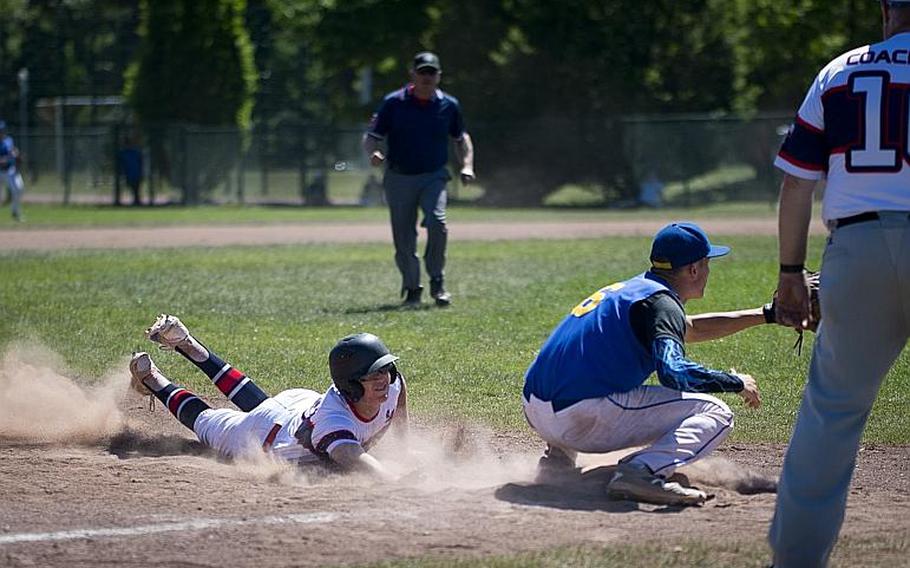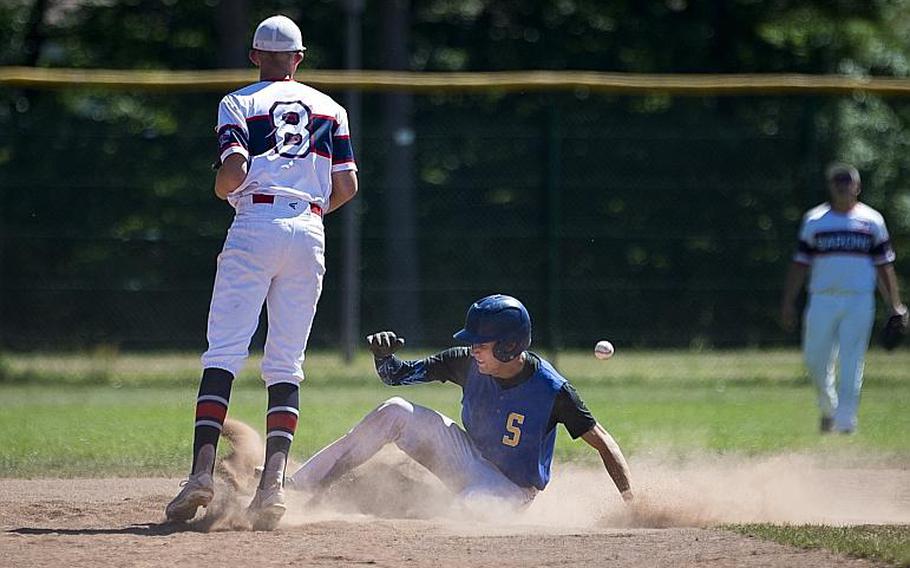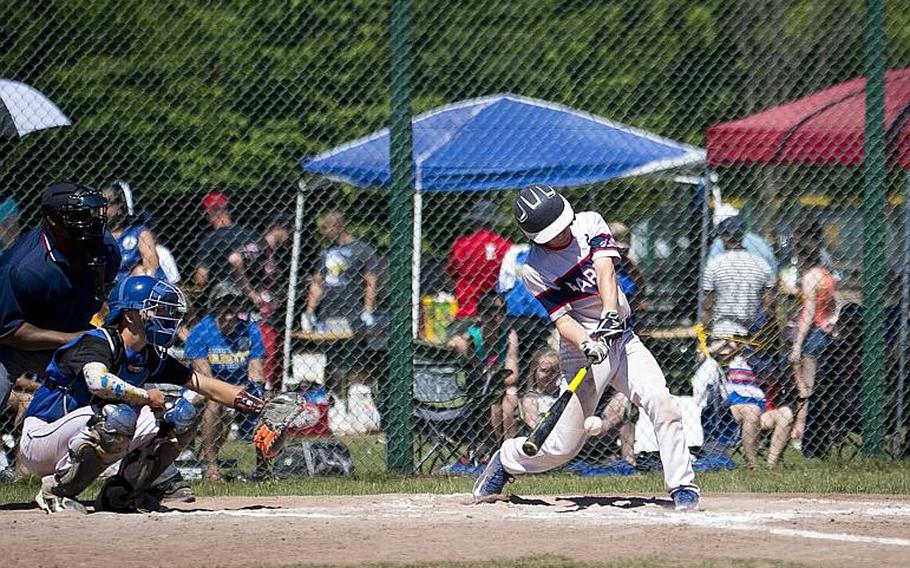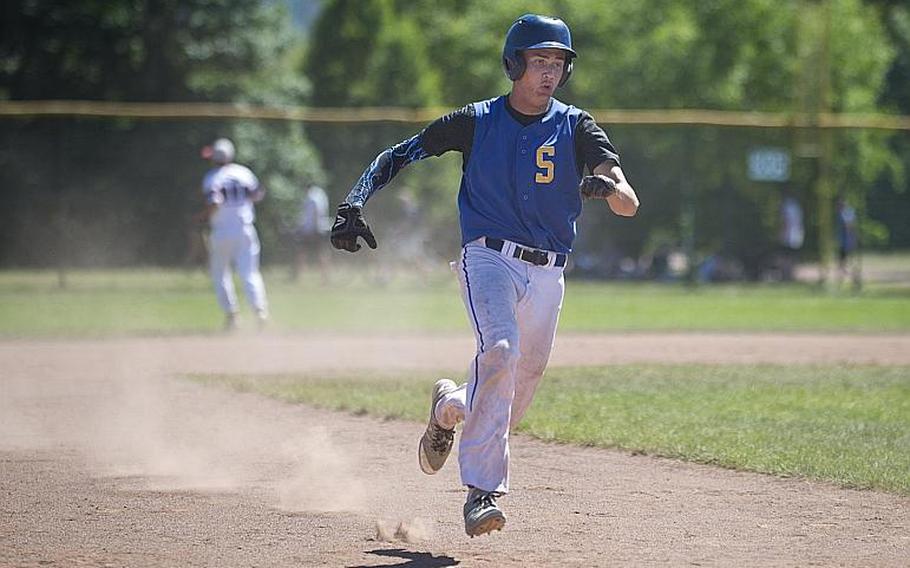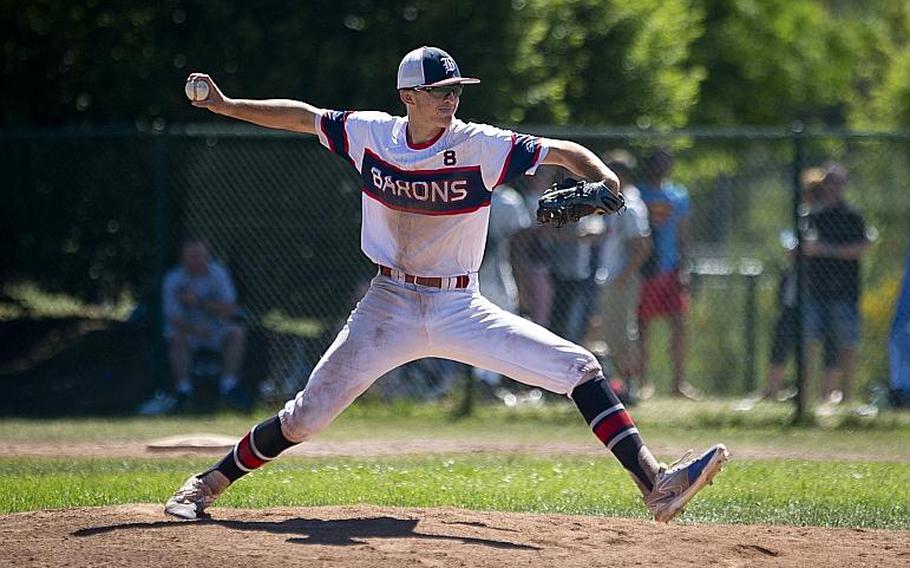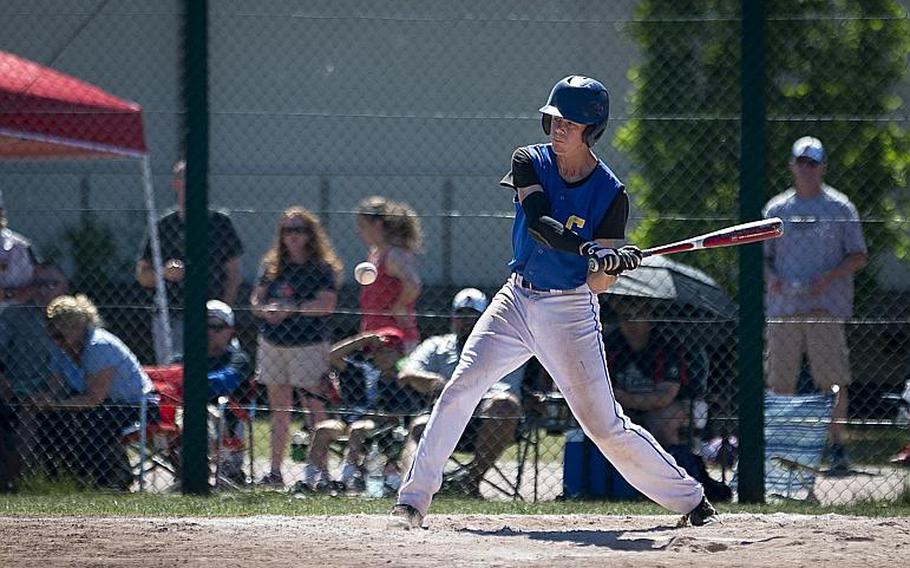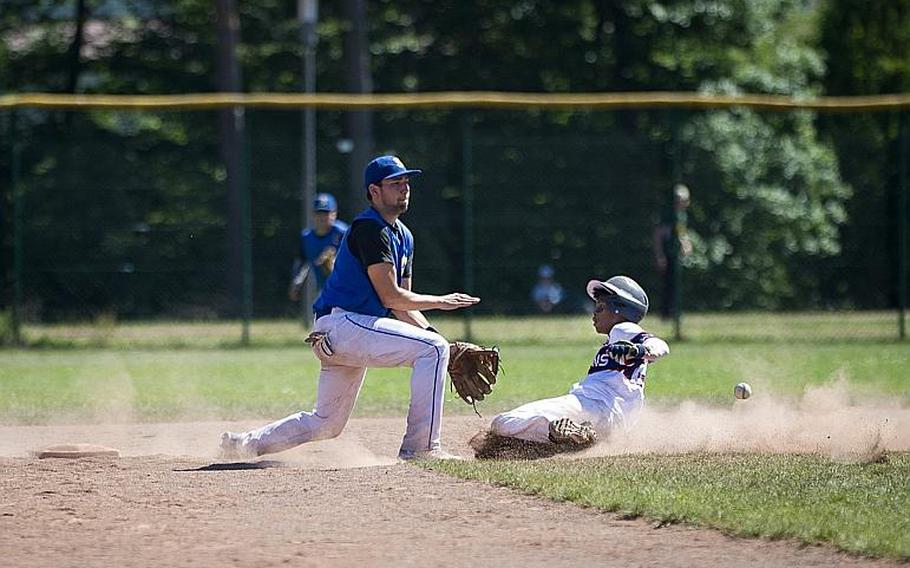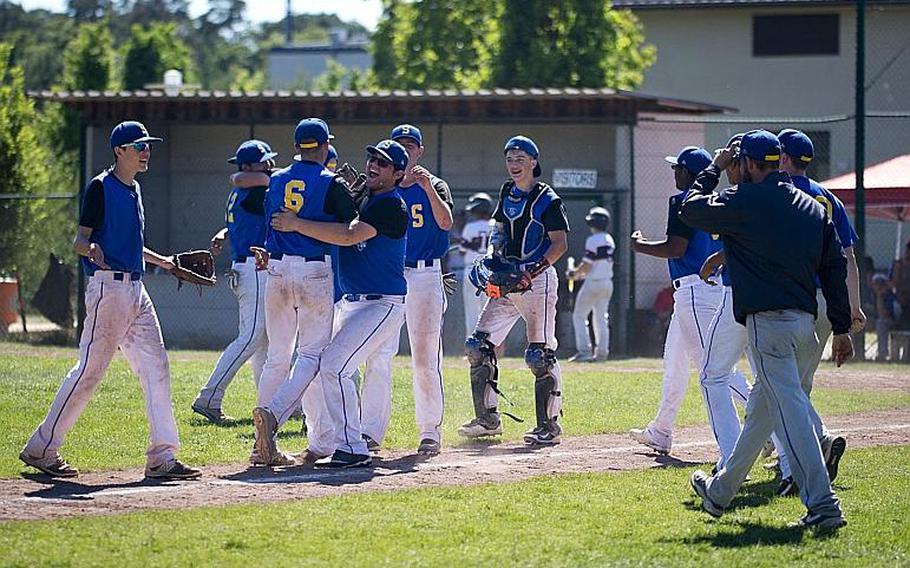 RAMSTEIN, Germany -- The Sigonella Jaguars won the DODEA-Europe Division II/III baseball championship Saturday at Ramstein Southside Fitness Center, steadily outlasting the Bitburg Barons for a 10-1 victory and their first DODEA-Europe baseball crown.
Alex Ogletree threw a complete-game gem, striking out 14 Barons while yielding just a hit, a walk and an unearned run across six brilliant innings. The performance marked the second time Ogletree has led the Division III school to a championship in as many seasons; he also hit the game-winner that sealed the Jaguars' boys basketball title this winter.
"It's insane," Ogletree said. "It's a great feeling."
But as Ogletree himself was quick to point out, he had plenty of help from his Jaguar teammates.
Sigonella notched a first-inning run on an RBI hit by Cain Brehmer.
But the damage really started to escalate in the third inning, when senior Ethan Lopez smacked a hit to score two more Jaguar runs. Carson Morrison, like Lopez a fourth-year member of the title-hungry program, ushered Lopez home with a sharp base hit of his own.
The Jaguars steadily tacked on runs over the balance of the six-inning game, while Ogletree and a solid defense subdued the Baron bats.
Ogletree recorded two pressure-packed strikeouts to strand a pair of Bitburg runners in scoring position in the fourth; Bitburg's Deon Montgomery reached on an error and came around to score the Barons'
lone run in the sixth.
Lopez summed up the straightforward, successful approach the Jaguars brought to their long-awaited title shot Saturday.
"Just swinging, putting the ball through, putting it in play, getting the runs in. That's all it took," Lopez said. "We played great defense, we played even better offense, and that's what won us this game."
Both teams were able to navigate pool play without overusing their respective No. 1 pitchers. Bitburg ace Max Little threw just 62 pitches entering the final, just under half of the 125 allowed for the tournament under DODEA-Europe pitch count rules. But the Barons resorted to the bullpen early Saturday, and coach Wayne Phillips said a few botched "routine plays" contributed to what became an insurmountable Sigonella lead.
"It's tough to come back once you get behind," Phillips said, adding that Ogletree was "throwing darts out there today."
That dart-throwing was by design, as Sigonella head coach Matt McKown largely shelved Ogletree until Saturday. Thanks in part to a smaller pool and one less preliminary game, Ogletree entered his title-game start with just seven pitches on his tournament tally, a nearly clean slate upon which to craft his masterpiece. The remarkable run support the Jaguars produced Saturday further eased his burden.
"When they just back me up and I can just go out there and throw, that's what I like to do. I can't go out there and throw the way I want to if we're down or if we're tied up," Ogletree said. "It's a lot more free, a lot more fun."
In the other dugout, Bitburg was denied a celebration for a second straight season. The Barons nearly won the 2016 title before taking a 5-4, eight-inning loss to the Rota Admirals. Bitburg exacted its revenge this year in pool play, blasting the Admirals 16-1 on Friday to end the Spanish school's two-year title reign and ensure a new small-school champion. The third-seeded Barons declared their candidacy for the throne with a 7-4 defeat of AFNORTH in a Friday evening semifinal.
Sigonella entered the tournament holding the No. 1 seed and the only unbeaten regular-season record in Division II/III play. But the Jaguars were brought back to the pack immediately with an opening 6-5 loss to AFNORTH on Thursday, and needed a 14-3 rout of Hohenfels on Friday morning and some favorable tiebreaker math to escape their three-team pool and reach the semifinals. They outlasted Ansbach 11-7 to reach Saturday's final, where they claimed the program's first title and added to the school's recent run of European titles.
Twitter: @broomestripes