Obstacles for a Far East softball tournament numerous
by
Dave Ornauer
March 23, 2006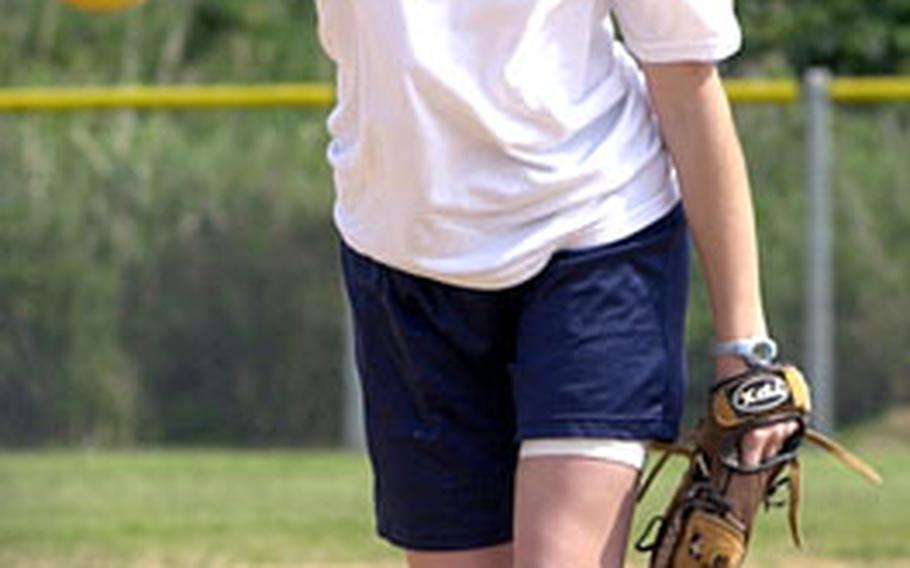 If home plate represents a Far East tournament, Pacific softball teams are still rounding first, trying for a double.
Of all the obstacles — and a shrinking budget looms at third base — Department of Defense Dependents Schools first must settle the fastpitch-slowpitch debate that makes an end-of-season gathering out of the question.
DODDS teams in South Korea and Okinawa embraced fastpitch last year, but DODDS teams in Japan continue to play slowpitch.
"They're missing the boat," Kadena coach Ken Hudson said. "Fastpitch is what they play in the States. … If you have good athletes with college potential, you hinder them by playing slowpitch in high school."
"It prepares you for college," said Kadena senior catcher Alison Montes de Oca, who played fastpitch in the States before arriving at Kadena in 2002. "It's … closer to baseball."
DODDS-Japan coaches have voted annually to remain with slowpitch despite the other areas switching to fastpitch. But Zama American and Robert D. Edgren coaching staffs might be warming toward fastpitch, with Yokota sitting on the fence — and a 3-2 vote at seasons's end would switch Japan to fastpitch in 2007.
"I'd vote twice if they're not looking," said Veronica Jones, Zama American's first-year coach who played fastpitch in high school in the States.
She cited Zama's Megan Howard, who tried to walk on to Arizona State's fastpitch team. She was turned down. Other factors may have contributed, Jones said, but not knowing fastpitch "probably" was one of them. "She was talented. … Slowpitch puts them at a disadvantage for playing high school in the States and [for] college scholarships."
But some schools, such as E.J. King in southwestern Japan, simply don't have the talent at fastpitch's key positions — pitcher, catcher, first and third base — to make the upgrade, said Cobras coach Gariann Wrenchey.
"Fastpitch is a better game," she said. "But a lot of girls at Sasebo haven't even played before. We would need outside help to train our pitchers."
Coaches said they'd try to make fastpitch work should the vote go in its favor, but starting a program would take two to three years.
"It's never an absolute no," said Yokota athletics director Bonnie Seeley. "But if we make the move, it must be done correctly."
That would mean acquiring needed equipment, such as catching gear, recruiting girls with pitching arms, plus bringing aboard coaches with fastpitch experience or training coaches to teach proper technique, she said.
"That's the biggest issue," Seoul American assistant coach LaRoy Slaughter said. "If you don't have pitchers and if you don't have anybody who can coach that spot, who can teach pitching, catching and other baseball-like skills, then it's a waste of your time" to switch to fastpitch.
Some coaches predicted just making the move would bring out fastpitch players.
"If you have a Lisa Fernandez out there somewhere, you'd never know it if you played slowpitch," said Hudson, who coached fastpitch for four years at Rota High School in Spain.
"With pitching and better teachers and coaches," Wrenchey said, kids "could do it."
"When they start playing, they may be handicapped at first," Hudson said, "but that's on every individual coach and school to close the gap on deficiencies."
But even if the skills gap is bridged, money would have to be found for a Far East tournament, said DODDS-Pacific Far East Activities Council chair Don Hobbs.
But coaches who favor fastpitch argued another concern takes precedence: doing what must be done to give DODDS-Pacific players a program that mirrors stateside programs.
"We want to try to give them every advantage," Jones said, arguing that if slowpitch stays, "we're holding them back. There's no way they can be competitive."