Home Team
No doubting Thomas when it comes to Wiesbaden volleyball
by
Rusty Bryan
November 3, 2010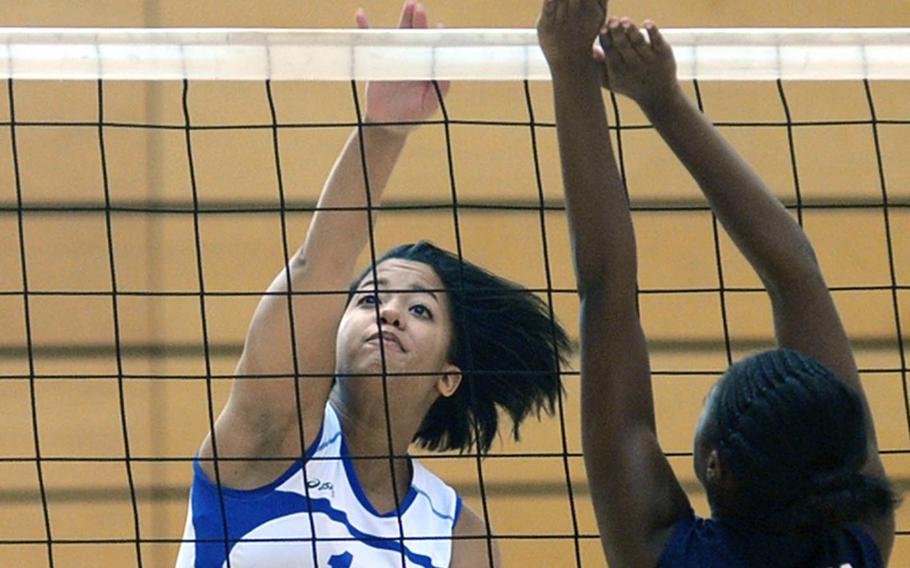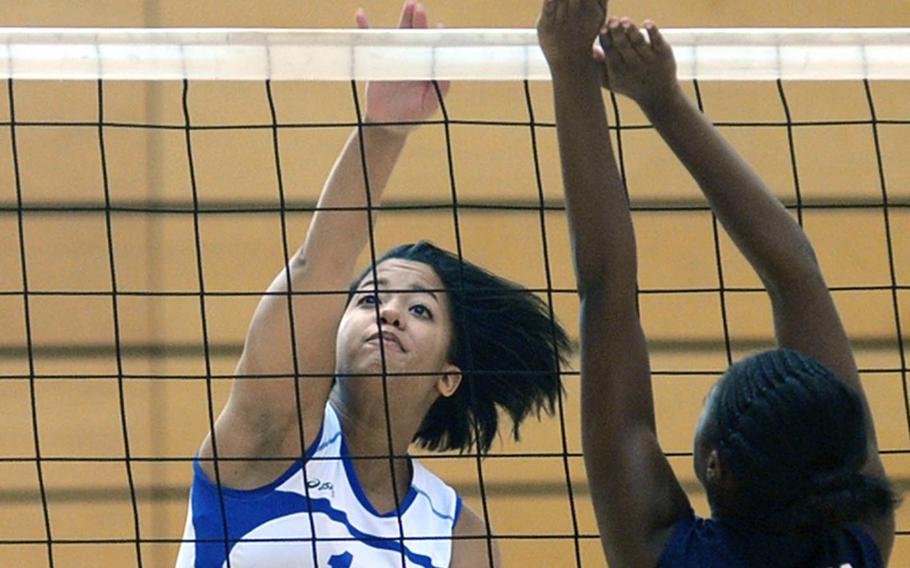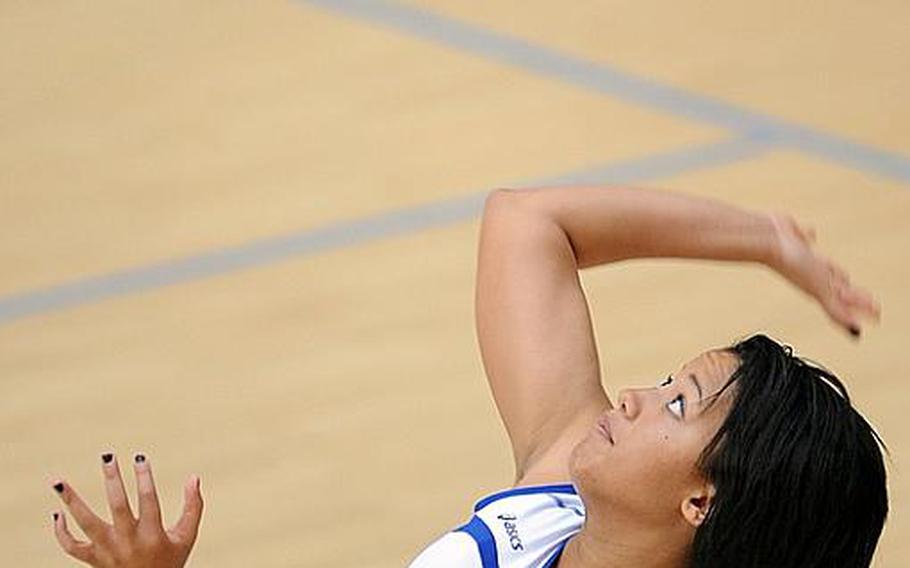 WIESBADEN, Germany — When All-Europe senior outside hitter and middle blocker LeAmber Thomas of Wiesbaden takes the volleyball court, a coach probably will notice her technical proficiency, the average fan will appreciate the power of her game, and a thoughtful observer might discern her leadership qualities.
But the first thing all of them — and everyone else — will notice is the sheer joy with which the 17-year-old plays volleyball.
"She's so doggone much fun," her coach, Linnea Velsvaag, said by telephone Tuesday. "She doesn't take herself too seriously. She's always smiling. She's the most positive person in the world."
Thomas has plenty to be positive about. Going into Thursday's opening games of the European Division I tournament in the Kaiserslautern military community, she had chalked up 83 kills, 59 aces, 26 assists, 11 digs and nine blocks in 12 games.
But impressive numbers aren't the reason Thomas beams so much when she's playing her favorite sport. The smiles come from the pleasure of being part of something bigger.
"I love the whole game of volleyball," she said Monday during a break in practice. "In basketball, you can do a lot on your own. But volleyball is a true team sport. No one can do it by herself."
The team, in fact, means so much to Thomas that she willingly made the transition from her accustomed outside-hitter position to the more challenging role of middle blocker.
"Middle blocker is an intense spot on the court," said Wiesbaden assistant Melissa Alexander, a military spouse who once played for the Lady Warriors and now volunteers to coach, along with husband Tyler, at her alma mater.
"An outside hitter just deals with her side of the court. A middle blocker plays all along the net, reading sets and calling out tips. It requires multi-tasking."
Velsvaag wasn't surprised Thomas took to the position so well.
"One of her huge positives is that she's willing to try new things," Velsvaag said. "She's very coachable. She has a lot of maturity."
And the Lady Warriors have cashed in on Thomas' maturity.
"This is the second year in a row that she's been our undisputed captain, voted by the players," Velsvaag said. "She took to leadership phenomenally well."
Perhaps that's because Thomas finds intense satisfaction in being a leader. It's part of the team mentality that appeals to her so much about volleyball.
"I still have some fine-tuning to do," she said about her game, which she began playing as a Wiesbaden freshman, "but now I can teach other girls how to do things right."
In a way, one of those girls is twin sister LeAndra Thomas, a basketball All-European with whom she teamed to help Wiesbaden to the European D-I hoops championship last February. The lesson the two teach each other is symbiosis.
"She likes basketball and I like volleyball," LeAmber Thomas said. "We have a deal every year. I'll play basketball if she'll play volleyball."
The agreement has worked out well enough so far this fall that on Saturday the Warriors claimed their first victory over defending D-I champion Ramstein in the Thomas era. The Lady Warriors are seeded fifth, behind unbeaten Heidelberg, Ramstein, 2009 runner-up Vilseck and SHAPE in the closely bunched D-I field.
"I'm excited about this year's tournament," Thomas said. "It's going to be very interesting. Last year, Ramstein was way above everyone else. This year, everyone's on the same skill level."
The level field only intensifies Thomas' desire to go out on top.
"I really want to win this year," she smiled. "Before, I'd always tell myself that there's always next year. This time, I won't have another chance."
---
---
---
---