Home Team
New rules adding wrinkles to wrestling season
by
Dave Ornauer
December 11, 2013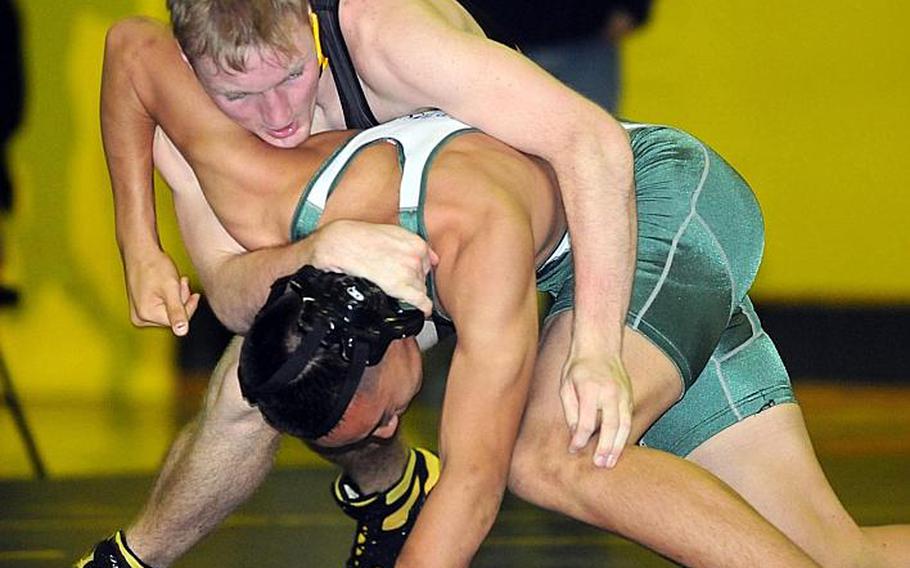 KADENA AIR BASE, Okinawa – James Alexander said he didn't feel overly concerned. The Kadena senior 158-pounder trailed Kubasaki rival Tanner Stamper in the second period of a preseason scrimmage bout, but that was OK, he reasoned. Just rebound and win the bout in the third period.
Only there was no third period. Bout over. Stamper won 9-5. Too late, Alexander realized, he'd forgotten that the rules have changed for this season, and it didn't register with him until the final buzzer.
"I messed up," Alexander said of stalling out the last 30 seconds of the second period. "I was thinking it was the old rules. I had so many opportunities I didn't take. I know what I need to do to fix it."
There will probably be several incidents such as Alexander's moment throughout Pacific high school wrestling, which sees its biggest rule changes since just after the 2004 Summer Olympic Games in Athens.
International freestyle wrestling's governing body, FILA, implemented several changes in the wake of the International Olympic Committee's decision to drop wrestling from its program in 2020. That decision was later reversed when FILA revamped its rules, adopted in June.
Period scoring is out. Cumulative scoring is back in, as it was prior to Athens. Bringing scoring more in line with American collegiate folkstyle, takedowns are now worth two points, instead of one. Reversals are now worth two points; before, they were worth none.
Bouts now are contested with two three-minute periods, instead of three two-minute periods. Technical falls now occur when a wrestler builds a seven-point lead at any point during a bout, or scores two three-point throws or a five-point throw that gives the throwing wrestler the lead.
'It encourages wrestlers to score at any time and more often," Okinawa referee and former Kadena coach Steve Schrock said.
Coaches and wrestlers said the rules are designed to speed up the action, reduce stalling when a wrestler gets a lead and add a sense of urgency, since a bout can now in theory end with a takedown and a series of quick tilts.
"It's a big advantage for seasoned wrestlers; they can end it and get off the mat really quick," longtime Seoul American coach Julian Harden said. "It will speed things up for veterans, especially against inexperienced wrestlers; they give up points so quickly."
Teams that feature plenty of experienced wrestlers, such as Nile C. Kinnick, Kadena and Kubasaki, will also enjoy a "huge advantage," Harden said.
While Seoul American won its season-opening four-way DODDS Korea meet last Saturday at Osan American, "We have just as many inexperienced wrestlers as the rest of" Korea's teams, Harden said. "When we go up against an experienced team, we may get crushed."
Coaches must convey that sense of urgency to their wrestlers, teaching them to be aggressive, Harden said.
"Younger wrestlers hesitate to shoot, hesitate to make a move," he said. "You have to keep moving forward. With inexperienced wrestlers, that takes a long time."
The longer periods will present more of a challenge in the event two opponents match up well, said coach Justin Cook of reigning Far East Division I champion Kubasaki.
"Being out there for two minutes was a lot, but three minutes, that's going to be rough," Cook said.
As far as mat preparation, most teams are taking a "business as usual" approach. Kinnick coach Gary Wilson said about the only thing that's changed in practice is making the periods longer.
In the past, one could get away with sprawling flat on the mat and waiting for the referees to bring the wrestlers to their feet after being taken down. That luxury no longer exists, Wilson said, along with getting a second chance to rally in the second or third period.
"If you take a bad shot and get taken down, you still have work to do, more of a sense of urgency," he said. "If you lost a period 7-0, you could come back and have another chance in the second period. Now, that's gone."
With the potential for bouts to end quickly, wrestlers don't have the same amount of time to gauge an opponent, Kadena junior 115-pounder and former Far East champion Justin Duenas said.
"It tests your overall skill level and it's fast-paced," said Duenas, who like Alexander has wrestled under the old and new rules.
"It's more challenging. I'm not quite used to the rules yet. It's a different way to wrestle. You have to adapt to the situation. If you give it your all and you're ahead, it's over."
"Any time you change a rule, it's either going to help you or hurt you and you won't know whether it will help or hurt until the end," Wilson said.