Home Team
New players have Ramstein on the attack
by
Gregory Broome
May 3, 2018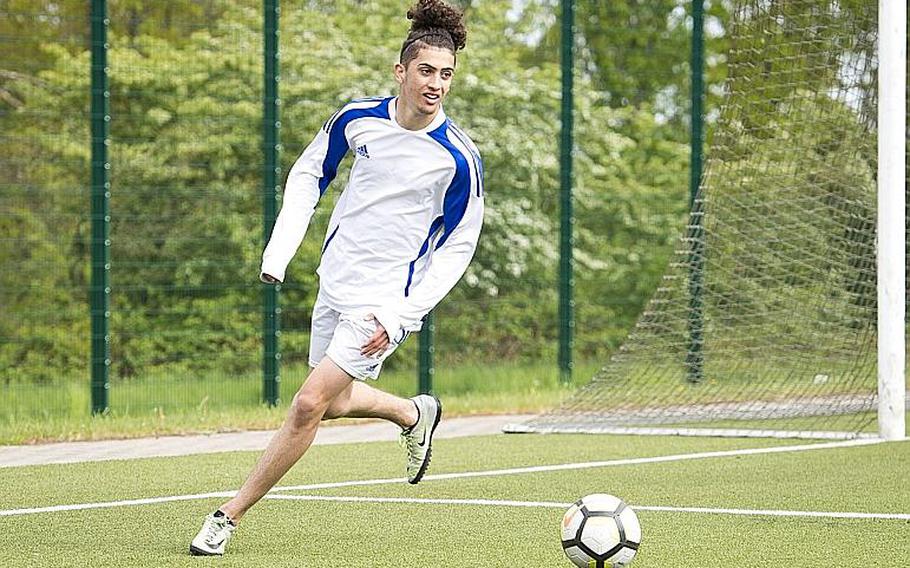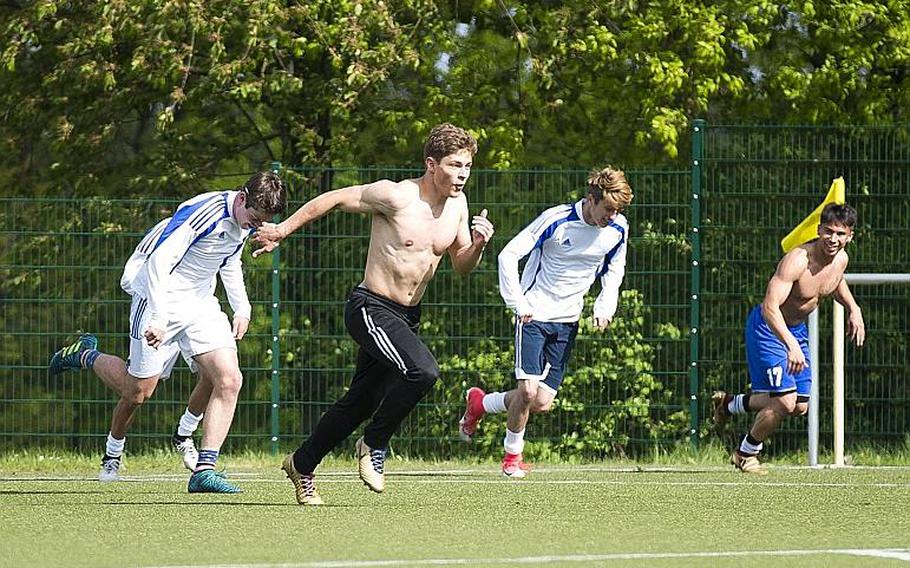 In recent seasons, the Ramstein Royals boys soccer program has developed an identity constructed around a specific style of play.
The Royals sought to keep the ball in the midfield and prevent their opponent from mounting attacks, playing the odds that they'd find the occasional goal they'd need to win via a defensive mistake or set-piece shot.
For the most part, the formula yielded good results. The Royals won the 2015 Division I title by a 1-0 margin, and advanced to last year's divisional final after a 1-0 overtime win in the semifinals.
But there's a secret behind the Royals' distinct brand of soccer: it wasn't their first choice.
"As a coach you always have to adjust your playing style to the talent level," Ramstein coach Dominik Ludes said. "In the last couple of years, we always were defensive-minded because that was the talent that we had."
This year's Royals team is under no such restrictions. An influx of offensive talent has opened up a new world of possibilities for Ludes and the Royals, and they've spent the past few weeks exploring it, scoring a combined 14 goals in three games since spring break.
"Based on the talent we have, we changed the system...to be more on the offensive side," Ludes said. "We've been creating a lot of goal-scoring opportunities in the games lately."
Strikers Chris Slover and Jaden Buelvas are at the tip of the Royals' freshly sharpened spear.
Slover, a junior, has lived in the area for years but is playing his first season for the Royals. A veteran of local pro organization FC Saarbruecken, Slover injured his knee several months ago and is still working his way back towards a potential return to that level. But for now, his rehabilitation is being spent in the service of revamping Ramstein's offense.
"Why not give it a try?" Slover said of his decision to join the Royals.
The results have been remarkable. Slover scored two goals in Ramstein's 3-1 defeat of SHAPE on April 20, then scored three in a 7-0 rout of Vilseck on April 28.
While vastly different than his experiences in the German league, Slover has thoroughly enjoyed his prep debut.
"It's been actually quite fun," Slover said. "They're a good bunch of boys to be around."
While a talent like Slover would have made a difference for Ramstein in any context, his impact has been compounded by the arrival of freshman Jaden Buelvas at the opposite striker spot. The combined speed and aggression of the new front line gives Ramstein a dimension previous Royal rosters have lacked.
"We can switch within seconds from playing defense to the counterattack," Buelvas said. "Go from our side to their side and score in the blink of an eye. That's what we're good at."
Nobody on the Ramstein roster understands the Royals' dramatic change as profoundly as midfielder Anthony Villella.
As a freshman, Villella broke free for an early goal in Ramstein's 3-1 European championship game loss to Kaiserslautern last spring before the Raiders' more potent offense took over the match. This year, he's attacking with some of DODEA-Europe's most dangerous strikers on either flank.
"Last year I kind of had to work alone at the top," Villella said. "Now it's a lot easier to get goals."
While Villella still finds plenty of opportunities for shots of his own - he matched Slover's total of three goals in the shutout of Vilseck - the midfielder is more than happy to distribute the ball around and watch his teammates finish the job.
"They're both so fast," Villella said. "I can literally just look up, play a ball anywhere and they'll get to it."
Ludes is quick to point out that the offensive highlights are still dependent on the grittier midfield work of winning the ball and playing it forward. Sophomore Gavin McMillan and newly arrived senior Dylan Grimes are among the key links in that chain.
"The connection between the midfielders and the offense has to be there as well for these guys to even have a chance to get into goal-scoring position," Ludes said.
Those chances, however, are arriving at an unprecedented rate for a newly dynamic Ramstein boys soccer squad.
"It's a nice change," Ludes said.
Twitter: @broomestripes