New names, familiar faces contend for titles
by
Rusty Bryan
September 17, 2009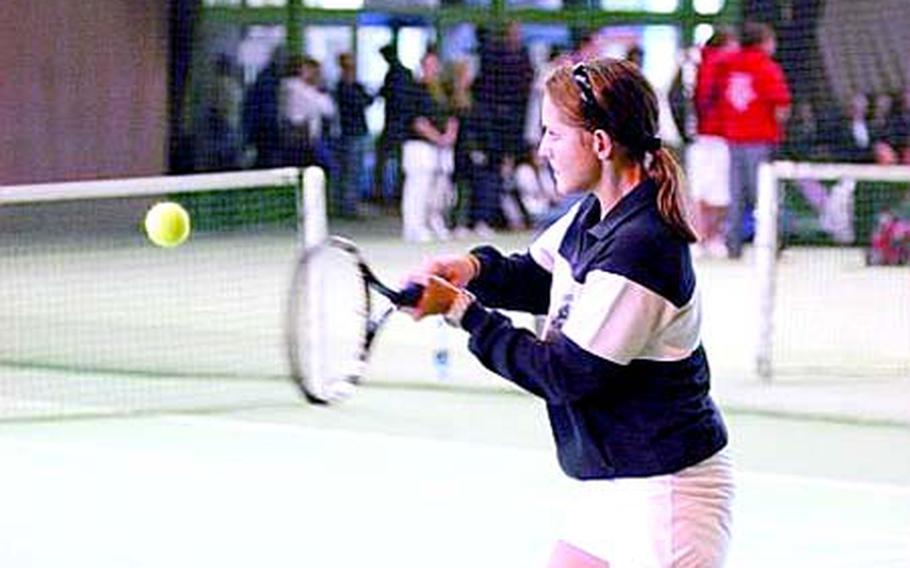 For DODDS-Europe's male tennis players, the 2009 season beginning Saturday at 10 sites will finally bring a new No. 1.
Three-time champion Nick Garcia of Heidelberg has taken his game to the University of Dubuque in Iowa, opening the way for new faces.
Two of them figure to be former doubles stars. Clay Marquardt of Ramstein, who teamed with '09 grad Brian Kelley last October to defend the European doubles championship he was part of the previous year, and Nicolay Gospidinov of SHAPE, who with Andrei Mavris won a silver medal in doubles in 2008, will play No. 1 singles this year.
Patch's Cavan Cohoes, who finished fourth in singles last year as a Lakenheath freshman before transferring, should have figured into the equation, but is out this season because of an injury, according to Patch coach Walter Fritz. Jon Lighter, another doubles placer from '08, will play No. 1 singles for the Panthers.
Cohoes' injury means that none of last year's top five boys will be in contention this year. Like Garcia, runner-up Sean Stokstad of Ramstein graduated, while No. 3 finisher Billy Bumgardner of SHAPE is attending a full-time tennis academy in the States this season, according to SHAPE coach Sam Ochinang.
Marquardt is one of several Royals who have honed their games by playing German club tennis during the offseason as Ramstein bids to dethrone Heidelberg as Division I team champion, according to Ramstein coach Randy Kamperman. Daniel Langholz, undefeated in second doubles last year, and Daniel Scott, Josh Wakeam, Forrest Kamperman and Aryan Von Eiken all played with German clubs.
Heidelberg, too, is heavy with German club experience, according to Lions coach John Mackey, and hopes to fill at least some of the hole left by Garcia's departure with newcomer James Chase, who was a ranked player in North Carolina last year.
The International School of Brussels always figures into championship talk. This season, coach Guy Santigati said Tuesday, his defending bronze-medalist doubles team of Shota Shindo and Geraro Salvador plans to split. Salvador will try his hand at singles, while Shindo will team with Brady Covington in doubles.
Proven quality dominates the 2009 girls field as last year's champion, sophomore Ginevra Bolla of Marymount, and the runner-up, senior Carmen Fuccillo of the American Overseas School of Rome, return. They'll be challenged at some point by the reappearance of last year's No. 5, ISB senior Tamara Castells, and No. 6, Ramstein senior Lindsey Jones, the Royals' 2008 female athlete of the year.
Three members of 2008 doubles placers step up to No. 1 singles this year. Andrea Wheatcroft, half of the 2008 doubles champion duo, takes over as Heidelberg's No. 1 in singles; Svenja Jensen, who teamed with Panna Balla to place third last year at SHAPE, will be No. 1 for the Lady Spartans, and Amanda Hand of two-time D-IV champ Alconbury, No. 6 in doubles in '08, takes over the No. 1 singles duties for the Dragons, according to coach Ron Behr.
As they did last year, teams will play a regional regular-season schedule that sorts the schools geographically rather than by size.
However, the team titles that will be determined during the European championships Oct. 29-31 at indoor courts near Wiesbaden will be based on divisions.
Those championships have become a game of musical chairs for defending titlists. The reduction of divisions to three, accomplished by merging the former D-II and D-III schools into one 16-team Division II, means that 2008 D-II champ SHAPE and D-III winner Marymount will by vying for the same title in 2009. Two-time D-IV champ Alconbury will be attempting to make it three straight, this year as a D-III school.
Opening schedule
Friday and SaturdayRegion IV—Vicenza, Milan and International School of Florence at Aviano; American Overseas School of Rome, Marymount and Sigonella at Naples
SaturdayNon-regional—SHAPE at Kaiserslautern, AFNORTH and International School of Brussels at BitburgRegion I—Alconbury and Brussels at LakenheathRegion II—Baumholder at Ramstein, Mannheim at WiesbadenRegion III—Bamberg at Black Forest Academy, Patch at Vilseck, Heidelberg at Hohenfels
---
---
---
---