New faces, returning stars getting ready for football season
by
Rusty Bryan
September 8, 2011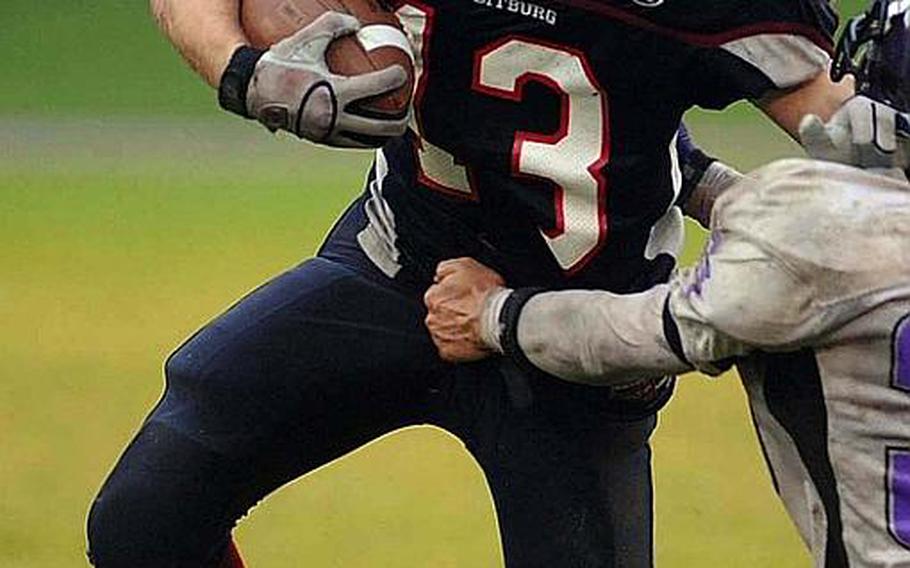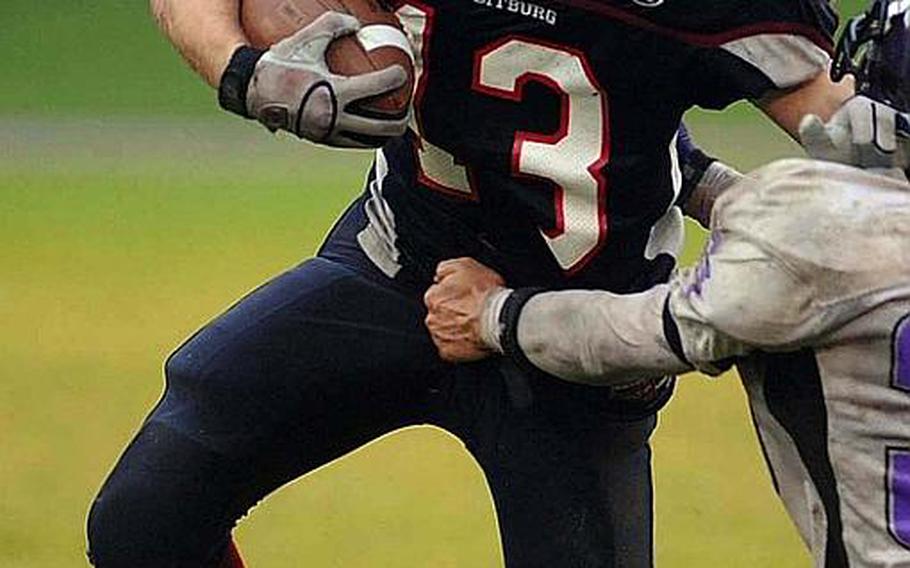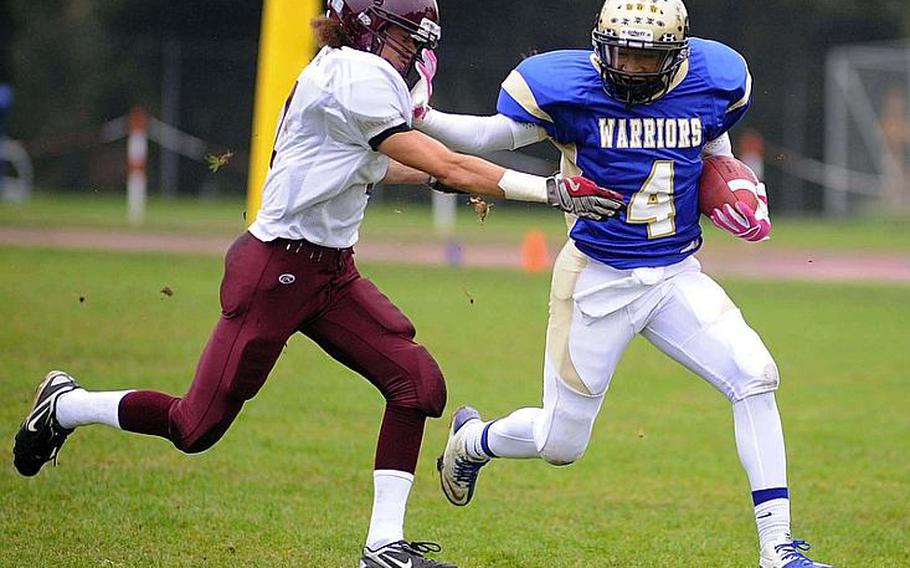 Prime numbers – one new team, three winning streaks and head-coaching changes at seven schools – control the scoreboard as high school football kicks off its 2011 season Friday in Baumholder.
That new team, Schweinfurt, doesn't even have a nickname yet. But whatever the team is called it begins play a week from tomorrow in Aviano. Ironically enough, Schweinfurt will go into its first season of all time behind sophomore quarterback LaJuarren Burks, who played last year on Mannheim's final team of all time.
Schweinfurt coach Travis Reynolds is one of the new pilots entering the DODDS-Europe football lists this season. In Division II, co-head coaches David Dickens and Ethan Engel will guide Bamberg, and Tony Harris takes charge at SHAPE. Division III's new blood consists of Brent Cogswell at Alconbury and Jim Crowell at Rota, and among the big schools, the newcomers are Aaron Scalise at Kaiserslautern and Larry Daffin, who coached last season in the Houston area, at Heidelberg.
Daffin's involved in an attempt to keep one of those three winning steaks going. Heidelberg went 8-0 last season en route to the D-I title, the same record Sigonella posted in winning Division III. But Europe's longest skein belongs to two-time defending D-II champion Bitburg, whose Barons have won 14 straight since opening the 2009 season 0-2.
Here's a division-by division look at the 2011 season:
Division IDaffin's first edition features an All-Europe duo in quarterback in Kevin Gray, a 59 percent passer, and linebacker Wayne Dawkins and includes three players from the roster of 2010 D-II runner-up Mannheim – one of them playmaker Calvin Baisden, a receiver. But challenges galore await the Lions in 2011.
Although he cautions against counting out the Lions, and cites Patch and K-town as potential contenders, Vilseck coach Jim Hall believes the D-I race "…has to come down to Wiesbaden and Ramstein…"
Wiesbaden, which took the Lions to double-overtime in last year's D-I title game before falling 23-20, returns All-Europe running back Daniel Harris Jr., who rushed for 1,416 yards and 18 TDs in 2010. Paving the way for Harris, reports Warriors' coach Steve Jewell, will be 6-6, 250-pound Gabe Diaz, and a trio of 230-plus pounders – Anthony Brown, William Heiges and Daniel Mattner.
Ramstein, which benefits from coach Carlos Amponin's phalanx of talented volunteer assistants, welcomes back quick-footed All-Europe defensive lineman Young Mon Oh, who averaged six tackles a game last season and blocked four punts. And Oh has plenty of company when it comes to experience – no fewer than 32 Ramstein lettermen are out this year, including tailback Jon Groteleuschen and speedy wideout-DB Jaap van Gaalen.
Although few are picking them for the title game, Vilseck, Lakenheath and Patch will have plenty of experience to call on – 22 lettermen return for the Falcons, 15 for the Lancers and 12, including burner Justin Johnson-Rich, for the Panthers. New K-town coach Aaron Scalise has just seven lettermen out, and the Filton Pride, who surprised the league before wearing down at playoff time, return just eight seniors. Among them, though, is All-Europe linebacker Fernando Carvalho.
Division IIEven insiders have a hard time seeing anything except a third straight European title for Bitburg.
"Bitburg lost very few players off the championship team, and the players returning had one more year to lift (weights) with Coach Laue during the offseason," emailed AFNORTH coach Greg Blankenship recently. "Easy to pick Bitburg as favorite."
No fewer than four All-Europeans – 275-pound tackle Darian Billups, 8.6-yards-per-carry running back Kyle Edgar, linebacker Zach Nichols and defensive lineman Austin Schmidt – will lead the Barons in 2011.
Challengers to Bitburg, Blankenship thinks, are perennial power Ansbach and International School of Brussels, which … "returns the entire backfield which shredded Ansbach (22-12 in last year's playoffs).
Blankenship foresees a playoff rematch this year between ISB and Ansbach, which returns All-Europeans in running back Derrick Flake and linebacker T.J. Propp.
"The next three teams are all about even," continued Blankenship in citing Baumholder, which has an All-Europe DT in Robert West; Naples, with a defense anchored by linebacker Sam LeVault, and AFNORTH, led by All-Europe DB J.D. Pollock, who'll quarterback the Lions this year.
Hohenfels, Aviano, Vicenza and Schweinfurt figure to battle for the two playoff berths not expected to be occupied by Ansbach and Naples in II-South, while SHAPE will attempt to supplant AFNORTH, Baumholder or ISB for the fourth playoff spot in II-North.
Division IIIBamberg joins the nine-man wars this season, but the conventional wisdom predicts Alconbury and Sigonella will meet in the finale in a rematch of the D-III title game Sigonella won 19-12 last November.
Both teams, however, suffered significant personnel losses over the summer, and it's no stretch to see Menwith Hill, led by quarterback Schuyler Backlar and linebacker Lawrence Alston, both all-conference choices in 2010, moving into one of those slots.
Rota will get an early indication of where it stands in a scrimmage Saturday against Aviano, while Brussels, in Tim Mobley's second year at the helm, will field a team composed mainly of freshmen and sophomores. All-conference linebacker Dakota Deverill leads the way for youthful Brussels.
In D-III, the regular season wraps up Oct. 15, with the top four playing in the semifinals on Oct. 22. Those winners will be idle Oct. 29, the week before the title game.
The D-II regular season also ends Oct. 15, with quarterfinals scheduled for Oct. 22 and semifinals Oct. 29. In D-I, the regular season ends Oct. 22, with the top four advancing to the semifinals on Oct. 29. The Super Six championship tripleheader is scheduled Nov. 5 in Baumholder.