New faces aplenty as spikers get ready to open season
by
Rusty Bryan
September 23, 2010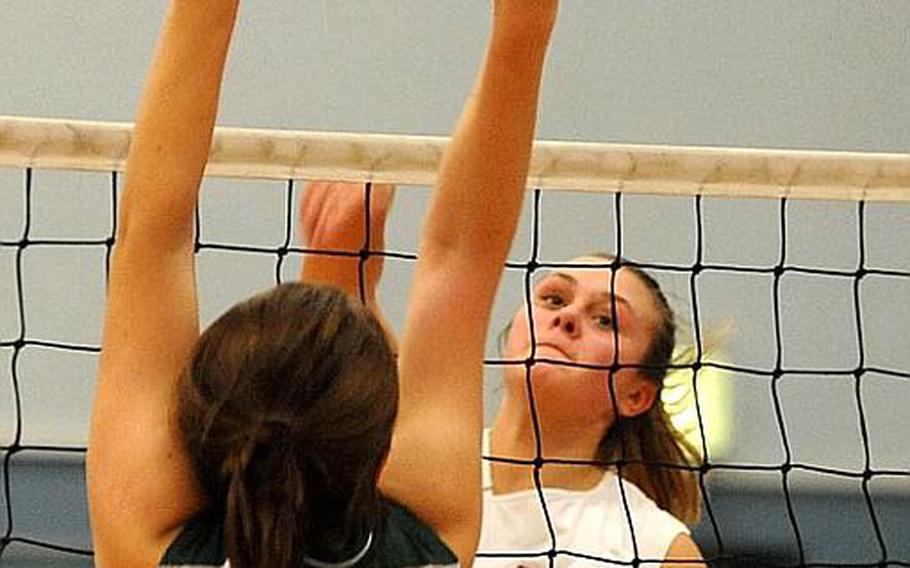 With 19 of the 24 players voted to the DODDS-Europe girls volleyball team last year having departed, there's a building boom going on as the 2010 season opens Saturday.
For example, Division I dominator Ramstein, winner of four of the last five European crowns, graduated seven seniors — four of them All-Europeans. That's a lot of holes for Ramstein coach Hia Sebastian to plug.
It's just as bad at Brussels, where coach Vicky Westland has to replace everyone except senior setter-hitter Sarah Preciado on her two-time D-III champions.
And even though Pat Woodward's two-time D-II champion Black Forest Academy Falcons dodged heavy construction, thanks to the return of four highly experienced seniors, he put his finger on the effect of all the rebuilding.
"Everyone will be competitive," he said in an e-mail.
Here's a division-by-division look at the most competitive of those teams.
• Division I: The loss of seven players would at first glance appear to be a stake through Ramstein's heart, but don't sell Sebastian's program short.
First, she reported, five players moved up from Ramstein's vibrant JV program to join returnees Danielle Alvey and Rebecca Diaz.
Then the manna fell from heaven.
Five seniors, each with three years of varsity and stateside club and camp experience moved in over the summer. They have the skills and versatility to solve the hole-filling problem instantly, Sebastian said in an e-mail.
Sebastian sees most of the challenge to a repeat coming from Vilseck, Heidelberg and Patch.
Vilseck, the 2009 runner-up, expects to benefit from the return of senior middle blocker-outside hitter Anna Muzzy, the lone 2009 first-teamer in Europe back for another go.
According to Vilseck coach Brian Swenty, who organized a summer camp that complemented the one in Aviano and doubled the opportunities for DODDS-Europe players to hone their skills over the summer, Alison Gunsch will lead the charge for Mike Rubino's Heidelberg Lady Lions.
Swenty sees Patch, despite the Lady Panthers' loss of two All-Europeans, as the dark horse.
"I believe Patch is the real sleeper in D-I," he said in an e-mail, "with assistant coach Joshua McCall now taking the head coaching reins. His experience as a player at the club level at Ohio State and with good programs in the Pacific will make an immediate impact."
The formidable Thomas sisters — LeAmber and LeAndra — return for Wiesbaden, which lost seven varsity players, but the other impact D-I sisters — SHAPE's Edite and Liene Bauska, both first team all Europe in 2009 – won't be around at tourney time. They're moving out.
Kaiserslautern's Dennis Decker lost all-Europe Tatjana Gainey and will build around four returning seniors.
• Division II: BFA, with Mehgan Young, Stephanie Friehe, Kate Woodward and Eliza Garrity, is the team to beat, and one team capable of doing it figures to be Vicenza. Chance Wilson's Cougars suit up All-European Milan Juliano and her freshman sister Tia, an all-star at the Aviano and Vilseck camps. Two other returning starters and two talented move-ins also will contribute, Wilson reported.
Pam Hillestad's Aviano Saints also return an All-European, Jasmine Mailoto, and two other starters.
"I have a great group," Hillestad reported, "and will strive to surprise people."
Bitburg's Eric Vining reported his team will be young and tall, revolving around Jayde Robbins.
"If our setters come into their own," he reported, "we can be competitive."
• Division III: With Westland staring at a nearly empty cupboard at Brussels, the focus among the small schools swings to Alconbury, Sigonella and Rota.
Alconbury's Susan Payne returns All-European Maddie Zitka along with three other varsity players. She'll add basketball star Savannah Fourhman to the mix.
Payne sees Sigonella as the team to beat and Rota as a tough foe.
Rota's Judy Scarbrough has four returnees plus a club player from Georgia to fuel the Lady Admirals' run; Sigonella, with four starters gone, will rebuild around Tracy Ewart, according to coach Shawn McCarthy.
New coach Karen Ehrhard takes over at Menwith Hill, finding her team stocked with seniors Monique McCrary and Alexis Thomas.
Deadline for all rebuilding projects is Nov. 4-6, when all the volleyball schools will converge on the Kaiserslautern military community to decide which ones did the best job.
2009 championsDivision I — RamsteinDivision II — Black Forest AcademyDivision III — Brussels
Returning 2009 All-Europeans1st team — Anna Muzzy, Vilseck senior
2nd team — Milan Juliano, Vicenza senior; Jasmine Mailoto, Aviano junior; LeAmber Thomas, Wiesbaden senior; Madeline Zitka, Alconbury senior
---
---
---
---