GIRLS SOCCER PREVIEW
New DODEA-Europe girls soccer season brings next chapter of classic Panther-Royal rivalry
---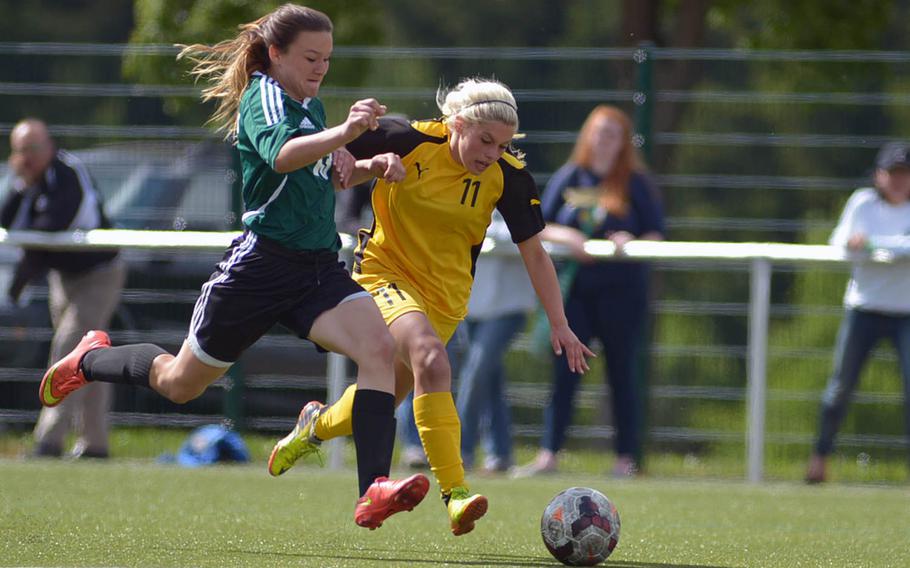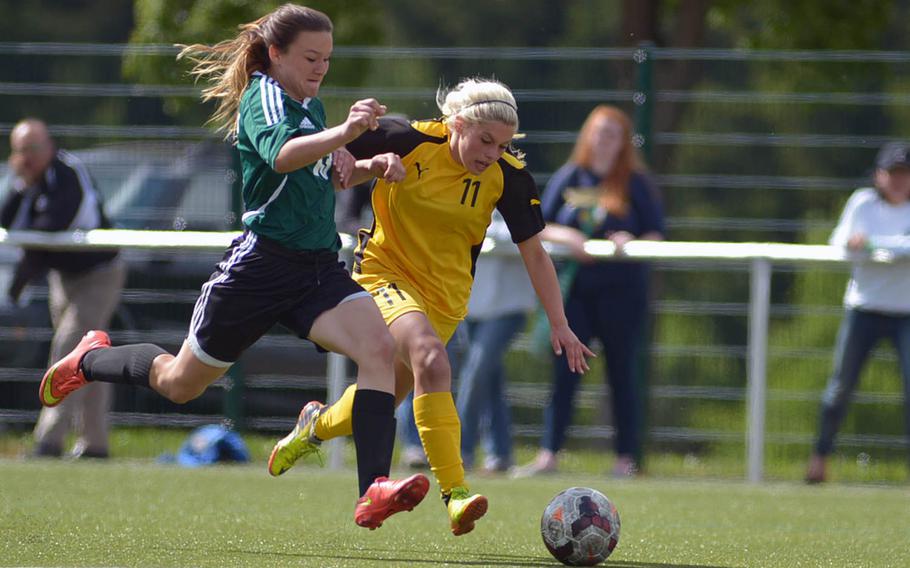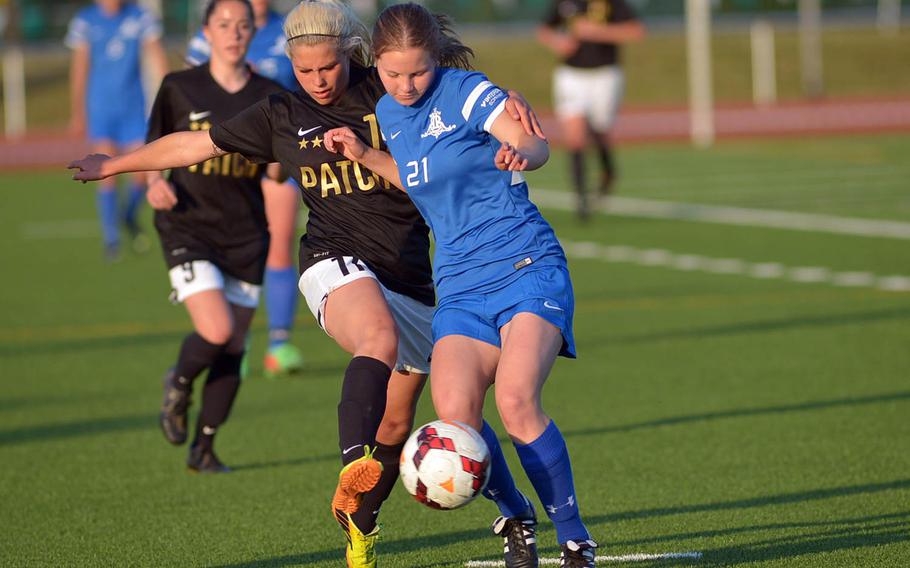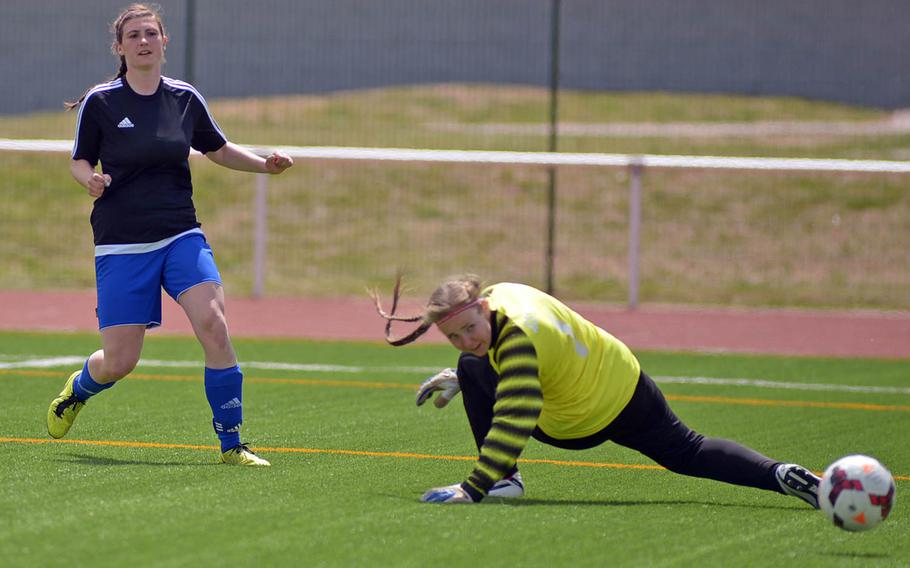 The renewal of perhaps the premier prep rivalry in Europe and the presence of strong defending champions atop all three divisions headline the 2016 DODEA-Europe girls soccer season.
Defending Division III champion Alconbury takes center stage in Friday's opening action, hosting Brussels. It is not only the first DODEA-Europe match of the season but also a rematch of last year's European title game. The scene expands to Belgium, Germany and Italy for a total of five matches the next day.
DODEA-Europe teams get a quick two months of regular-season preparation, including an intermission for spring break in early April, ahead of the all-inclusive postseason. The European tournament this year is set for May 18-21 in the Kaiserslautern Military Community.
Division I Rivalries do not get much better than the continuing girls soccer clash between Stuttgart and Ramstein.
The two programs have met in the DODEA-Europe Division I championship game each of the past five years, and alternated victories in those games. Stuttgart — formerly Patch — won in 2011, 2013 and 2015. Ramstein won in 2012 and 2014. All five games have been decided by one goal, including a three-year run of 1-0 decisions from 2012 to 2014. Stuttgart won last year's edition in overtime, 2-1.
Both teams know that even a history as storied as that one doesn't guarantee that the tradition will continue. That's particularly true this season, as the two teams combined will field just 13 returning varsity players this spring.
But both enter the spring optimistic about their chances of again advancing to the season's final.
"Our team this year is enthusiastic and energetic," Ramstein head coach Ricardo Buitrago said of a group that returns just four starters from last year's roster. "We are excited and looking forward to a great season."
The Panthers, meanwhile, have just three starters back from last year's championship group. But those three — reigning Stars and Stripes girls soccer Athlete of the Year and gridiron hero Kat Farrar, elite goalkeeper Tyra Hook and star sweeper Meaghan Ambelang — give the program a strong foundation upon which to build a new team.
"We will be starting mostly from scratch," Panthers coach Daniel Coapstick said. "We see this as an opportunity."
Lurking just a line below the Panther-Royal marquee matchup are the Naples Wildcats, whose dynastic dominance of the Division II level ended last year when realignment shifted the program to Division I. Naples fared well against the new level of competition but ultimately settled for a fourth-place tournament finish.
The Wildcats will be hard-pressed to start a new championship reign this spring, though coach Rebecca Lucy declares that as the program's clear goal. But Lucy allowed that the team is entering "a rebuilding year" with just seven players back from last season. A pair of standout seniors - midfielder Jill Thurston and goalie Angelica Sheils - should keep the Wildcats very competitive as their younger teammates develop.
Kaiserslautern and Wiesbaden, the only teams other than Ramstein and Stuttgart to post winning divisional records last regular season, would love to deny their Germany-based rivals another title-game rendezvous. Wiesbaden will look to improve on its tantalizing third-place finish last spring, while Kaiserslautern has just four returning varsity players with which to mount another assault on its regional nemeses.
International School of Brussels, Lakenheath, SHAPE, Vicenza and Vilseck will look to replace a member of that well-established top tier this spring. SHAPE is high on incoming freshman Sunniva Leivdal, a promising striker who will supplement the Spartans' senior core of Jera Becklund, Begona Rodriguez-Bravo and Olivia Powdar.
Division II The Hohenfels Tigers clawed their way to the program's first-ever European championship last spring, surviving a hard-fought regular season, a perilous tournament run and a tense 1-0 win over AFNORTH in the title match.
Now they'll try to do it all over again.
Fortunately for them, the Tigers won't have to start over. Ten varsity players are back for Hohenfels, including six starters. Among them is senior standout Amelia Heath, the anchor of a strong midfield unit and the decisive goal-scorer in last year's title game.
With a title to their name and Heath headlining a solid returning core, the Tigers are aiming to simply stay the steady course they plotted last year. Coach Kathlene Clemmons cited "familiarity" and "consistency" as guideposts for the team's title defense.
But the deep Division II ranks hold plenty of teams capable of rattling the Tigers' cage.
Spurned AFNORTH is an annual threat. Black Forest Academy handed Hohenfels its only divisional loss of the 2015 regular season before bowing out to AFNORTH in overtime of the European semifinals. American Overseas School of Rome finished third last year and returns a robust eight starters from that roster.
Meanwhile, dark-horse contenders like Aviano, Bahrain, Bitburg and Rota could surprise. Aviano is an aggressive offensive team with a pair of dangerous strikers in senior Elyse Slabaugh and freshman Alisha Manery, while Rota has five starters back from a team that pushed both AFNORTH and Hohenfels to the brink in 2015 preliminary play.
Division III The Alconbury Dragons weren't just the best team in Division III last year. They were one of the best at any level, producing a 6-0-1 overall mark that included a win over Division I SHAPE and fell short of perfection thanks only to a tie with Division I Lakenheath.
While that 2015 run doesn't ensure 2016 success, the return of many of the key players from that group very well might.
Midfielder Roni Teti and forward Isabel Black, the heroes of last year's 2-1 title-game victory over Brussels, are back for their respective junior and sophomore campaigns. The young duo exemplifies the team's ethos of underclassmen performing well above their years; they'll look for more of the same this spring with a lineup loaded with returning sophomore contributors and a full 13 new players.
"We hope to jell together and build team chemistry as quickly as possible," Dragons coach Jeffrey Black said.
New Division III contender Ansbach and familiar foes Baumholder, Brussels, Incirlik and Sigonella will test that chemistry, starting with the Brigands' crack at a rematch on opening day. Baumholder coach Jill Norris has a young but promising group, led by senior offensive star Karina Inchauregui and junior goalkeeper Eliyah Tillman, that has already exhibited a strong "desire to improve" after finishing third at last year's tournament.
broome.gregory@stripes.com Twitter: @broomestripes
---
---
---
---