New day, same results for SHAPE, Lakenheath
by
David Hodge
December 10, 2011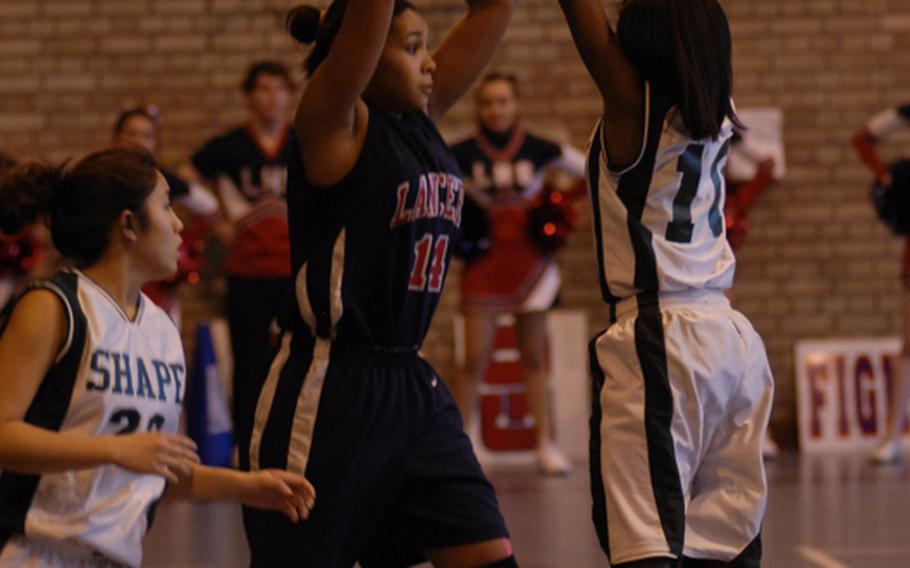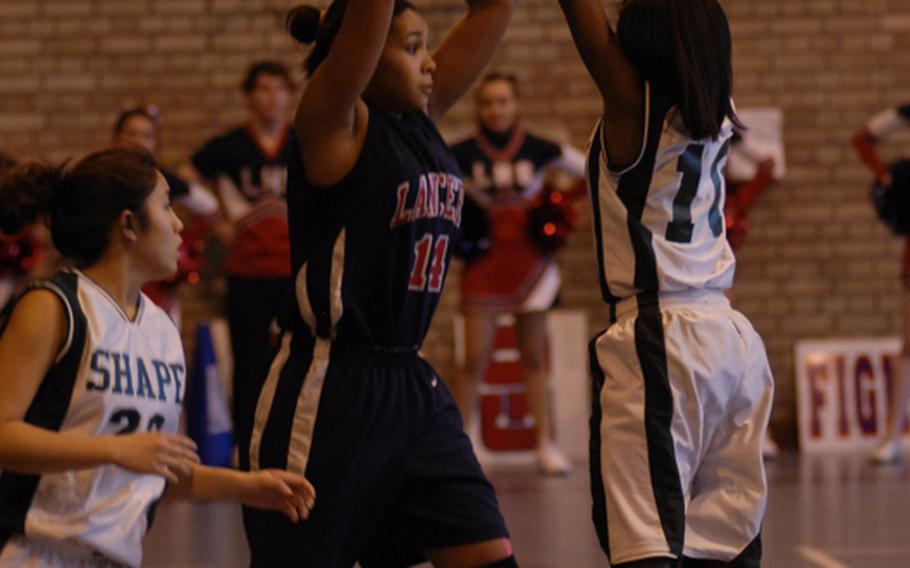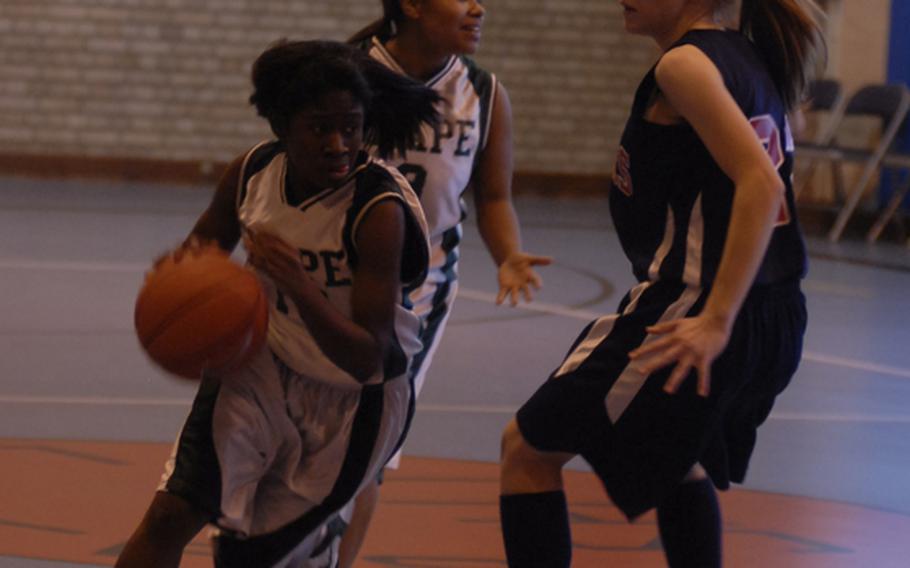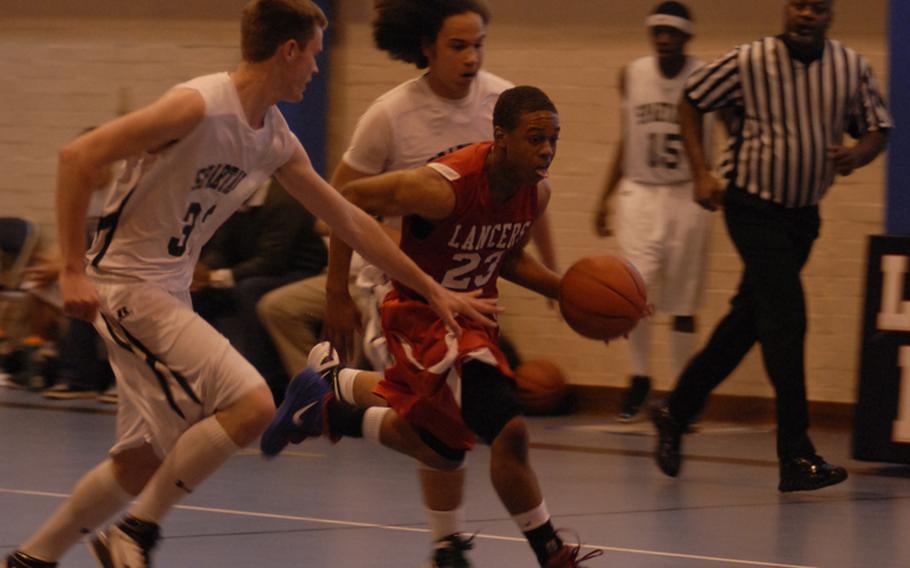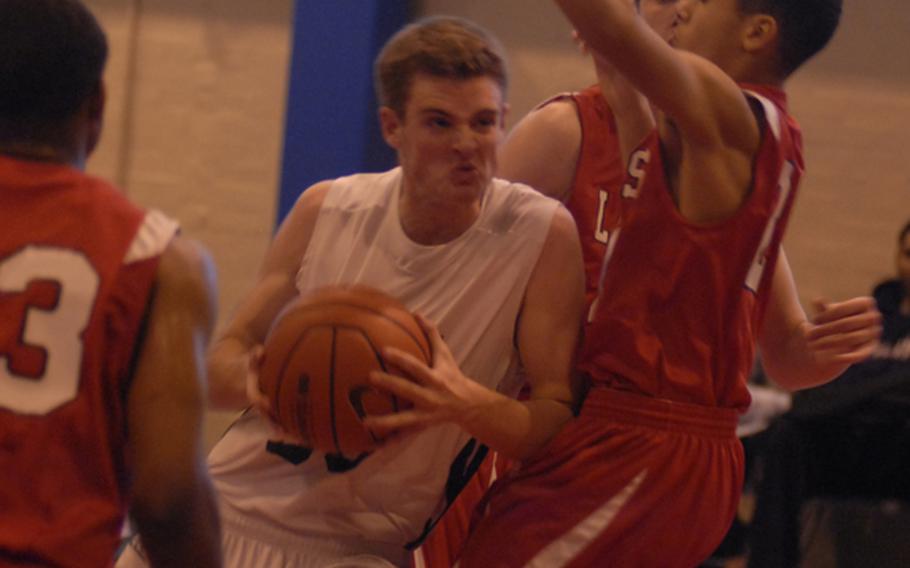 RAF LAKENHEATH, England — Day Two of basketball between DODDS-Europe Division I rivals SHAPE and Lakenheath was more lopsided than the team's first meetings the night before.
Lakenheath's boys defeated the Spartans 82-57 after putting plenty of points on the scoreboard in the first half, while the Lady Lancers fell 50-30 in their game.
"Today we got a cushion early and we were able to capitalize on that," said Alan Campbell, the Lancers head coach.
Campbell said he wants to see improvements as the season progresses, and the team will have to get better in order to defeat its next opponent, the American School of London, Dec. 15.
The Lancers did show improvement from Friday, when they topped SHAPE 66-56.
Lakenheath's Brinsley Walker led all scorers with 26 points and three steals, while K.J. Holloway posted 19 points, five rebounds and three takeaways. Glenn Jones also had 15 points for the Lancers.
SHAPE coach Tim England said he liked the way his kids continued to fight during the game.
"The score wasn't indicative of the way they played — especially in the fourth quarter," England said. "They never quit."
Leading the Spartan's attack was Alizi Douglas with 16 points and 10 rebounds and Ryan Howard fought hard for his eight points and six boards. PJ Nieves also contributed with eight points and three steals.
The Lancers start the season 2-0, and the Spartans remain winless in four contests.
SHAPE girls 50, Lakenheath 30: SHAPE's full-court press proved to be quite successful creating multiple turnovers. At the half, the Lady Lancers trailed by a point, but the third quarter belonged to the Spartans as they scored 20 points to Lakenheath's five.
SHAPE's Teresa Muldoon had a double-double with 18 points and 14 rebounds, while Eugina Rhett managed 16 points and four assists. Kearstin Wainwright contributed six points and four boards.
The Lady Lancers were led by Kristen Reed, who had 11 points and five assists. Jourdan Hodge and Tracy McCall both scored five points and had six and eight rebounds, respectively.
The loss moves the Lady Lancers to 0-2 on the season and SHAPE remains undefeated with four wins. SHAPE's next game is Jan. 6, when it hosts Bitburg. SHAPE had defeated Lakenheath, 43-42, in overtime Friday night.