Negishi wins twice to take Pacificwide holiday hoop tourney title
by
Dave Ornauer
October 15, 2003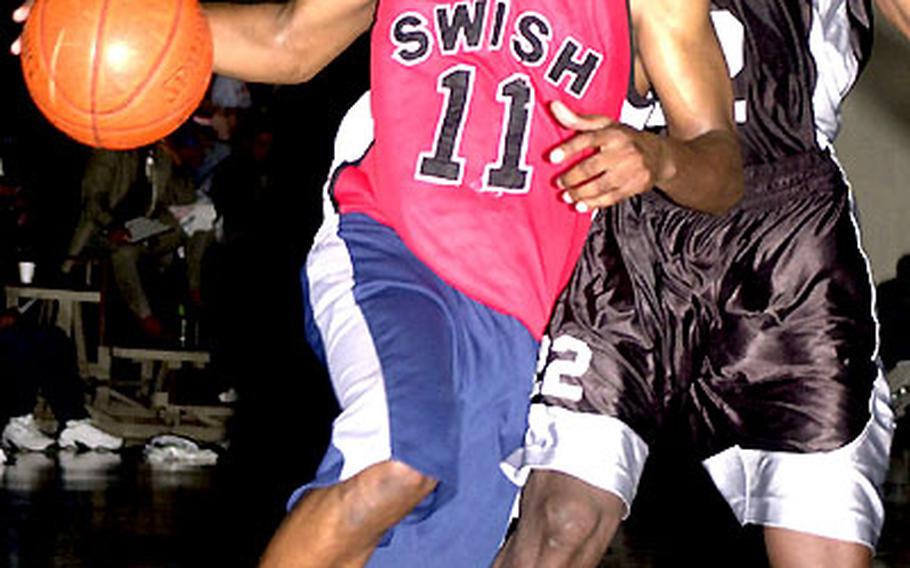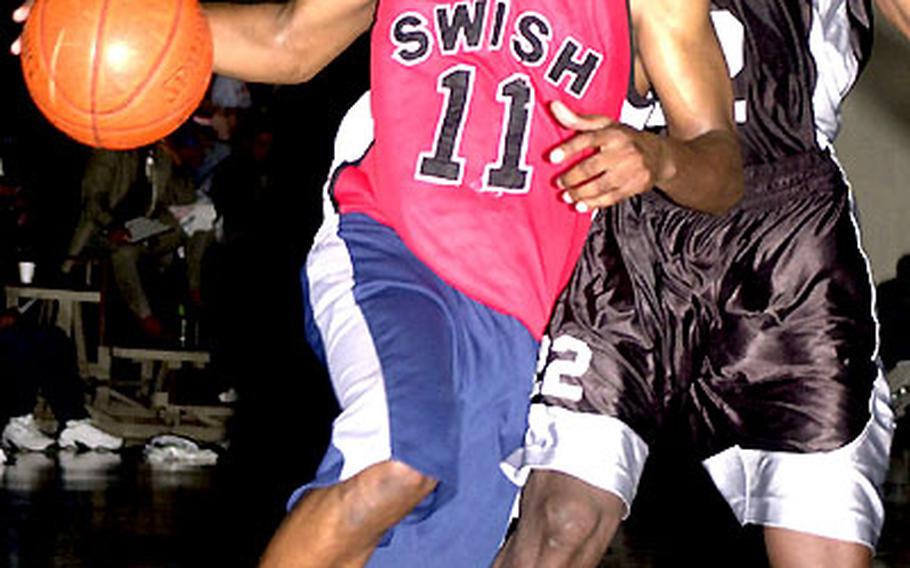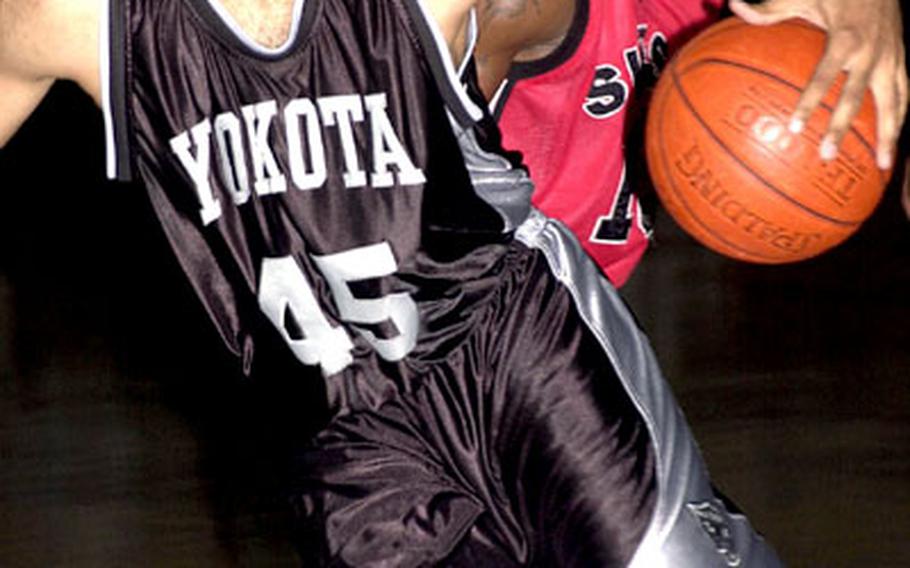 YOKOTA AIR BASE, Japan - Exhausted from playing two games already and with most of its roster either disabled or walking wounded, the Negishi Swish simply refused to lose.
Rallying from a 14-point first-half deficit, the Swish rode the hot shooting of Mike Gaye and Henry Grays to upset the host Yokota Raiders 100-90 in the second game of a two-game final in the Yokota Columbus Day Pacificwide Preseason Interservice Basketball Tournament.
Negishi outlasted Yokota 82-81 in overtime of the first game of the double-elimination finals in the six-team men's portion of the tournament, which began Friday at Yokota's Main Fitness Center. Earlier, Negishi eliminated the Misawa Jets of Japan 69-65.
And despite dressing just six players, the Andersen Bombers women from Guam had far less trouble, downing host Yokota 55-38 in a one-game final.
Grays led a furious rally from a 21-7 first-half deficit, sinking back-to-back three-pointers to give the Swish a 70-68 lead with 9:50 left. Negishi didn't trail again. Grays finished with six threes and 26 points and Gaye led with 35.
That capped a huge comeback for what coach Robert Santana calls an "old school" team that had three of its players unable to take the floor and three of its remaining seven nursing cramps and other aches and pains.
"Even though we're old and beat up, we have heart," he said. "Whenever one of our starters is down and injured, somebody else steps up. Today, our reserves stepped up and that made the difference."
It meant having to go with a smaller lineup, with post players Steve Morgan and Roland Kane suffering leg cramps.
"I had to go small, but my small guys played big," Santana said. "Even though we were down 21-7, we've been there before. I said if we took our time, not get upset, start hitting our shots, we would come back."
Yokota's Curtis Cheney and Anthony Johnson each hit five threes, Johnson finishing with 25 points and Cheney 23. The teams combined for 23 three-pointers in the contest.
Yokota's veteran Cedric Tanner tipped his hat to the Swish.
"They had to come out of the loser's bracket and beat us twice. They had the heart and fortitude to do it," Tanner said. "We had numerous opportunities, but we failed to capitalize."
Many of those opportunities came in the first final game, which Yokota led by as many as 11 points midway through the second half. MVP Willie Adams hit the go-ahead bucket 1:47 into overtime, making it 76-75 and Negishi led the rest of the way.
Adams paced Negishi with 25 points and Gaye scored 24 in the first final game. Sam Bolden had a team-high 13 for Yokota, which had five players score in double figures.
Andersen women's coach Eric Abraham didn't see having six players as a problem; in fact, he seemed pleased with it.
"With six players, you don't have everybody looking at the bench," he said. "That in itself can be a distraction."
Patiently moving the ball, tossing many a backdoor pass for open layups and making 14 steals in the contest, the Bombers raced in front 22-4 in the game's first 14 minutes. Pam Haley's rebound layup gave Andersen its biggest lead at 41-12 with 9:35 left.
Yokota outscored Andersen 21-6 over the next six minutes, but got no closer than 13 the rest of the way.
Haley finished with 19 points and Brandi Hudson 11 for the Bombers. Felicia Ferguson of Yokota scored 15.
---
---
---