Naples wins North-South battle with Aviano
by
Kent Harris
April 21, 2012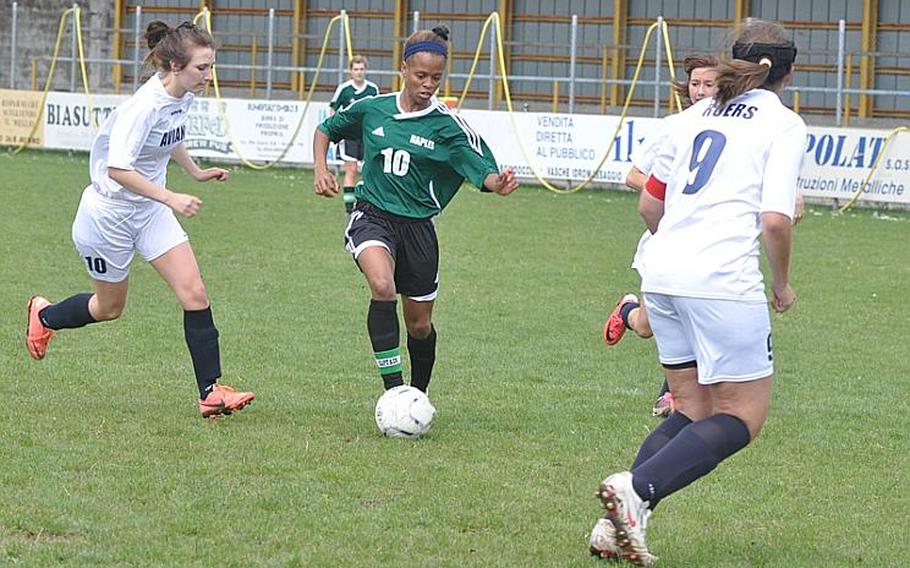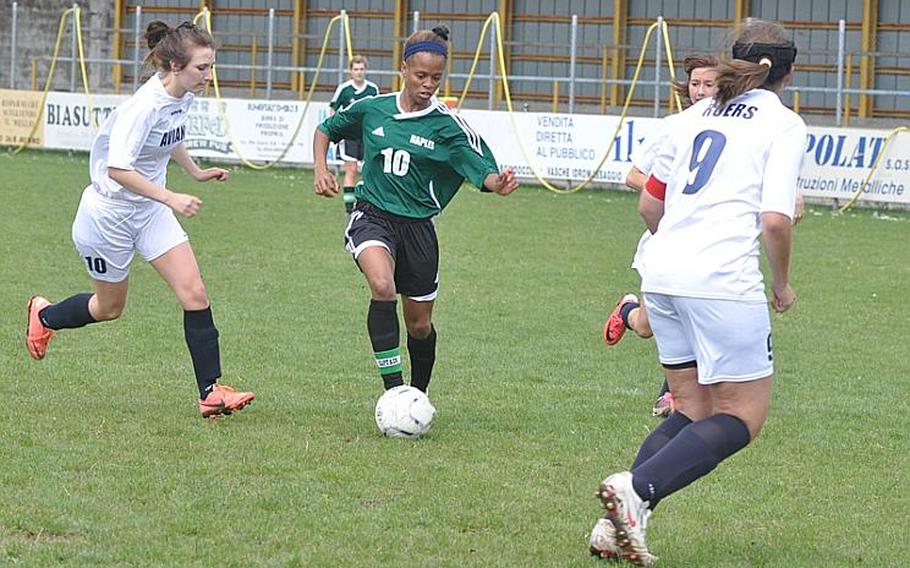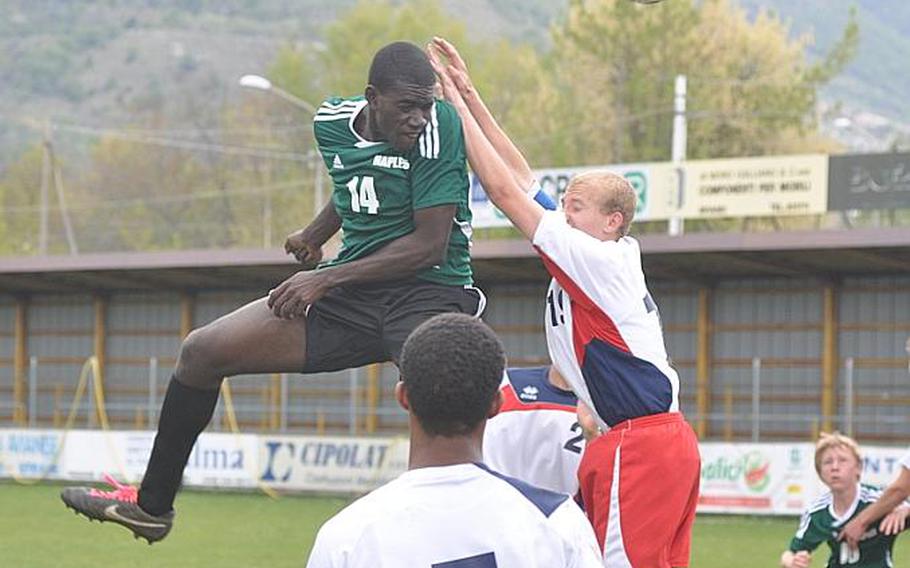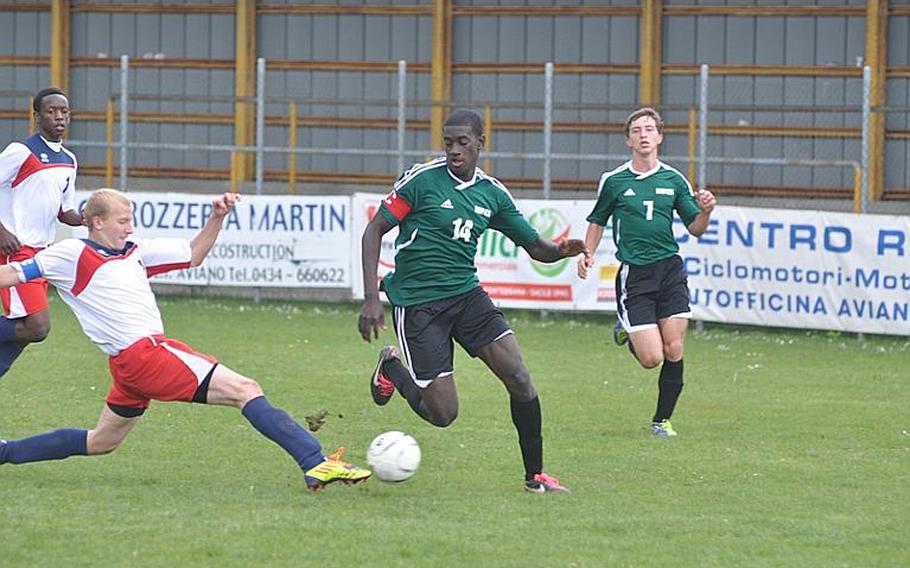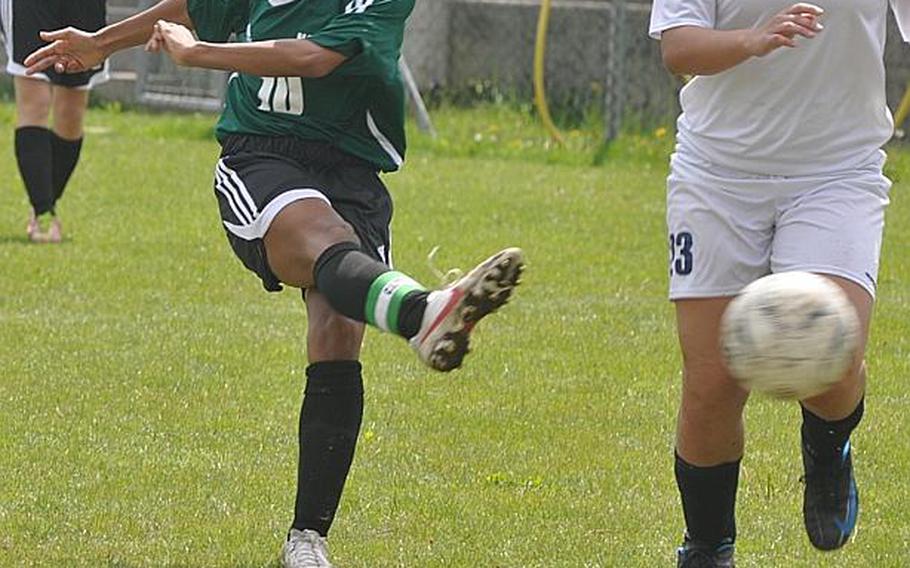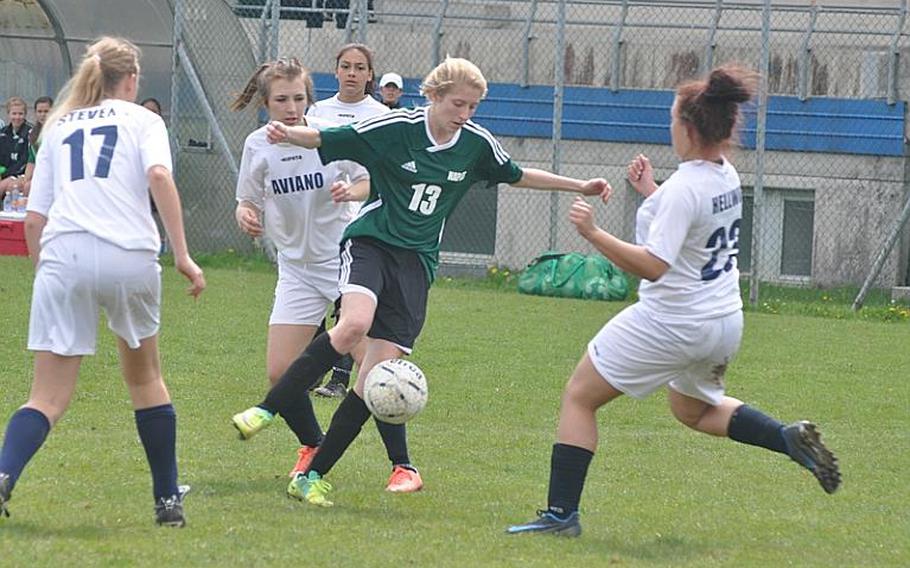 This article has been corrected
AVIANO, Italy — The Naples Wildcats girls soccer team outscored its first three opponents this season 18-3.
A muddy field and a previously stout Aviano Saints defense didn't put up much of a hurdle Saturday toward win No. 4.
Alexandra Mack scored four times and Isabella Lucy added a hat trick as the defending European Division II champions raced to an 8-3 victory.
But there were more than a few moments in the second half where the Saints (2-2) appeared to be the Wildcats' equals.
"Aviano always gives us a tough game," Naples coach Melinda Durham said.
But not in the first half Saturday. Mack, headed to Liberty University in the fall to play soccer, twice embarrassed the Aviano defense by dribbling right down the middle of the field, weaving through defenders, to score goals. Her second goal put Naples on top 4-0 before halftime.
Aviano coach Steve Stanley, whose team had only given up two goals in three games, said he expected his defense to perform better. But he gave credit to Mack and her teammates.
"They're using her skills, but it's not as though she's a stand-alone player," he said. "They really play off her well."
Lucy had opened the scoring when Aviano keeper Annamarie Bickle stopped a Mack shot, but couldn't control the ball and it landed at Lucy's feet. Katie Waller also added a first-half goal for Naples, which didn't allow Aviano a shot on goal in the first half.
Lucy scored again just minutes into the second half, but then Aviano came to life.
Madeline O'Brien launched a rocket shot from 20 yards out on the left side of the field to put Aviano on the scoreboard.
"A beautiful goal," Durham said.
O'Brien struck again a few minutes later from about half the distance of her first attempt. Lucy countered with a shot of her own to put Naples back up 6-2. But O'Brien struck again, this time with her left foot into the left corner of the net.
O'Brien, a senior and Aviano's leading scorer, missed a chance to score her fourth goal on a penalty kick and Mack made sure the momentum swung Naples way the rest of the way by scoring two more times in the final minutes.
Jasper Bergwerff, Brenton Bonnema and Nigel Alexander all found the net for the Naples boys in a 3-0 victory to start off the day.
The Wildcats (2-1-1) outshot the Saints 21-12 on the day, but dodged a few bullets. Alexander was given a yellow card early in the first half and the Saints almost scored after that. But then Jasper Bergwerff found himself in the right place at the right time and scored off a rebound to put the Wildcats up 1-0.
"(Aviano) had the opportunity to take advantage and I thought they were going to," Naples coach Craig Lord said. "But they didn't and then we did."
Alexander avoided a potential second yellow card at the end of the half on a play where he launched a high kick that landed in an Aviano defender's face. So he was around in the second half to score the team's third goal, showing quick reflexes by deflecting Bergwerff's shot into the net. Brenton Bonnema had netted the teams' second score just after halftime.
Lord said his team trails Marymount International and American Overseas School of Rome in the standings, but still has hopes of catching them before the season's over.
"We're getting better," he said. "As long as we continue to keep doing that, we have a chance of competing against anyone."
CorrectionIsabella Lucy was misidentified in an earlier version of this article.
---
---
---
---