D-II Girls
Naples, Vicenza to battle in all-Italian affair
By
Gregory Broome Matt Millham
May 22, 2013
---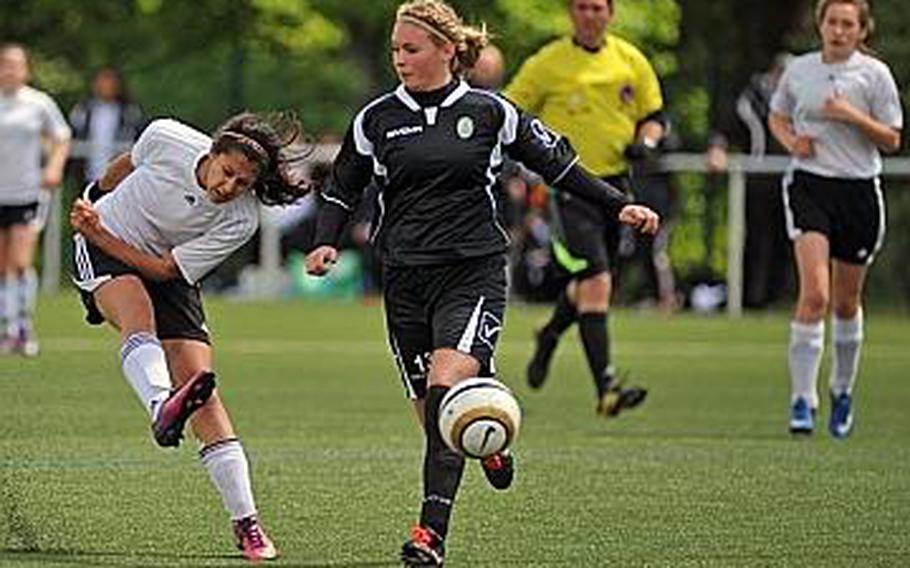 The two teams squaring off Thursday in the Division II girls title game of the DODDS European Soccer Championships are plenty familiar with each other.
Vicenza and Naples play each other at least once every year south of the Alps. This season, Naples prevailed in Vicenza 4-1 in March. But the Cougars got revenge in Day 2 of this year's tournament, handing the Wildcats a 2-1 defeat - the first loss Naples has suffered in three years.
The Wildcats, three time defending champions, will get a chance for a fourth title after the two teams advanced from Wednesday's semifinals.
Vicenza 1, SHAPE 0: It seemed as if it could have been anyone's game as SHAPE and Vicenza faced off Wednesday in their semifinal matchup, with neither side dominating in a decisive way.
Yet despite appearances, it was Vicenza's game as soon as Alexandra Frank lofted a penalty over a scrum of defenders and the goalie's outstretched finger to put her team up 1-0.
SHAPE, which came into the tournament as the top seed, appeared to scramble the rest of the game to catch up, while Vicenza played relatively comfortably behind a reliable offense that earlier vanquished an undefeated Naples side.
Both sides had their opportunities to score after Frank's early goal, but neither was able to capitalize, and in the end, Frank came away the game's only scorer.
"I was really proud of my team overall, because it was only a one-point lead," Frank said. "And our defense, especially our freshmen, they really stepped forward."
But it was Frank and fellow forward Tatiana Miranda whose play kept Vicenza on the offense through much of the second half and SHAPE appearing desperate.
"It's not the prettiest brand," Vicenza coach Arric Alicea said, "but it's what works for us."
Naples 3, Bitburg 1: Wildcat freshman Tyler Treat said she was "definitely intimidated" as she prepared for her first European tournament.
After Wednesday's performance, her opponents likely feel the same way about her.
Treat netted all three Wildcat goals as Naples ended the Barons' underdog championship hopes and advanced to play for a fourth straight Division II European title.
"My team, they've helped me through this. We've pumped each other up," Treat said. "It's been great."
But this Wildcat run has not been without adversity. On Tuesday, Vicenza beat Naples 2-1 to hand the program its first loss in three seasons.
Though previous championships have come easier, Naples coach Rebecca Lucy said the loss was a necessary part of this particular group's process.
"With this young team, my feeling is that they needed to experience what it felt like to not ever do that again," Lucy said. "They rallied their forces and they came together."
Treat, whom Lucy called a "freshman powerhouse," was even more succinct.
"We knew we could do it, and we did," Treat said.
The Wildcats will have to avenge their loss to Vicenza directly on Thursday when the teams stage a rematch for the European championship.
Bitburg, meanwhile, broke out of its 10th seed to earn a semifinal berth before coming up short against the incumbent champs. Senior Averi Goetz scored for the Barons.
---
---
---
---