Naples rallies to victory over Wiesbaden
by
Kevin Dougherty
September 16, 2007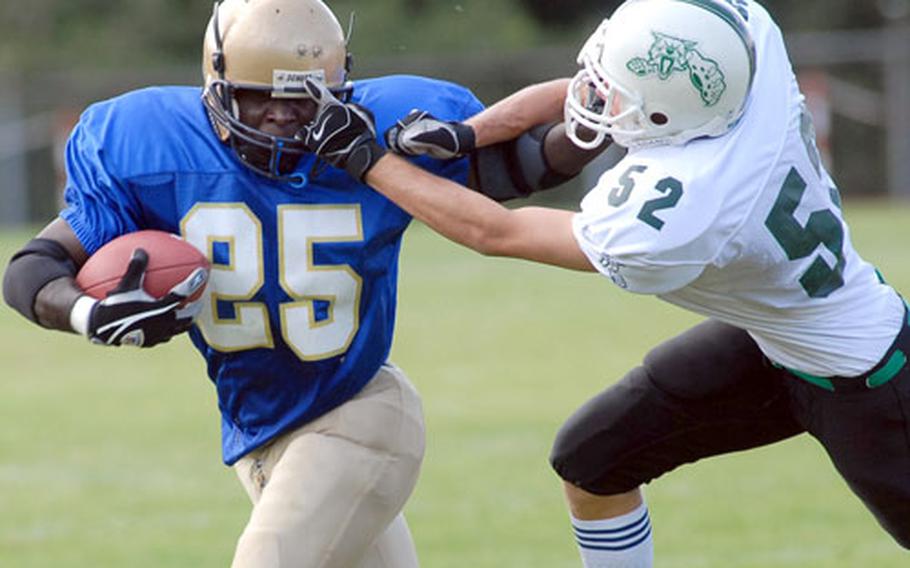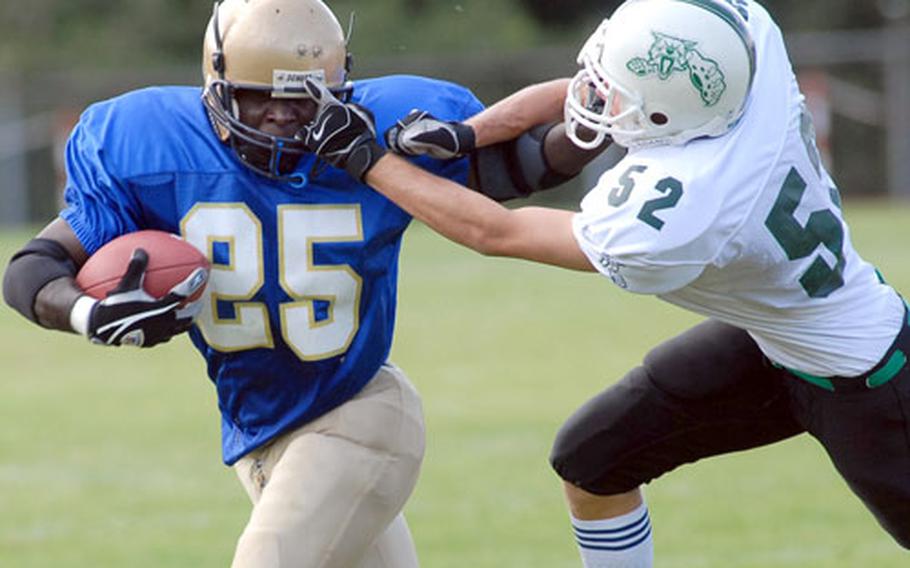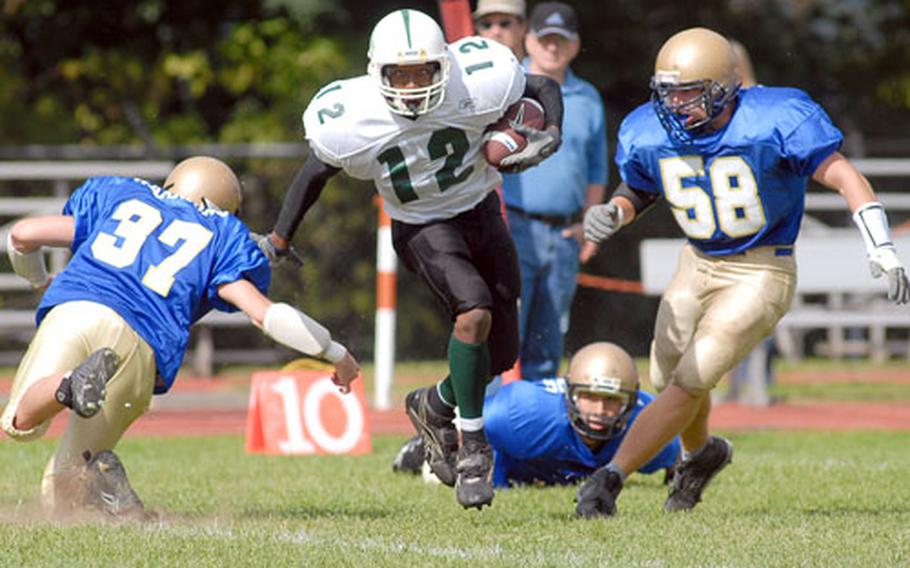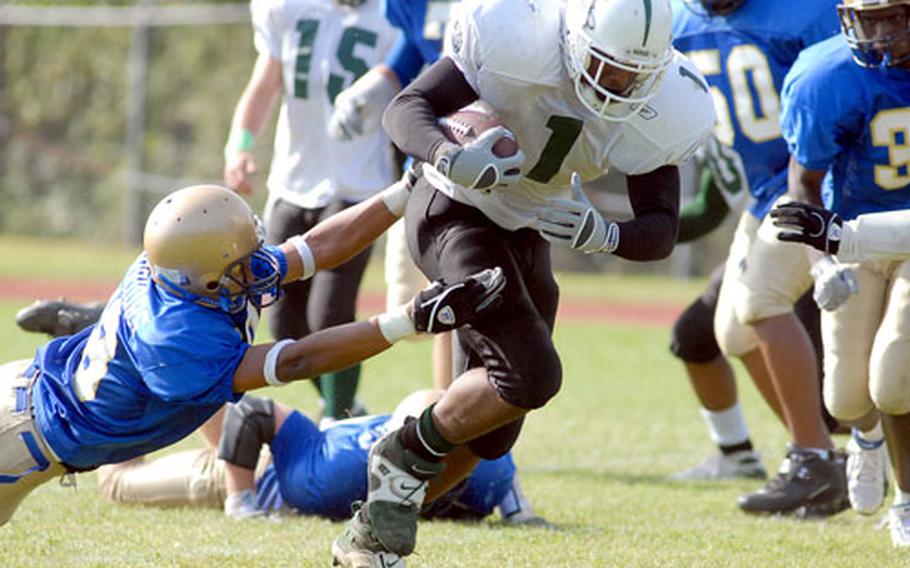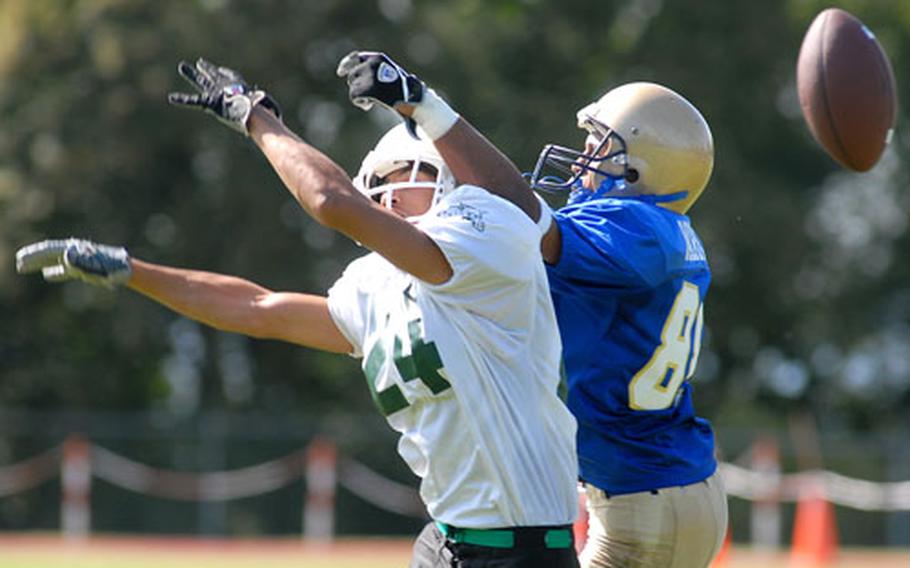 WIESBADEN, Germany — Naples rallied from a 12-point deficit Saturday, scoring two late touchdowns to nip Wiesbaden 31-29 in a thrilling season opener for both teams.
"You would have thought it was the last game of the season," Naples coach Jim Hall said of the intensity of the play, characterized by four lead changes.
Wiesbaden seemed to take control when it went up 29-17 on a nifty 65-yard touchdown pass from quarterback Terrell Harper to wide receiver Jamil McGinnis with less than a minute to play in the third quarter. It was Harper's third TD pass of the game — the other two went to Mike Harder.
When the Warriors recovered an onside kick at Naples' 43-yard line, the situation looked awfully dim for the Wildcats.
"We just tried to keep our hopes up," said linebacker/running back Ryan Fitzgerald, who chalked up 19 tackles. "Our offense pulled us through."
Wiesbaden got as far as the Naples 22, but a blocking penalty negated a big gain by running back Ron Peebles. Other miscues pushed the Warriors back farther, forcing a punt.
Starting at its own 28, Naples moved the ball across midfield before it had to punt. When Wiesbaden fumbled the kick, the Wildcats recovered and punched it in for a score five plays later on a short run by Dwayne Newby. Newby finished with 105 yards rushing and all four Naples TDs.
The scoring drive was aided by an offsides penalty against the Warriors on fourth-and-short.
"We always kept making that one little mistake that allowed them to just hang around and hang around," Wiesbaden coach Steven Jewell said.
"When you do that against a well-coached team, they're going to hurt you."
That's what Naples did. Wiesbaden seemed to be playing the final minutes not to lose, while Naples, emboldened by its offensive success, got more aggressive.
Wiesbaden successfully recovered the ensuing onside kick (Naples tried four during the game; two succeeded) and moved within field-goal range, only to see the kick fall short.
That gave Naples a final possession. A key fourth-down screen pass from Tyler Hall to Ryan Lastrella kept the drive alive, and a minute later Newby scored the winning TD from a yard out.
Naples' Samet Tueksekgoenuel kicked four extra points and a 43-yard field goal.
Harper passed for 192 yards and Peebles had 152 yards on 27 carries for the Warriors.