D-II boys
Naples pulls away from Aviano to triumph
by
Jennifer H. Svan
February 22, 2020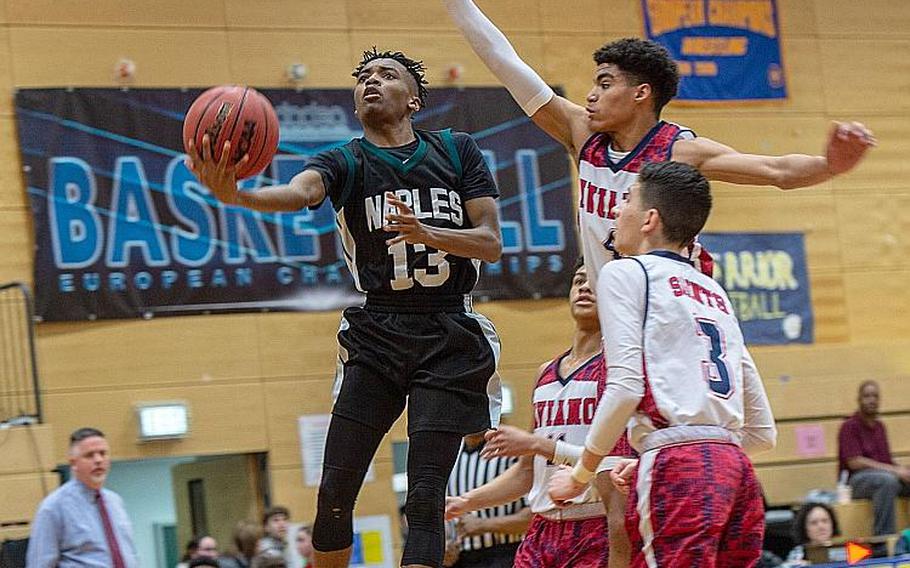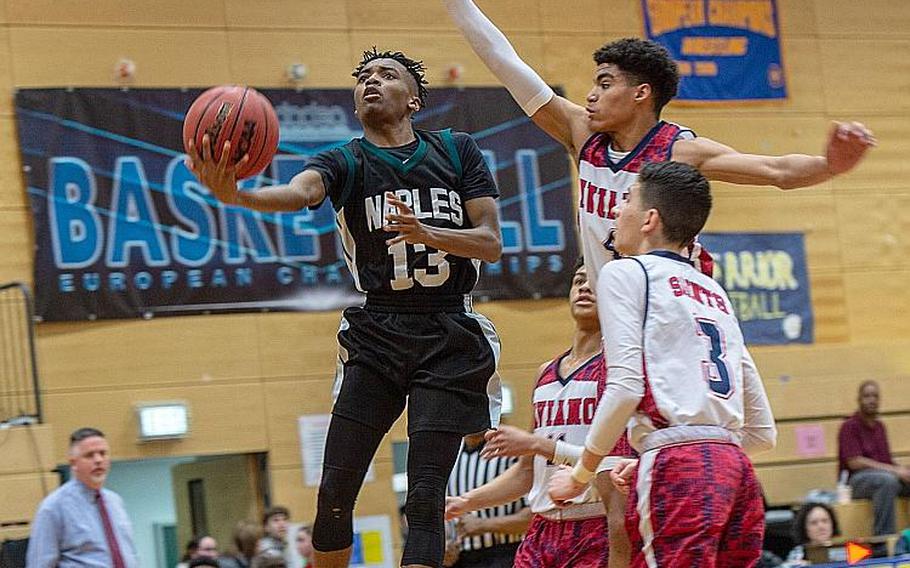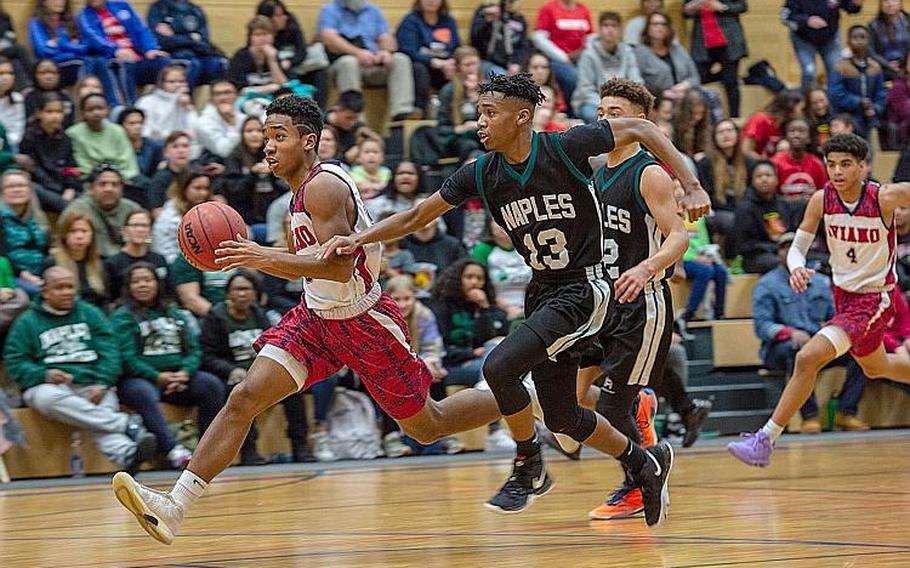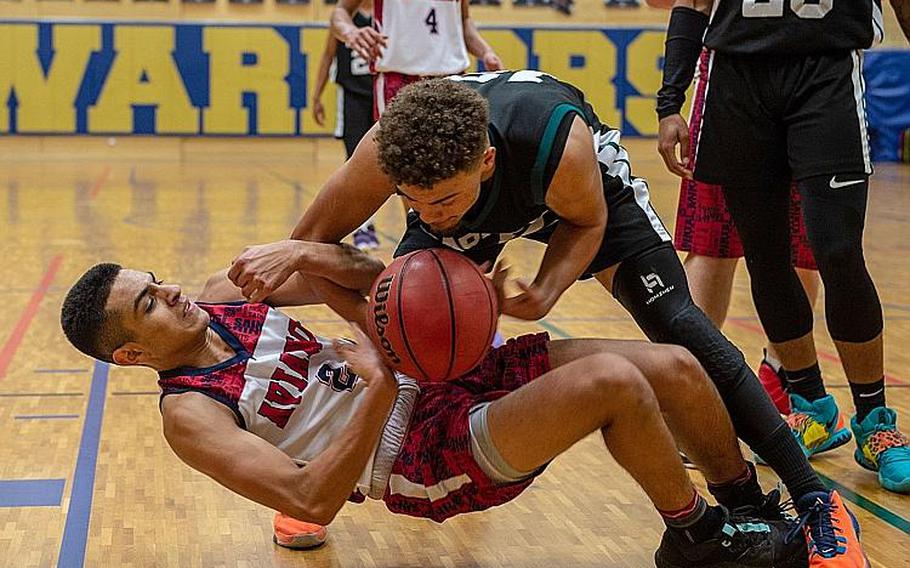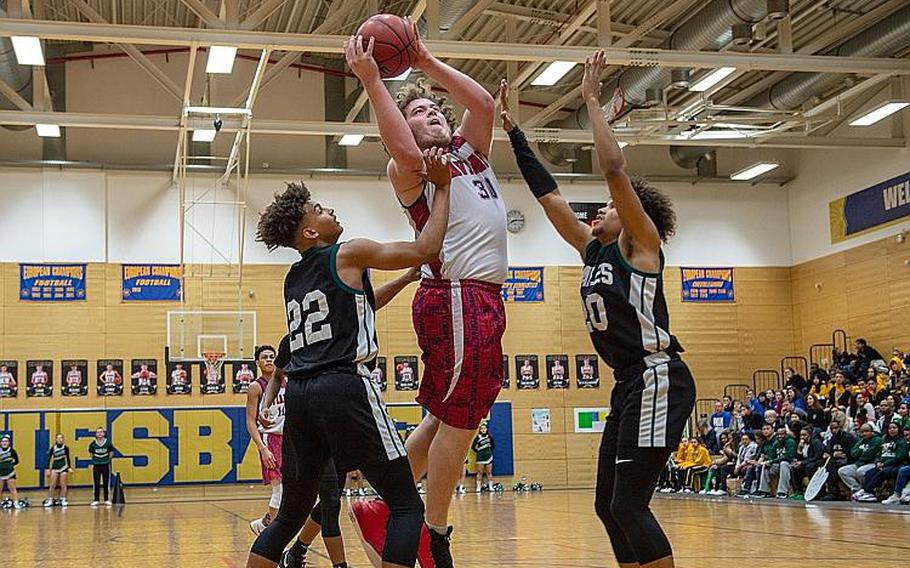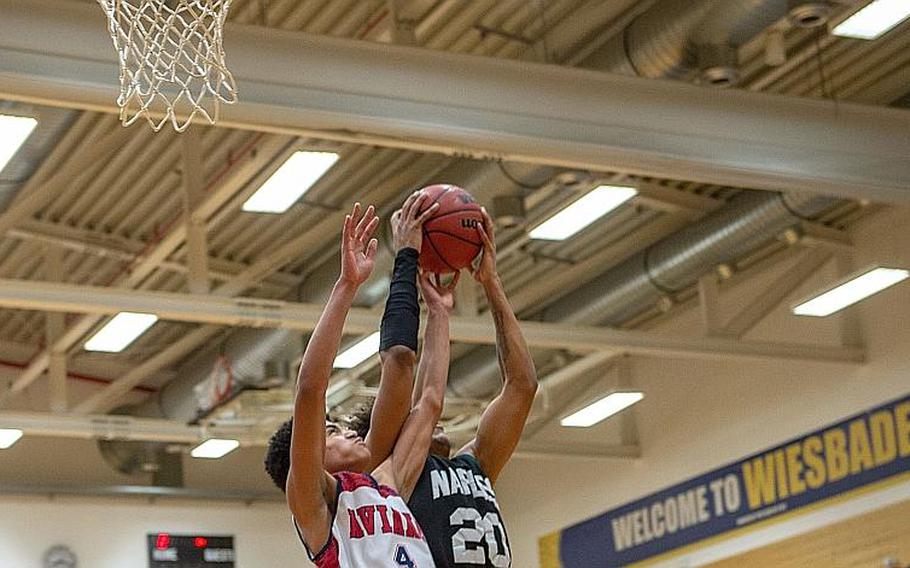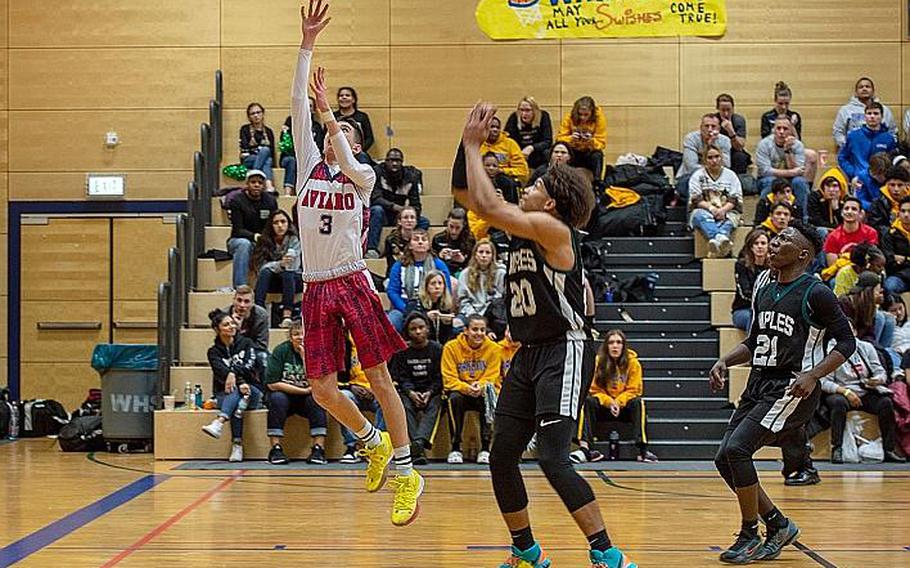 WIESBADEN, Germany – Much of the DODEA-Europe Division II boys' title game Saturday between the Naples Wildcats and Aviano Saints was a stalemate.
The two rivals from Italy battled back and forth, exchanging baskets, hustle, rebounds and turnovers that locked the score at 30 apiece after three periods of play.
But as the minutes ticked down to the final buzzer, the fifth-seeded Wildcats outscored and outlasted the Saints, 40-35, capping a memorable 5-1 title run through the tourney.
What a difference a year makes.
In the 2019 tournament, then Division I Naples lost three games and was promptly eliminated, recalled Naples coach Craig Lord.
This year, "we lost a lot of games" during the regular season, he said, but "we always had faith that we could win. And we would always just go back to practice and figure it out.
"Obviously, to come up and win a championship is the dream and the goal, and we always had that in mind."
To achieve the dream, the Wildcats had to shake off their only tourney stumble, a 34-23 loss to Rota on Friday, to beat Bahrain and secure a spot in the title game at Wiesbaden High School's gym.
The fourth-seed Saints lost to Naples in round-robin play but earned the tie-breaker with Rota and Vicenza - with all teams at 4-2 – by beating both schools in the tournament.
Saturday's title game was close throughout.
Naples squeaked out to an early 13-10 lead when junior Mark Simmons hit a three-pointer at the first-quarter buzzer.
The Wildcats extended their lead to 19-12 in the second quarter, but the Saints weren't ready to concede and reined Naples back in with several buckets, including a three-pointer by senior Malachai Brooks. At halftime, Naples was up 23-20.
The two teams continued to exchange points into the fourth quarter, when Naples' Keshawn Holland drove in a layup that put the Wildcats ahead 37-35 – a lead they would never relinquish.
Naples' Tyrell Holland, who nabbed the lion's share of rebounds on the night and earned Division II Most Valuable Player honors, drew a foul with under 50 seconds left in regulation and put Naples up 40-35.
As time expired, the Saints missed two desperate shots from three-point range.
"I knew when those last 50 seconds were on the clock, we got it," Naples junior point guard Ti Hunter said.
It was defense – and not offense – that made the difference for the Wildcats, Hunter said.
"Stopping the other team from scoring is how we win," he said.
The Wildcats at times couldn't handle Aviano senior Ben Broome, a 6-foot-5 center who steamrolled his way to the net.
"He's a big dude," Hunter said. "We had to stop him. But they have a lot of shooters on the outside," he added, referring to Brooks, a 6-1 forward, and Zachary Villa, a 6-foot point guard. "We focused on them," Hunter said.
Aviano junior Miguel Evans said Naples played good defense and outhustled the Saints.
"We knew it would be a dogfight for the whole game," he said. "We'll be back next year."
"We definitely played our hearts out," Broome said. "I'm proud of my team."
svan.jennifer@stripes.com Twitter: @stripesktown