D-I boys final
Naples edges Ramstein to grab its first D-I crown
by
Gregory Broome
May 23, 2019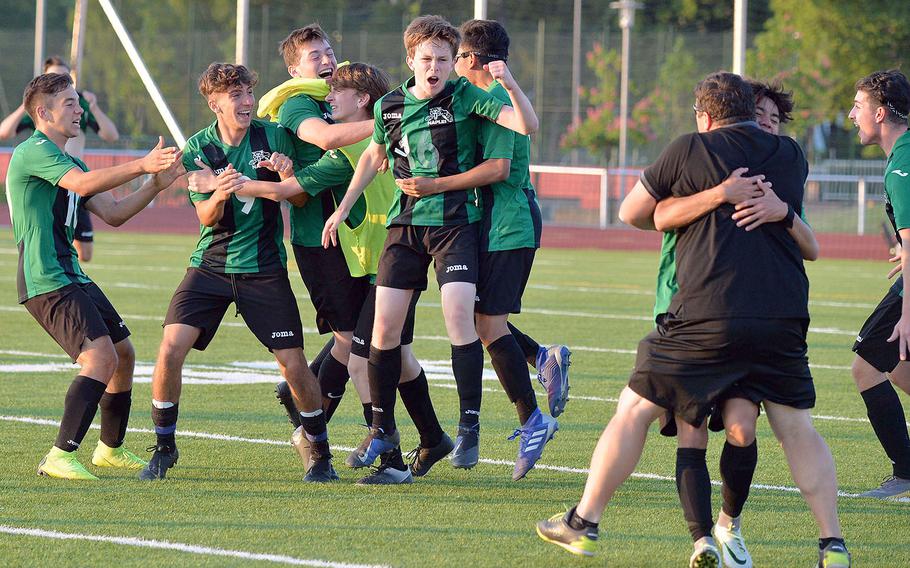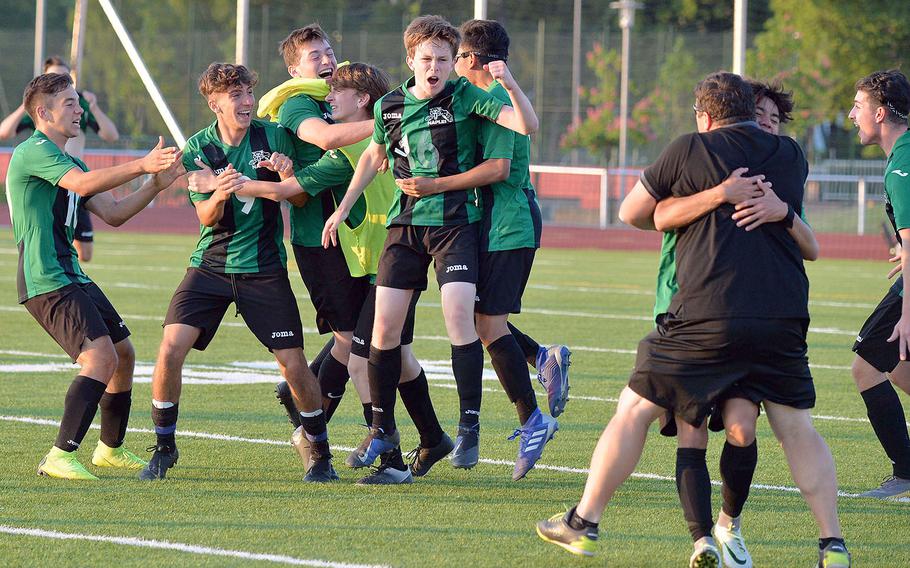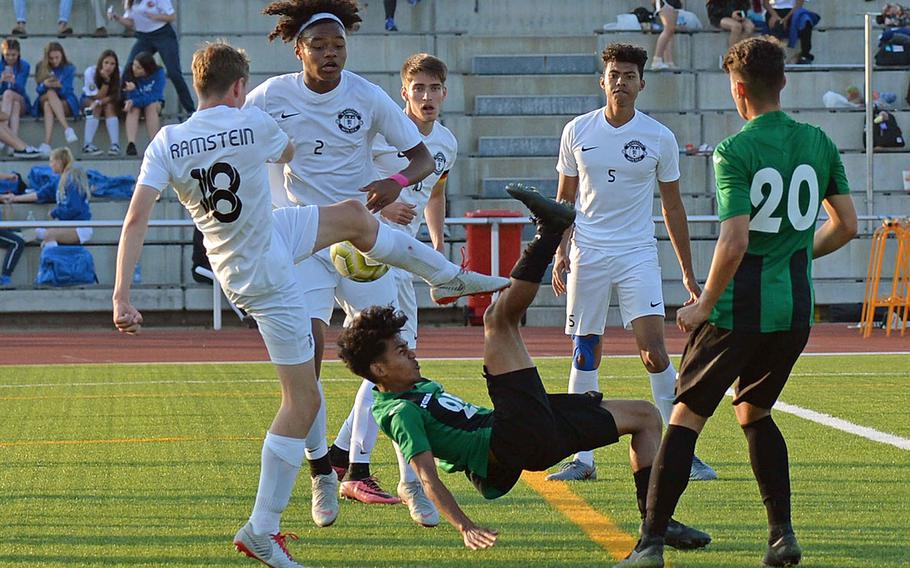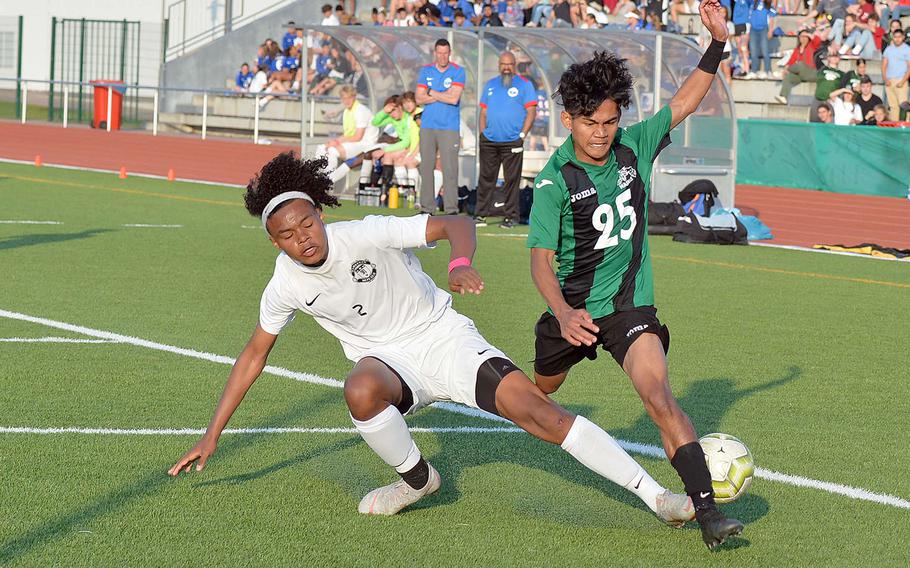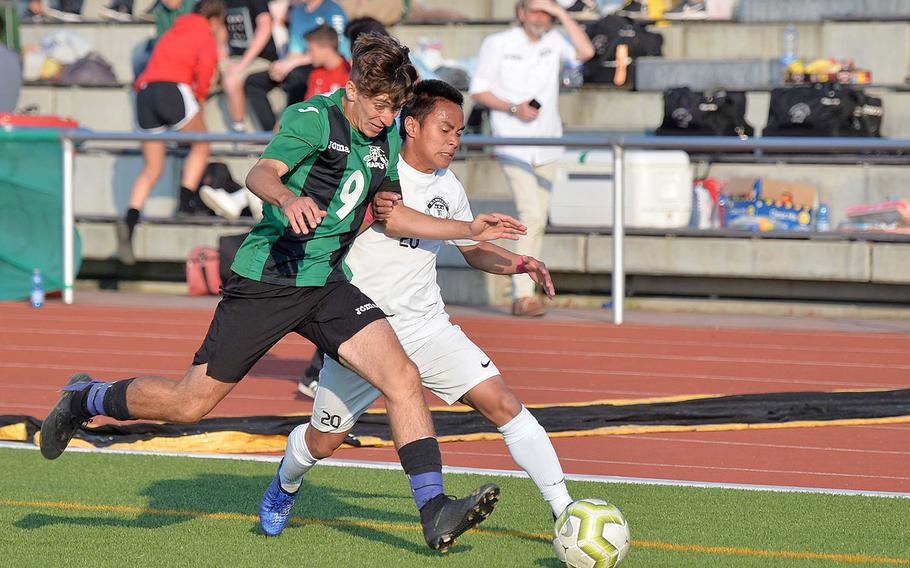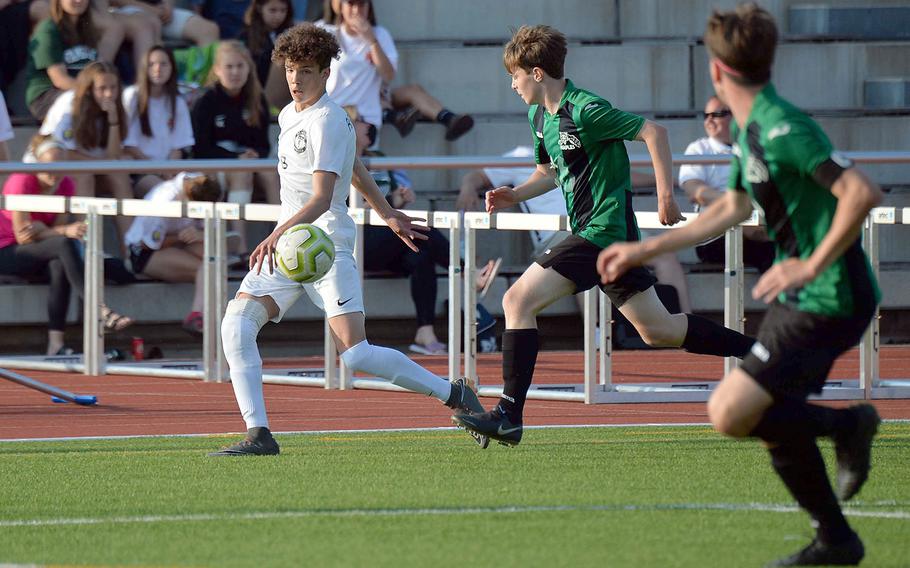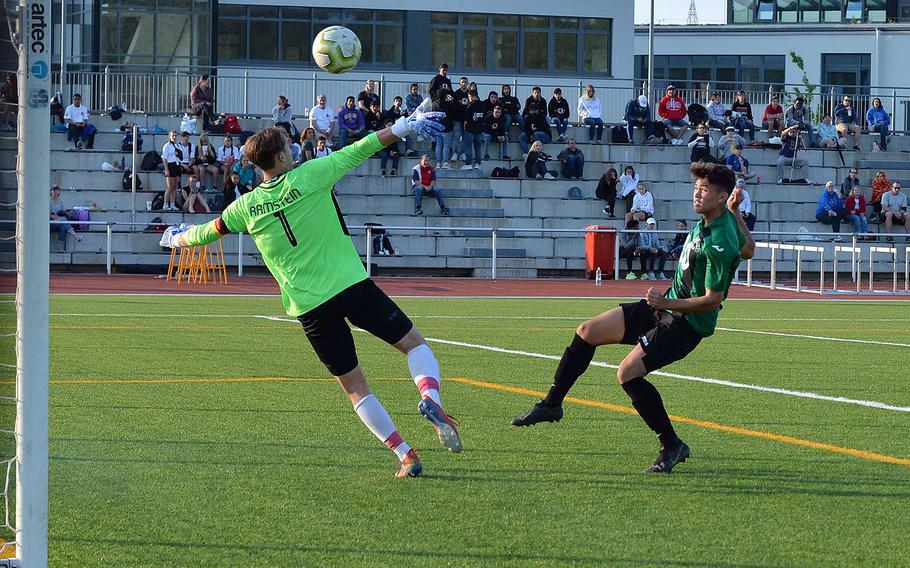 KAISERSLAUTERN, Germany -- The glass ceiling, cracked just a day prior, is now shattered.
The Naples Wildcats defeated the Ramstein Royals 1-0 in the 2019 DODEA-Europe Division I boys soccer championship game Thursday at Kaiserslautern High School, completing a five-year ascension from large-school newcomer, to contender, and now to champion.
"It's something that can never be taken from these young men," Naples coach Dirk Lambertson said of the title, the first Division I crown for a Naples team since it was promoted from Division II in 2014. "They will always be European champions, 2019. That's a feeling they'll be able to keep the rest of their lives."
Beyond the historic significance of Naples' achievement, the title was particularly special for a cohesive team led by eight seniors, many of whom have worked tirelessly to advance the program over the past four years.
"The players, the coaches, the staff, the parents, everyone helping, everyone believing," Wildcat senior Christian Albright said. "That's what caused the chemistry to help us win the European title."
Albright intends to savor this title just as his coach suggested.
"It's something I'm going to talk about for years, for sure," Albright said. "Something that's going to stay in my heart and stay on a plaque in our school."
Naples came into the final intending to use its considerable speed on the wings to circumvent Ramstein's size up the middle, a game plan similar to the one it used to best Wiesbaden in Wednesday's 2-1 semifinal win. But the Royals, generally satisfied to emphasize goal prevention over goal production, simply packed the box with a dense crew of defenders to keep the Wildcats at bay. Naples was compelled to force the issue, shifting a fourth player to the front line in hopes of evening the odds.
"In the first half, we were getting them with our speed, we just weren't getting enough bodies inside," Lambertson said. "That's what we adjusted to."
The change immediately lubricated the creaky Naples offense, giving playmakers such as Wutthipong Khotsaeng more targets for their passes from the wings. Khotsaeng found fellow senior Chase Traylor immediately after halftime for the game's first, and ultimately only, score.
"I was just making sure I had the run. I wanted to score really badly," said Traylor, who along with Khotsaeng scored a goal in the Wildcats' Wednesday defeat of Wiesbaden. "It wasn't just for me, but it was for all my teammates and the whole school back in Naples."
Traylor's goal, and the Wildcats' defensive stand in the face of Ramstein's increasingly frenzied attempts at a last-minute equalizer, delivered the championship this Naples team knew it was capable of all spring.
The Wildcats, moved up to Division I from Division II as part of a major DODEA-Europe restructuring in 2014, made their initial entry into the large-school elimination round with a semifinal loss in 2017. After a step back last year, the Wildcats roared back this spring with a skilled and experienced roster.
Naples survived the regular season as the only DODEA-Europe boys team without a loss and maintained that status through pool play Monday and Tuesday. The Wildcats earned a comeback win over Wiesbaden on Wednesday, the victory that prompted Lambertson to announce the breach of the "glass ceiling" keeping Naples from its title-game ambitions, to secure its chance at enduring glory Thursday.
"We accomplished something we talked about all season long. We talked about how we have the talent to go pretty far. We talked about how we have guys who have played together so long, a brotherhood together," Lambertson said. "We could do a lot of things with it, a lot of special things if we just focus and all have the same dream and desire. I think we made that decision early on and my God, that's what we ended up doing."
Ramstein won all four of its preliminary games in the tournament and withstood a significant challenge from SHAPE in a 1-0 semifinal victory Wednesday. That put the Royals in their second European final in the last three seasons and gave them a shot at their first European title since a 1-0 win over International School of Brussels in 2015.
Ramstein coach Dominik Ludes said his team "played their hearts out" and had no reason to regret anything they did Thursday.
"Everything that we talked about before the game, the guys put on the field," Ludes said. "Nothing we need to be ashamed of. We lost to a very, very good team that had a fantastic season."
broome.gregory@stripes.com Twitter: @broomestripes