Mediterraean volleyball final
Naples downs Vicenza to take back boys title
by
Kent Harris
November 5, 2011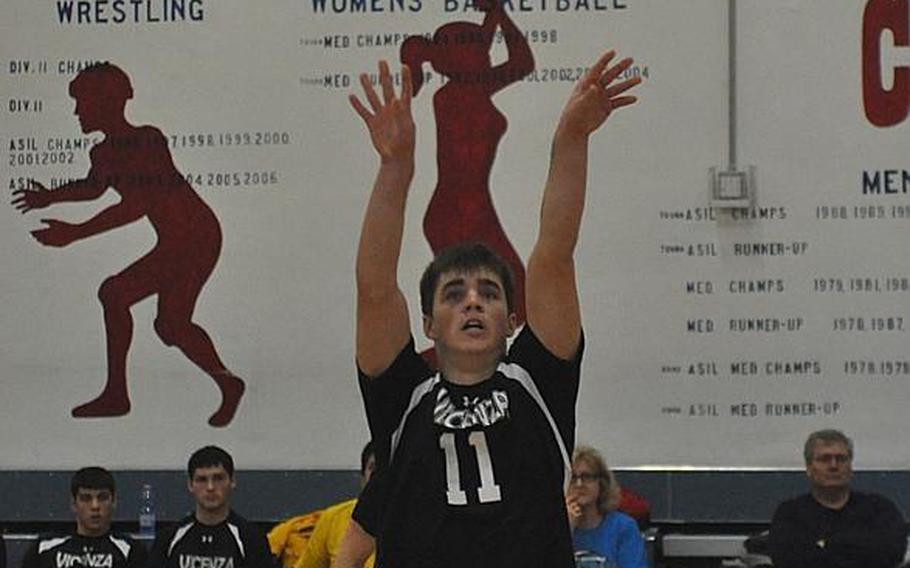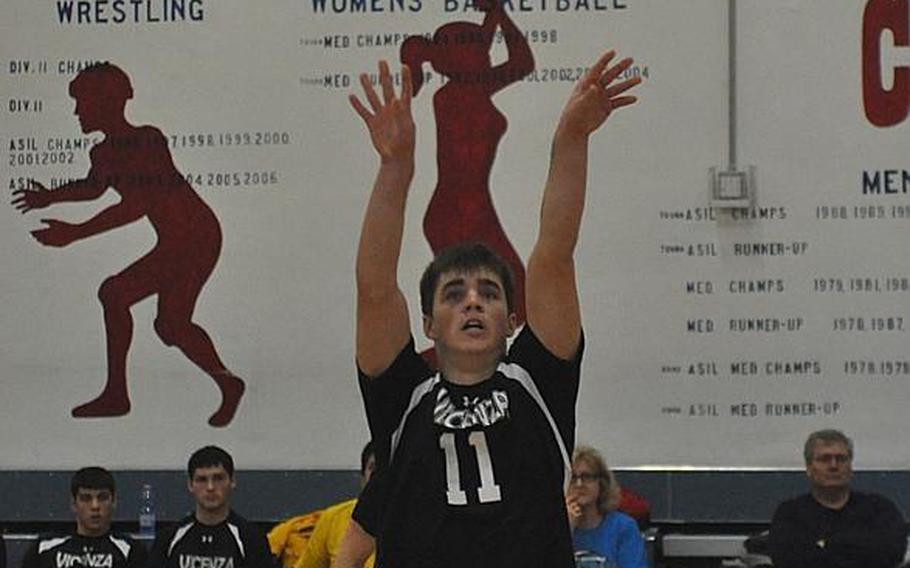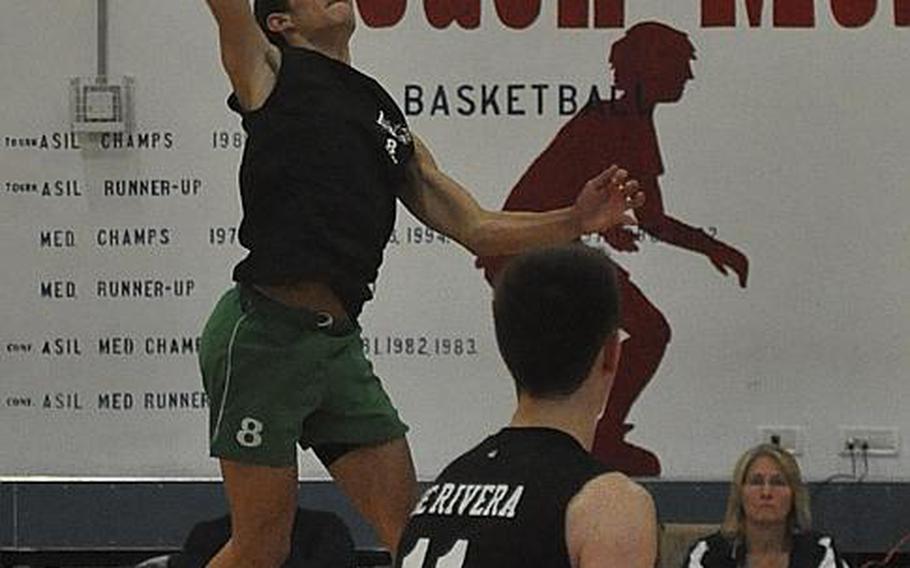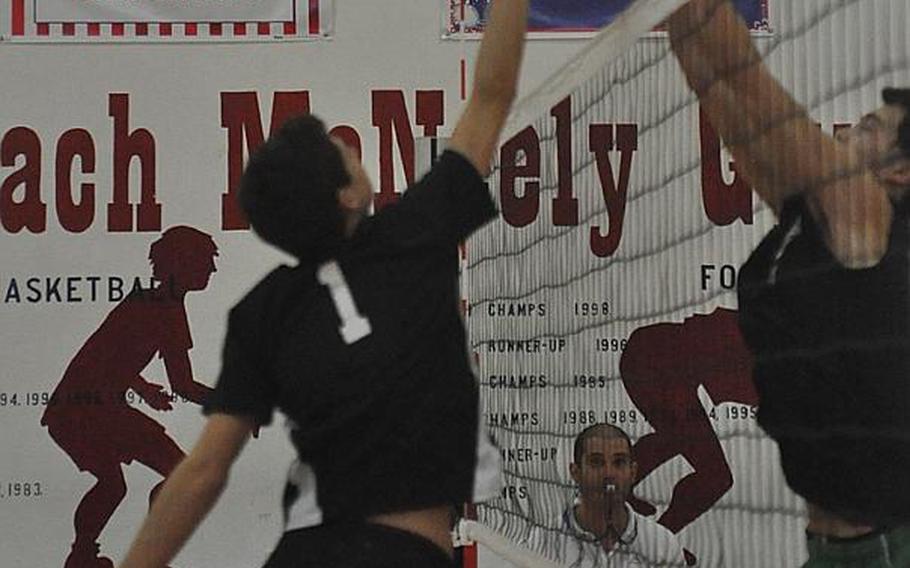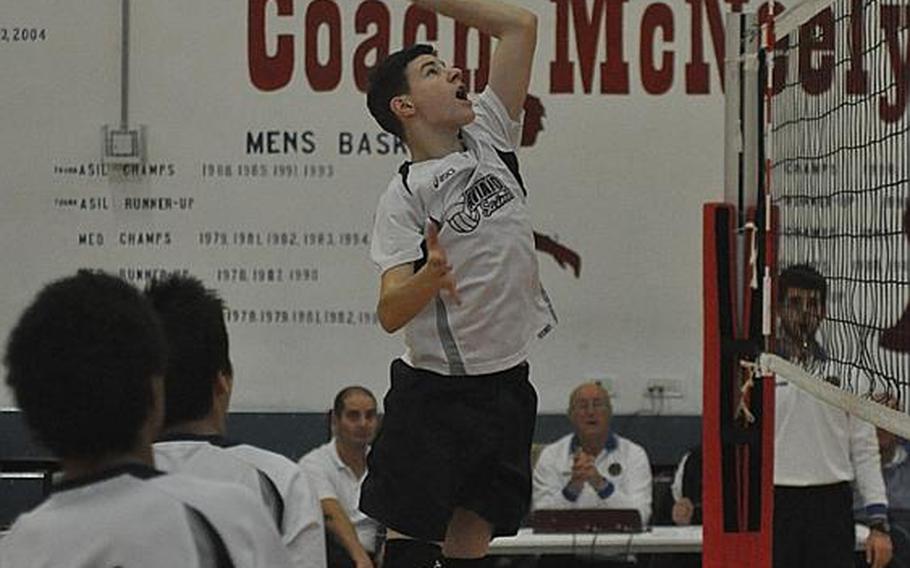 AVIANO AIR BASE, Italy — Experience counts.
Though that saying might be a little trite, it's demonstrated again and again in sports. The latest example came via Saturday's final of the Mediterranean boys volleyball championship.
Naples, with a roster of nine seniors and a sophomore, swept Vicenza, whose 10-man roster featured only three seniors, 25-22, 25-15, 25-23.
"We've been here before," longtime Naples coach Peter Nagafuchi said, summing up another difference between the two teams: championship game experience.
"This was Vicenza's first championship game," Nagafuchi said. "They looked nervous at times, like they didn't want to make mistakes."
And it appeared that only got worse when the sets were close at the end.
Vicenza led 21-19 in the first set, but Naples rallied for the victory. The Wildcats led all the way in the second set, taking a 7-1 lead and never letting the Cougars get closer than five points. The third was pretty similar to the first, though.
Vicenza led 9-5 and 21-17. But Naples — led by tournament most valuable player Jonathan Higgins — rallied again and earned the victory.
"They tried so hard," Vicenza coach Susan Vanderbeek said of her team. "Maybe too hard."
She said losing the lead in the first set the tone.
"I think we just lost our focus," she said. "And we didn't get it back quickly enough."
Naples, which won the tournament two years ago before Aviano took last year's crown, is seemingly always a force in boys volleyball. Having the largest enrollment south of the Alps doesn't hurt.
But the year didn't start off in typical Naples fashion.
The team had to forfeit a pair of victories over Sigonella because it discovered one of its players was ineligible due to age restrictions.
"The kids were discouraged," Nagafuchi said.
A sweep by the Wildcats not long after was another low point, the coach said.
"But after that, we started to play better each time," he said. "You learn from your mistakes."
Aviano, which fell in three sets to Vicenza in Friday's semifinals, topped the American Overseas School of Rome for third place with a 25-22, 25-23 triumph.
Boys volleyball is only played by schools in Italy and the Middle East. Bahrain and Incirlik joined the eight Italy-based schools for the three-day tournament, which consisted of two days of pool play and Saturday's final games.
---
---
---