Boys Track and Field Athlete of the Year
Naples' Copeland raced to second straight sprinting sweep
---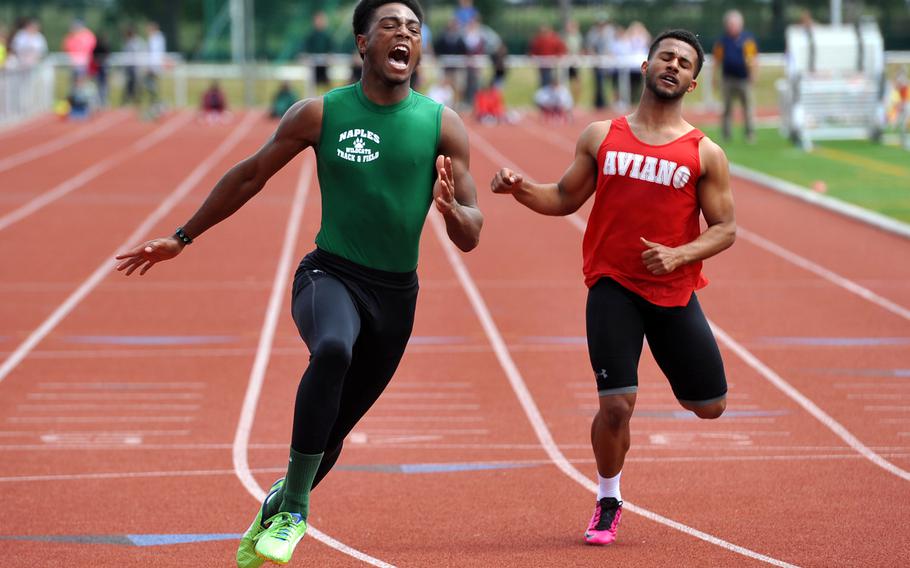 Track and field athletes compete against their own high standards as much as each other. Certain numbers loom as milestones for competitors looking to add just a few more inches to a throw or leap, or to shave a few precious seconds from a run.
By that measure, Cameron Copeland of Naples was successful at the 2015 European Track and Field Championships on May 22 and 23. The senior broke through the 11-second threshold in the 100-meter dash, clocking in at 10.91 seconds.
He was also successful by any other measure.
Copeland retained his title as DODDS-Europe's fastest man with victories at 100 meters and 200 meters, the same two events he swept in 2014. And he didn't just repeat, he improved on his own winning times in each.
In the 100-meter dash, he bested his 2014 time of 11.33 seconds, cracking the vaunted 11-second mark in the process. At 200 meters, Copeland sliced his 2014 time of 22.73 down to 22.14
But this year, Copeland didn't stop there. The senior star also helped two Wildcat relay teams to victories.
Copeland ran the anchor leg of the 4x100 meter relay, helping the Wildcats record a winning time of 43.55 seconds and boosting their finish from second in 2014 to first in 2015.
Reversing roles, Copeland ran the first leg of the 4x400 relay. The results were the same, as Naples took the win in 3 minutes, 29.50 seconds.
Following his trend of year-over-year improvement, those two relay wins follow a 2014 tournament performance in which he ran with a second-place 4x100 relay squad and a third-place 1,600 sprint medley unit.
That performance has now made Copeland the 2015 Stars and Stripes boys track and field Athlete of the Year.
To get there, he had to battle butterflies as much as the competitors lined up alongside him. Copeland said he was "shivering" before he defended his 100 and 200-meter titles.
"I was actually very nervous," Copeland said.
Once the races were underway, however, Copeland's competitive instincts kicked in. In the 200 meter race, Copeland trailed Kaiserslautern's David Zaryczny. With little time to make up ground in the short-distance sprint, Copeland acted immediately.
"I knew I was doing good on the curve when I was catching up to (Zarcyczny)," Copeland said. "That put more motivation inside me, because I was actually nervous to race him."
One can only imagine how Copeland's rivals have felt as they prepared to race the Naples star.
Twitter: @broomestripes
---
---
---
---