Naples boys finish season with perfect record, claim European volleyball championship
---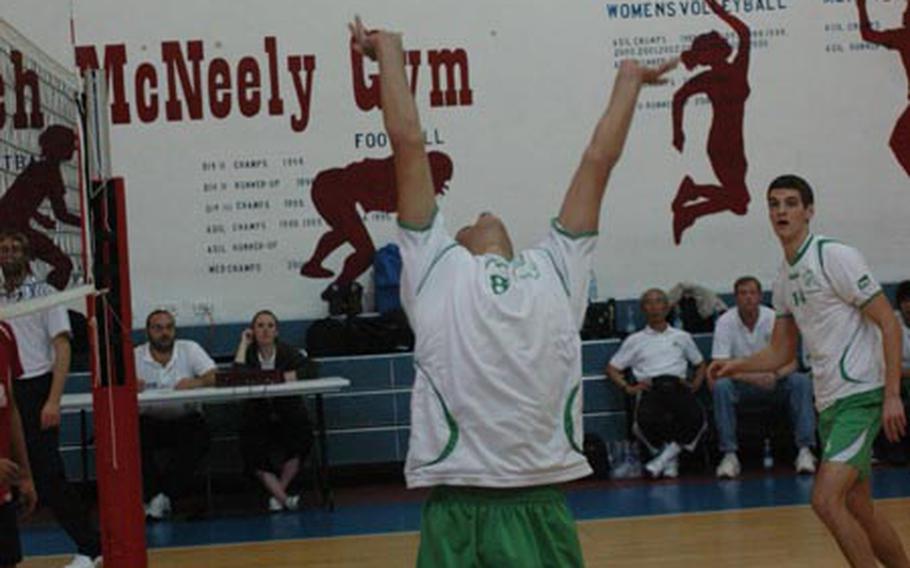 AVIANO AIR BASE, Italy — Abram Campbell has had a nice run lately.
The 6-foot, 4-inch Naples senior was named homecoming king earlier this fall. Saturday, his volleyball team capped an unbeaten season by topping Aviano 25-22, 25-22, 15-25, 25-15 in the finals of the DODDS-Europe boys' championships.
It didn't take him long to figure out which he was more proud of.
"This is much better," he said. "Unbeaten. How can you beat that?"
The 10 schools that field boys' teams are all in the Mediterranean District. So the season is abbreviated. But head coach Peter Nagafuchi said that winning all 12 of their contests — including five in the season-ending tournament — wasn't an easy task for the Wildcats.
"When you're on top, there's always someone close," he said. "We had to focus on each game, from week to week."
Aviano, whose only two losses this season came to Naples, would have dominated any highlight reel made of the contest. E.J. Seaton and Sean Outing had several spectacular kills.
But the Saints couldn't match the consistency of the Wildcats.
"We've played as a team all year," said team captain Campbell, who is headed to BYU next year before taking on a two-year mission on behalf of his church. "We're real close."
And when the games got close, Naples got going.
The score was tied 22-22 in each of the first two games. Each time, Naples scored the final three points.
Nagafuchi credited that to mental toughness and drills the team worked on throughout the season to simulate finishing out close matches.
Aviano didn't let it get close in the third game, taking 6-0 and 17-7 leads behind strong net play by several players, including Seaton and Outing.
"We didn't execute our game plan," said Aviano assistant coach Mark Fix. "Our game plan was hitting and blocking. Pretty simple. When we did that, like in the third game, you could see the results."
Naples came back in the next game, and the Saints were never really in it after the first few points. An Aviano rally cut the deficit to 19-13, but four straight Naples points — the last two via a block and a kill by Campbell — left the outcome in little doubt.
Volleyball ScoreboardMediterranean boys championshipAVIANO AIR BASE, Italy — Results from the three-day 2009 DODDS-Europe boys' Mediterranean championship, which ended Saturday:Friday's late semifinal resultsNaples def. Milan 25-14, 22-25, 25-23, 25-17Aviano def. Marymount International School of Rome 25-15, 25-18, 25-23Saturday's third-place gameMarymount def. Milan 25-16, 25-9, 25-19Saturday's championshipNaples def Aviano 25-22, 25-22, 15-25, 25-15.
---
---
---
---