Naples' Allison outlifts all competitors
by
Mark St.Clair
April 22, 2007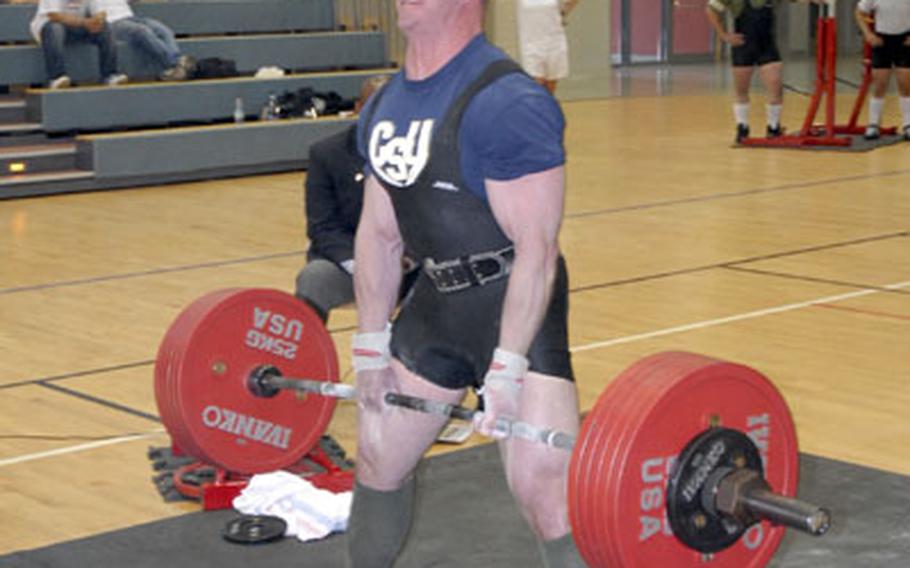 BAMBERG, Germany — Three services, four countries and 10 military communities were represented in the U.S. Forces Europe Powerlifting Championships here Saturday.
Fifteen lifters competed in squats, bench presses and dead lifts, vying for individual and team honors at the Freedom Fitness Facility on Warner Barracks.
When it was all over, Jim Allison, from Naples, Italy, had lifted more than any other competitor — 1,730.61 pounds.
He and the other two sailors from Naples — including Pamela Arvelo Marrero, the only woman competing — also took first place in the team competition.
Allison, a four-year Navy veteran, said he's been lifting for 20 years. He paid for the trip out of his pocket — at a cost of around 600 euros — but said the cost didn't matter.
"It's a good meet. Obviously, I wish there was more competitors, but you have to remember there are guys in Iraq and Afghanistan and other places," Allison said.
The top lifter overall — measured by comparing body weight to amount lifted — was 182-pound Terry Butler, who totaled 1,625 pounds in his lifts.
Butler also traveled the farthest to compete: the soldier's leadership at Camp Arifjan, Kuwait, told him he had to win in order to go.
Butler, who is stationed in Germany when not deployed, also lifts for team SG Randersacker in the German Bundesliga, and has since 2002.
Butler, who spent most of his time between lifts pumping himself up via iPod and smelling salts, said he was impressed with the way the competition was handled.
"It was done very professionally ... the only things that could have made it better would have been more lifters, more fans and music."
Organizers also seemed pleased. "We have a wide variety of people (here). It definitely reached out and made this a joint event, with different services and different locations participating," said Sylvia Martin, director of sports and fitness programs on Warner Barracks.