Mysterious package turns Army Ten-Miler into 11-mile fun-run
by
Jeff Schogol
October 3, 2005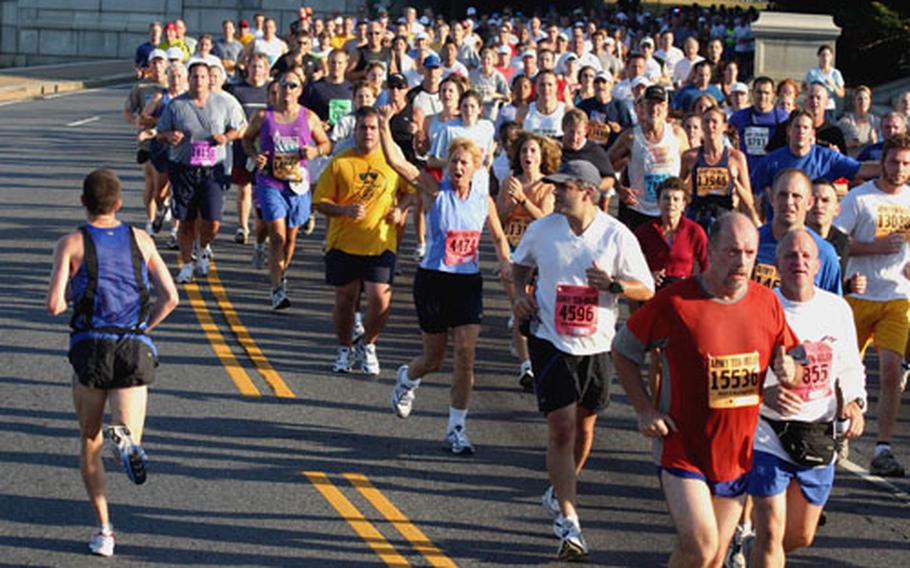 (Click here to view an Army Ten-Miler photo gallery.)
ARLINGTON, Va. — They came, they ran, and then they found out the race didn't count.
Eight miles into Sunday's Army Ten-Miler, race officials changed the route after Washington, D.C., police found a suspicious package on the 14th Street Bridge, said race spokeswoman Barbara Owens.
Police later determined the package was harmless, but because of the route change, the race is considered a fun-run with no official results, officials said.
All total, the runners ran about 11 miles, said race director Jim Vandake.
Some runners expressed disappointment after hearing that the race didn't count.
"Freakin' terrorists! Bastards!" yelled one runner after completing the race.
Professional runner Chris Graff crossed the finish line first Sunday.
Graff said he knew something was wrong when runners failed to make a turn onto the 14th Street Bridge and he ended up "running really hard in the wrong direction."
Graff seemed ambivalent that his victory was null and void Sunday. He said he estimated his time was 48 minutes flat, which is exactly where he wants it.
"I came here to run hard and I accomplished my goal," said Graff, who plans to run in the New York City marathon next month.
Samia Akbar, the first woman to cross the finish line, said it was "heartbreaking" to learn that the race didn't count.
Still, no one can debate what Akbar and the other runners accomplished Sunday, she said.
"You run the time, you run the race and everyone knows how you did," she said.
More than 20,000 people and 600 teams were expected to compete in Sunday's race, according to the Army Ten-Miler Web site.
Sarah Harting came to the race to honor her brother, Army Capt. Ralph "Jay" Harting III, who was killed in Iraq in April.
Harting, of the Gold Star Wives of America team, said the fact Sunday's race was unofficial didn't take away from her mission of honoring her brother's memory.
"If they made it 100 miles, I still would have made it to the end and said, 'Oh well,' " she said.
Capt. Harting's widow, Jennifer Harting, said her husband enjoyed athletics and the Army.
"Anything we can do to tell him we're proud of him, we'll do it," she said.
Sgt. 1st Class Toby Angove, of the Pennsylvania National Guard, ran across the finish line Sunday with an American flag protruding from his backpack.
Angove said he displayed the flag to support all of his fellow troops who couldn't attend the race.
He said running the race wasn't nearly as daunting as what some of his fellow soldiers are going through right now.
"It's 10 miles, but there's no one shooting at you and there's no IED's on the road," he said.