S&S Athletes of the Year: Europe volleyball
Muzzy carried team to new level of success
by
Kent Harris
November 30, 2010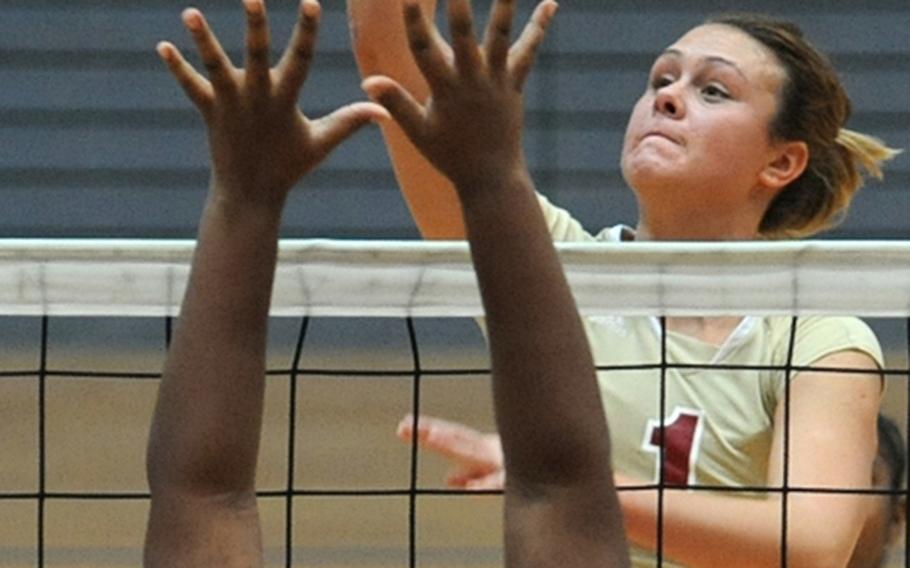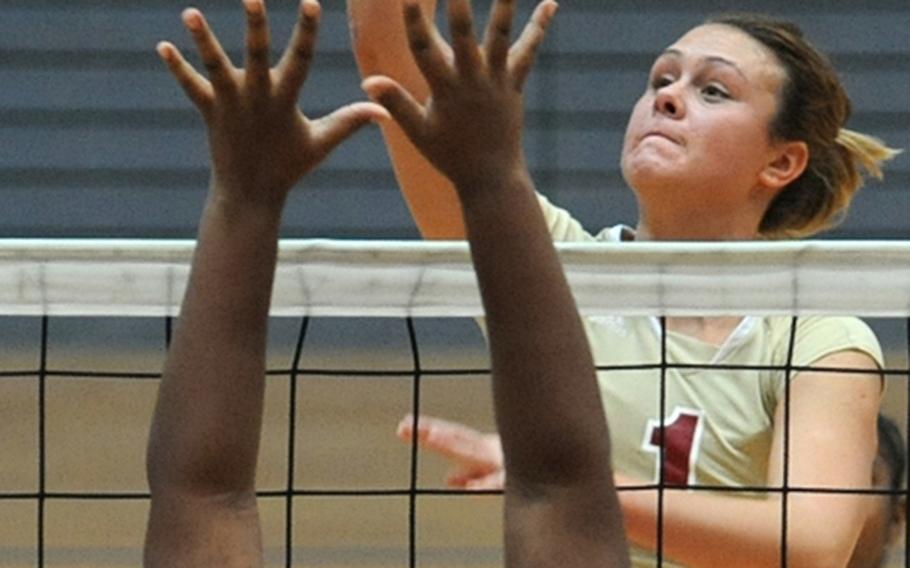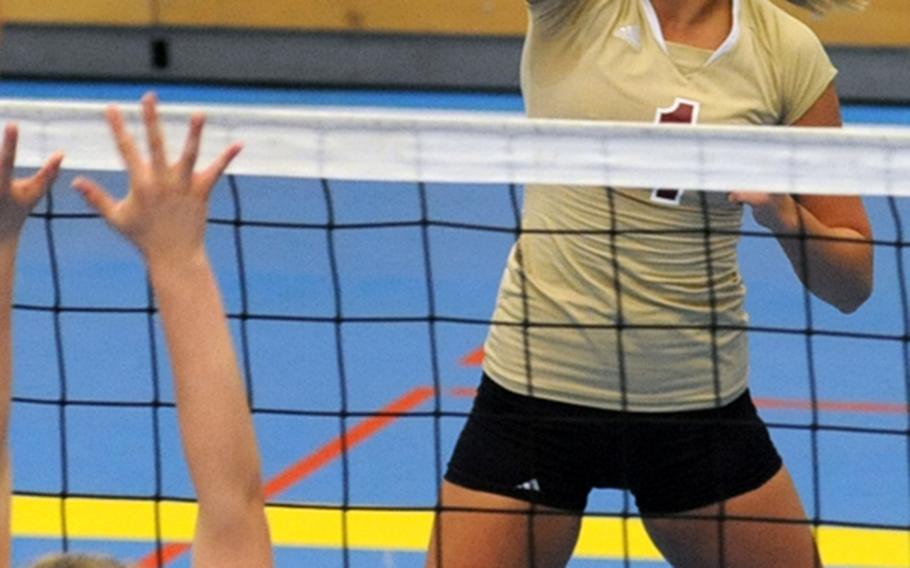 Beginning this season, the Stars and Stripes staff, with input from various coaches, is selecting top players in each high school sport played across Europe.
Anna Muzzy helped the Vilseck volleyball team to top-three finishes in Europe in 2008 and 2009.
But that wasn't enough for her.
"I really like playing volleyball," the 18-year-old senior said.
So over the summer she went to the DODDS-sponsored camps at Aviano and Vilseck. And she also attended camps offered by the University of Washington, Washington State University and Boise State University. The camp at Washington attracted about 500 participants.
The camps "were a key to her success," Vilseck coach Brian Swenty said. "Getting instruction from as many people as you can, who know what they're doing … sometimes something will just click, even if you've heard it before."
The sound that opponents heard this year was Muzzy connecting with the ball. She registered 250 kills on the season — tops in Europe, according to Swenty. She also led her team to the Division I championship, earning most valuable player honors. Her season-long efforts earned her recognition as Stars and Stripes' girls volleyball player of the year for Europe in 2010.
Being 6-foot-1 helps a lot in spiking. But so does natural jumping ability and lifting weights to strengthen the body. Muzzy regularly works out her leg muscles to help with lift and her arm muscles to add power.
"She has added power and that's one of her strengths," Swenty said.
But she has also grown adept at dinking over opponents' block attempts. "A point's a point," Swenty noted.
Muzzy said the highlight of her season was winning the title. But she also enjoyed the numerous meetings between her team and perennial power Heidelberg.
Heidelberg coach Mike Rubino called her "a dominant force on the court." He said her spiking was dangerous, but she also had the potential to string together a series of aces or serves difficult to return. Muzzy was credited with 56 aces on the season.
She wasn't that happy with her serving, though. Competing with a German club team helped some aspects of her game, she said, but because the ball was a different size, she had to change her serve and never got it back to where she wanted it.
There were several dominant players in Europe this season, making the decision to select Muzzy a difficult one. One of Rubino's players, junior Alison Gunsch, was also considered.
Rubino said such players often stand out when the sets get close. While teams spread the attack around for much of the game, "when you need that point, you know who to go to. Muzzy is definitely one of those players."
Muzzy said she's not averse to filling that role.
"When we were losing or not playing well, I'd tell our setter: 'Get me the ball, get me the ball.' "
Wiesbaden coach Linnea Velsvaag, whose team finished second to Vilseck, said she was impressed by Muzzy's interaction with teammates and the competition.
"She's out there having fun," Velsvaag said. "You can easily see that."
Muzzy hopes she'll be having fun on stateside college courts next year. She plans to attend a camp in December in Kansas City a day after the NCAA championships that's expected to draw the interest of many of the sport's coaches. And there's certainly a few more camps out there that could help her get even better.
---
---
---
---