Move from Maryland pays off for Brussels' Anderson, DODDS-Europe's female athlete of year
by
Rusty Bryan
June 26, 2010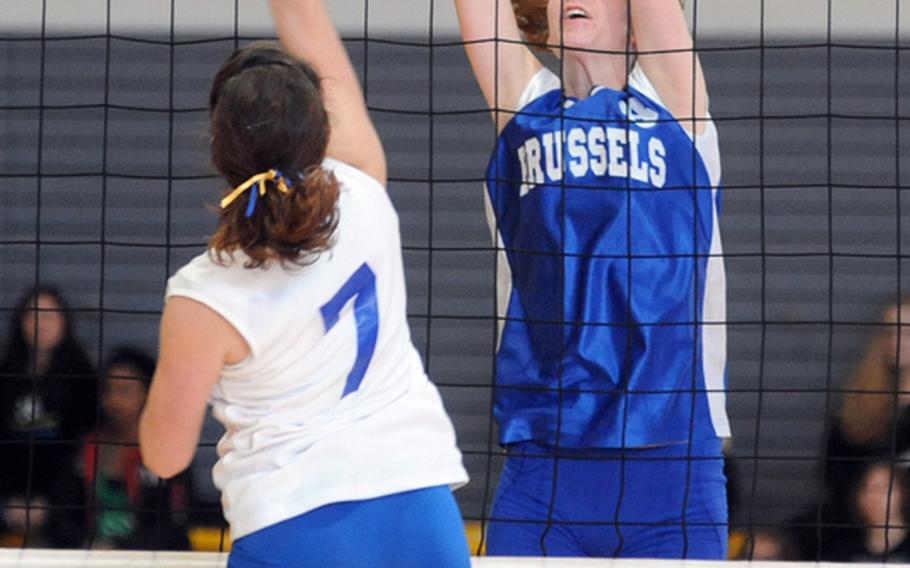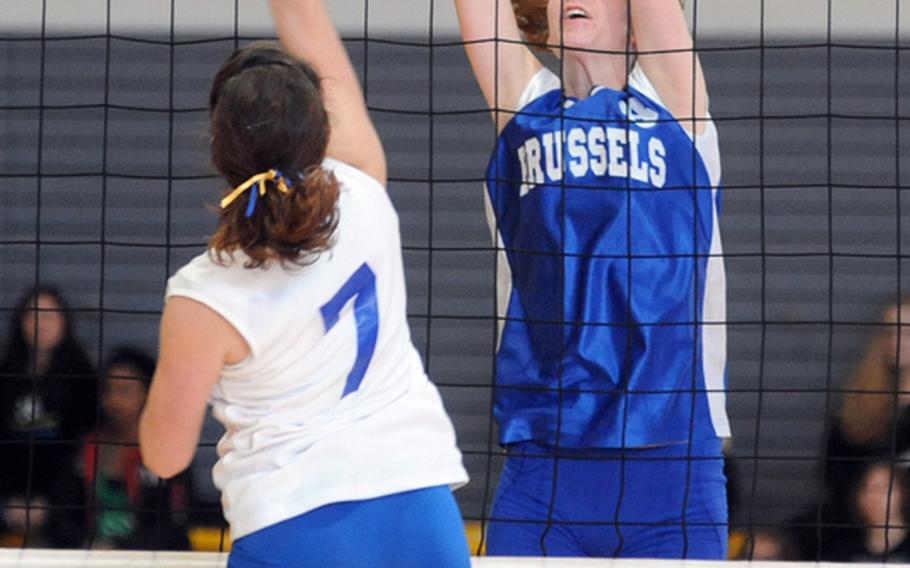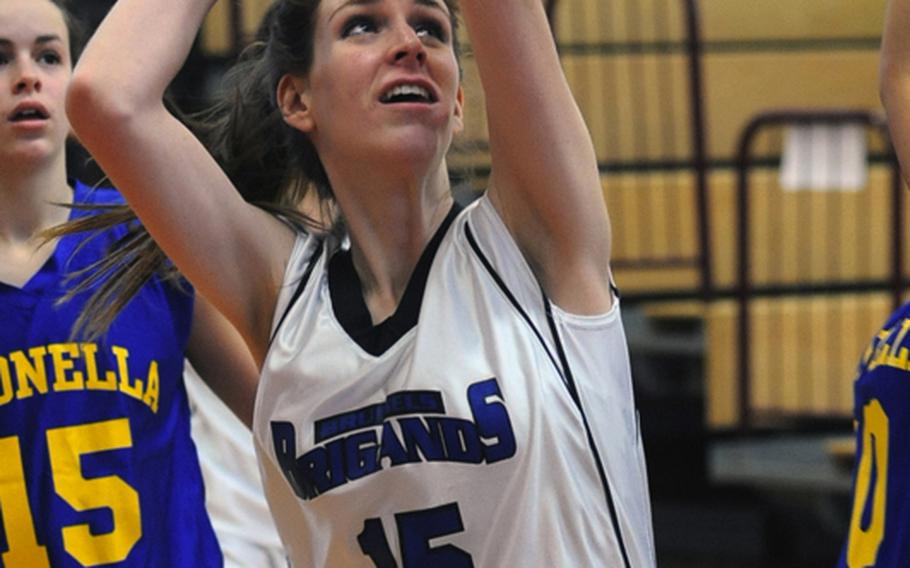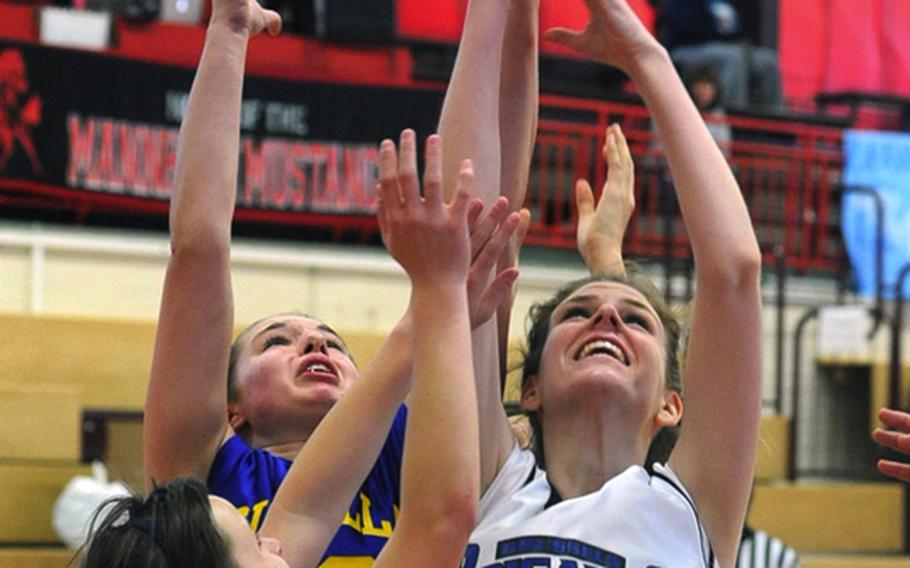 For Kathleen Anderson of Brussels, travel — in this case a junior-year move from Maryland to Belgium — proved broadening in more ways than one.
"If I had stayed in Annapolis, I would have played volleyball only," the DODDS-Europe 2010 female athlete of the year said by telephone Monday about the three-sport résumé she acquired as a junior and senior at Brussels. "I started (varsity) basketball over here for the first time."
Track was another voyage of discovery at Brussels for Anderson, whose sports career would have been outstanding enough had it begun and ended with volleyball, as it had in Maryland. Last fall, for example, the 6-foot All-Europe middle blocker, who amassed 132 kills and 32 solo blocks, led her Lady Brigands to their first team title of the school year.
Anderson had discovered the previous year, however, that small-school peer-pressure doesn't allow a performer of her stature to go one-and-done when it comes to the sports calendar. At Brussels, where teams have just 89 high school students from which to choose, everyone's an all-season athlete.
And a friend.
"You get close to each other," Anderson said. "You grow a bond."
It's a relationship that carried Anderson over the rough patches of rediscovering her basketball game, which had lain dormant since seventh grade.
"It was hard," she said of her junior year. "This year was easier."
Easier for Anderson and much harder on the opposition. Manning the post, Anderson averaged nearly 14 points and nine rebounds, along with a couple of rejections, every time she stepped on the court. The numbers added up to a D-III crown for Brussels and an increased affection for the game for Anderson.
"My fondest memory?" Anderson said as she mulled the question about the year's highlight. "Winning Euros in basketball. It's a good feeling to win. It makes all the practices and stuff seem worthwhile."
And her favorite sport these days?
"Volleyball and basketball are pretty close now," she said.
Anderson's basketball strides so impressed Brussels coach Dexter Bohn that he went out on a limb to back his post star's candidacy for the 2010 All-Europe team.
"… I have often disqualified Division III players for consideration … if I thought they were not up to the level of larger-school athletes," he reminded the basketball selection panel in March. "This year … there should be no question that our best player, Kathleen Anderson, should be on the first team."
Anderson was the top performer on the Lady Brigands' track team, too, as the lone girl to qualify for May's European track and field championships. A hard-working, learn-as-you-go high jumper, Anderson cleared 4 feet, 6 inches in the championships. It earned her a sixth-place plaque and one team point, which made Brussels the only D-III school to score in the Europeans.
It also produced another point for Anderson's athlete-of-the-year résumé, which includes All-Europe selections in volleyball and basketball.
"It's shocking," she said of her selection. "I never thought about it. There are so many good athletes in Europe."
Anderson, who plans to play club sports only when she attends Baltimore's Towson State University this fall, said her college sports prospects might have been rosier had she stayed in Maryland for her final two years of high school.
"I think in the States, I probably would have been more open to the colleges," she said, "but moving here I got to play volleyball and basketball. It's been a very good (experience). I wouldn't have traded it for anything."
The Anderson fileVolleyball
(European Division III champions)
• All-Europe middle blocker: 132 kills, 32 solo blocks, 11 block assists, 41 digs, 7 aces, .750 serving percentage, D-III tournament MVP. Coach Vicky Westland: "Skillful and intuitive…. Her net play is superb."
Basketball
(European D-III champions)
• All-Europe post player: Averaged 13.6 points, 8.7 rebounds, 2 blocks/game. Coach Dexter Bohn: "… Unselfish player with a wonderful attitude."
Track and field
(European D-III girls champions)
• High jump (4-6, sixth place, 1 team point)
Athlete of year selection panel: Alice Berard, Jim Campbell, Scott Davis, Liz Dunham, Dan Mendoza, Pete Resnick, Danny Robinson, Amanda Rogers, Karen Seadore, Robert Stovall, David Tran
---
---
---
---