Motorcycle racing: Americans produce positive results in Seriensport Challenge
---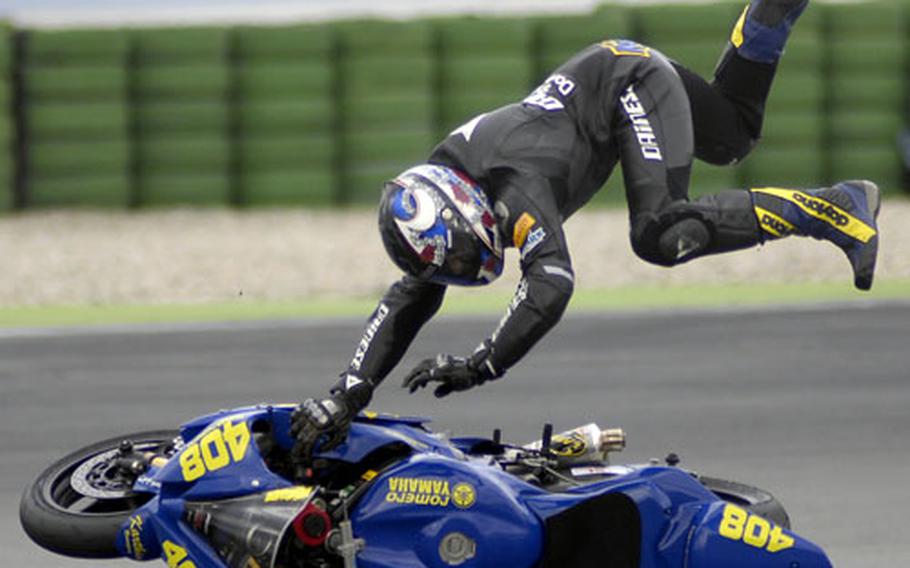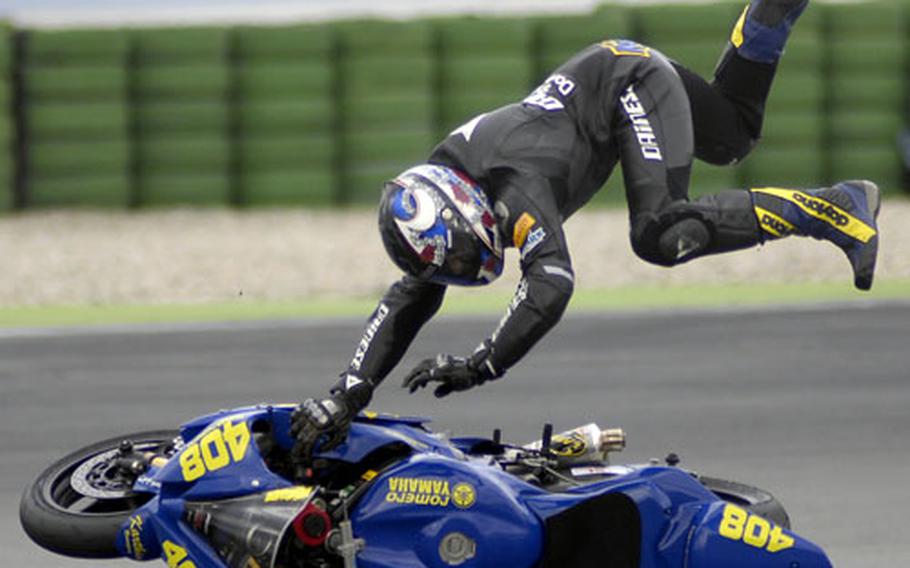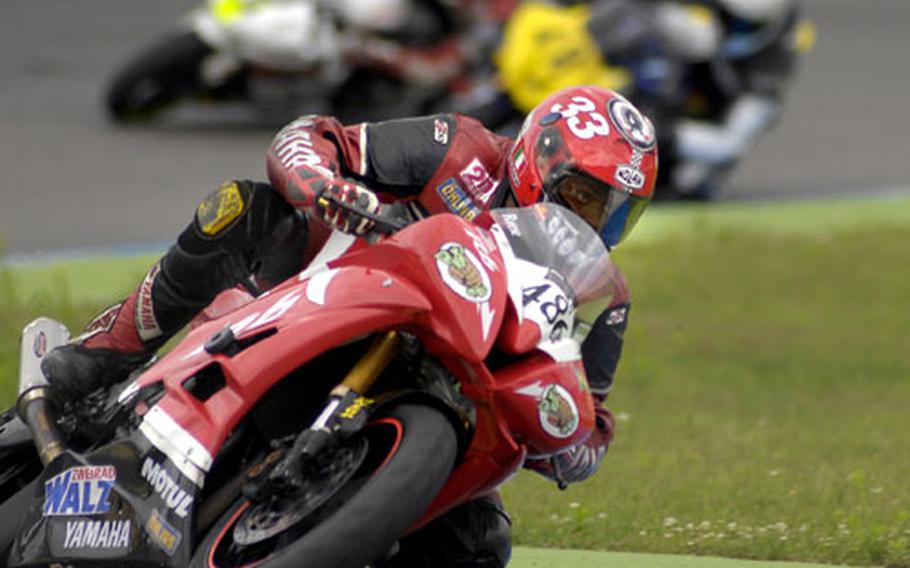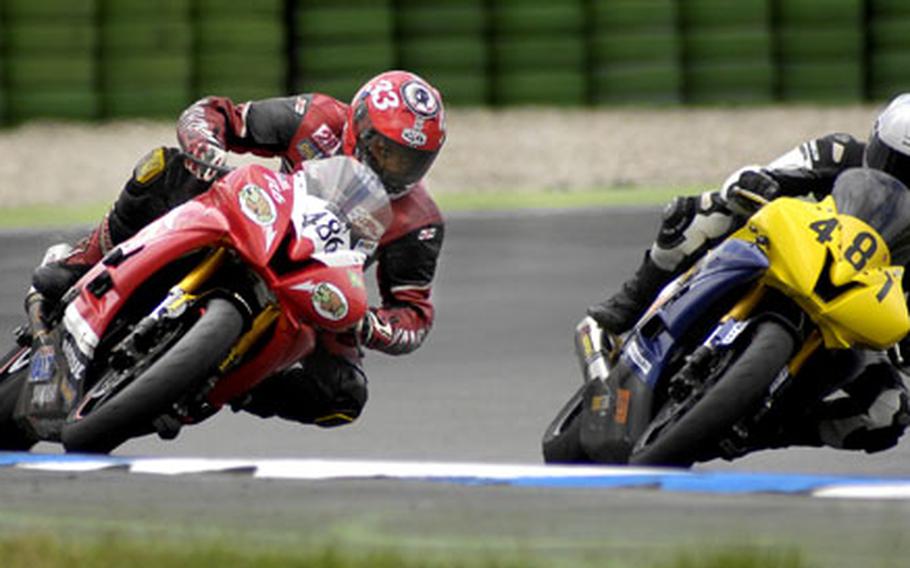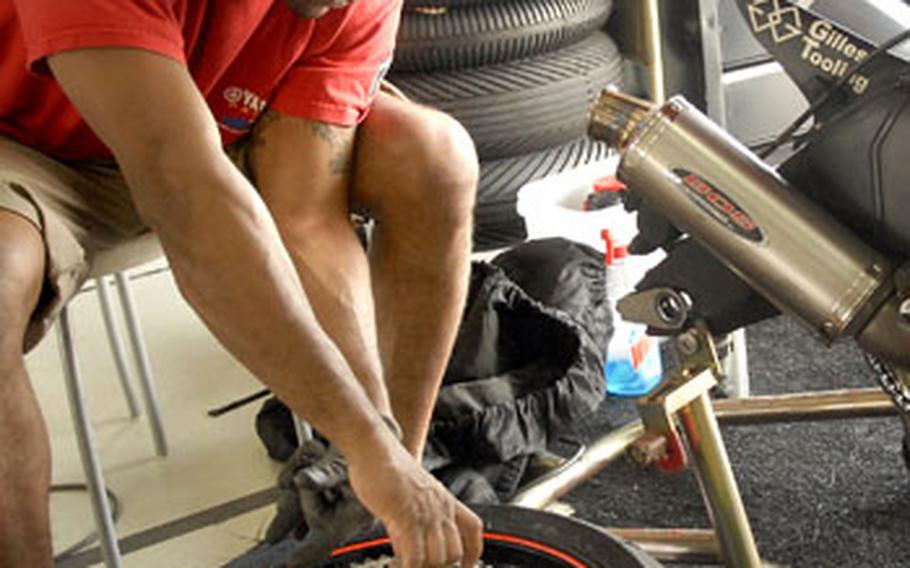 HOCKENHEIM, Germany — By the standards of one of the three Americans who raced Saturday in the Seriensport Challenge for motorcycles, two of them enjoyed good days.
"It's always good to finish without a big repair bill," said second-year racer Vincent Armstrong of Stuttgart, who steered his Honda CBR 600 RR to 27th place among the 43 riders who started the 12-lap race for 600cc machines. "That's a good day."
By Armstrong's measure, Stuttgart's Maurice Evans also had a good day. By any other measure, however, he had a very good day, winning a last-lap duel in the same race to reclaim the fourth-place position he held the first three laps on Hockenheim's 4.5-kilometer layout.
Evans, on a Yamaha YZF-R6, completed the race in 22 minutes, 49.175 seconds, just over 10 seconds behind the winning time of Kevin Kemink, who rode the same style bike.
"That's the fastest I've ever gone here," Evans enthused after the race. "I saw those lap times, and when I saw 1:52, I thought, 'Whoa!' "
Evans posted a fastest lap of 1:52.441, but fell back as far as seventh about halfway through the race. Two of the leaders fell, however, and Evans, who maintained contact with the riders who had passed him, regained fourth on the final lap around Hockenheim's challenging Sachs Kurve.
The Sachs Kurve is a hard right turn into a left-bending hairpin curve which ends in a hard right turn back to the home stretch. Evans passed Tilo Häfele at the bottom of the hairpin by throwing caution to the wind.
"I knew he was going to go inside," Evans said. "I decided to take him on the outside. I knew if I could get him, I could hold him off, and I was able to hold my line as I went by him."
Evans made no excuses for the places he picked up when two riders ahead of him fell.
"It's a shame they fell," he said, "but that's racing. When you're going all-out, that can happen."
Evans said he, too, was asking his bike for everything it had in spite of the fact that he'll be calling on it to go 500 kilometers in Sunday's endurance race.
"I always go all-out," said the retired airman who is now a contract worker in Stuttgart. "The gas light and the oil light came on today, but I decided to keep going. If I can keep going, so should the bike. It's a lot younger than I am."
Evans, who placed second earlier this season in a 1,000-kilometer endurance race here, was non-committal when asked about a preference between Saturday's sprint and Sunday's enduro.
"Ask me tomorrow," he said.
Mannheim rider Sean O'Connor was the American who missed having a good day when he ran his Ducati 999 into the back of a slow rider on a high-speed turn in a sprint for 1100cc machines.
"It's a tight turn and there's no place to go," Evans said of the incident. "The other rider had no business going that slow there."
O'Connor ran up a repair bill, but was able to help remove his machine from the track and returned to the pit area after seeing trackside medics.
"That's the difference between racing and riding on the road," Evans observed. "His equipment — his helmet, leathers — worked the way it was supposed to. On the road, there are trucks and guardrails. It'd have been a lot worse."
---
---
---
---