Motivating team in face of mismatch tough for coaches
by
Dave Ornauer
October 24, 2003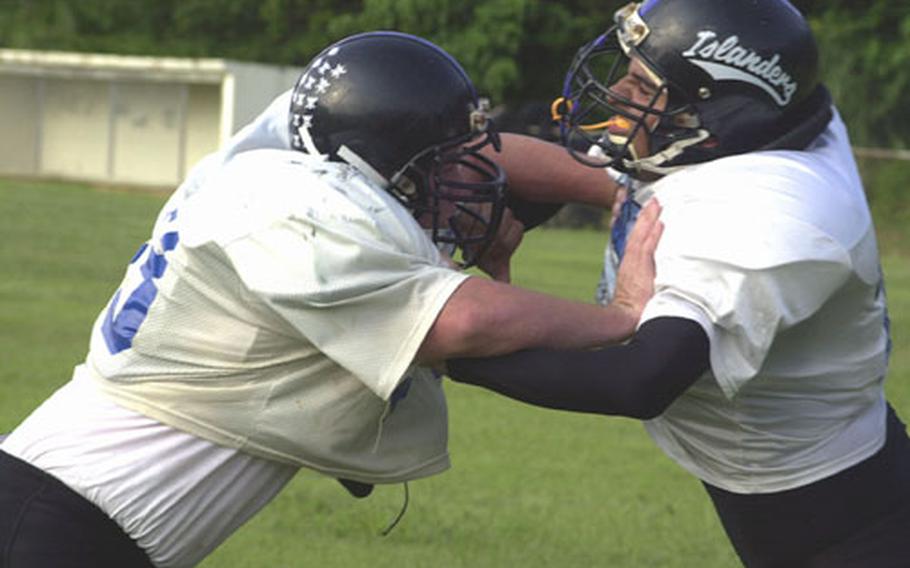 Faced with an opponent that his team had beaten by a wide margin, what does a coach do to keep his squad motivated, knowing they have the upper hand from kickoff to final gun?
Likewise, preparing for a foe that turned his team into mulch in their previous meeting, how does a coach get his team to believe they have something besides pride to play for?
These questions have been asked by coaches from Misawa to Mangilao this season. Of the 39 games played this season, seven have ended in single-digit margins. Seventeen were shutouts.
This weekend's schedule could produce more of the same:
• Kadena's Islanders blanked the Kubasaki Samurai 38-0 on Sept. 26, and the Kubasaki Shogun suffered a 36-0 shellacking from the Kadena Buccaneers on Oct. 3.• Nile C. Kinnick travels to face a Matthew C. Perry team it defeated 32-0 Sept. 20. Zama American visits a Robert D. Edgren team it shut out 53-0 the same day. Yokota, riding a 35-game on-field winning streak, travels to the American School In Japan, which it defeated 45-3 on Sept. 19.• And in Korea, Seoul American entertains a Taegu American team it vanquished 59-6 on Oct. 4.• From the season's start, Islanders coach Sergio Mendoza tried an experiment with his players after a 6-0 victory over the Buccaneers.
"I showed them the scoreboard. I wanted them to see it go off," Mendoza said. "The message I wanted them to receive was that this game was over and we need to work on the next one.
"We emphasize that we play every down as if the score was 0-0. We don't celebrate. It doesn't matter whether it's a good team or a bad team."
The need for such urgency, Mendoza said, even for a team that's 4-0 and has outscored opponents 103-0, is clear. Constant work and improvement could mean a berth in the Rising Sun Bowl Nov. 15 on Okinawa.
"Even at 4-0, we still see things we need to work on," he said. "Success has nothing to do with the scoreboard. We don't feel like we've played a game in which we've clicked on all cylinders. We need to work on technique and execution. Practices at 4-0 have to be harder than at 0-4 to maintain that excellence."
"The ultimate prize is the island championship game" Nov. 8 "and the Rising Sun Bowl," added Buccaneers coach Brian Wetherington. "You try to teach them to play each game one at a time. You can't slip up. You have to work hard in practice every day."
Still, keeping all team members focused in that manner "is pretty tough," said one Islanders captain, junior lineman Cole Maxey. Losing focus "happens a little bit, but we try to focus on that opponent in front of us. Right after that game, the score is 0-0 again and we have to gear up for that next game."
The same sort of attitude must be infused in the battered underdogs to keep them going in the face of a whopping deficit, said Shogun coach Charles Burns.
During halftime talks, he says, he tells his players that "we have to get something positive out of this, put the first half behind us, we can't do anything about that. That's in the past. And don't give up."
Taking one-sided beatings are all part of what Burns calls team building.
"Life isn't going to deal you a good hand every time," he said. "It's been a long season. Losing makes those little things stand out, being tired, injuries and such. When you're winning, you don't notice them as much."
Keeping winning teams' eyes focused on the prize, and giving losing teams reasons to believe, aren't the only reasons coaches worry about one-sided contests; safety also comes into play.
While victors sometimes can slow down and relax because the pressure's off, the vanquished might play at half-speed because they're tired or discouraged.
"When you relax, that's about the time you get hurt," said Seoul American offensive coordinator LaRoy Slaughter.
And teams always can do things to become better, Wetherington said. In their 55-8 rout of the Samurai last Friday, the Buccaneers turned the ball over twice and committed eight penalties for 90 yards.
"We have to work on fundamentals on both sides of the ball," Wetherington said. "I've never seen a perfect game of football. There's always things you have to work on. There's always room for improvement."
---
---
---