DODDS-Europe volleyball
Most favorites support seeding on opening day
by
Rusty Bryan
November 3, 2011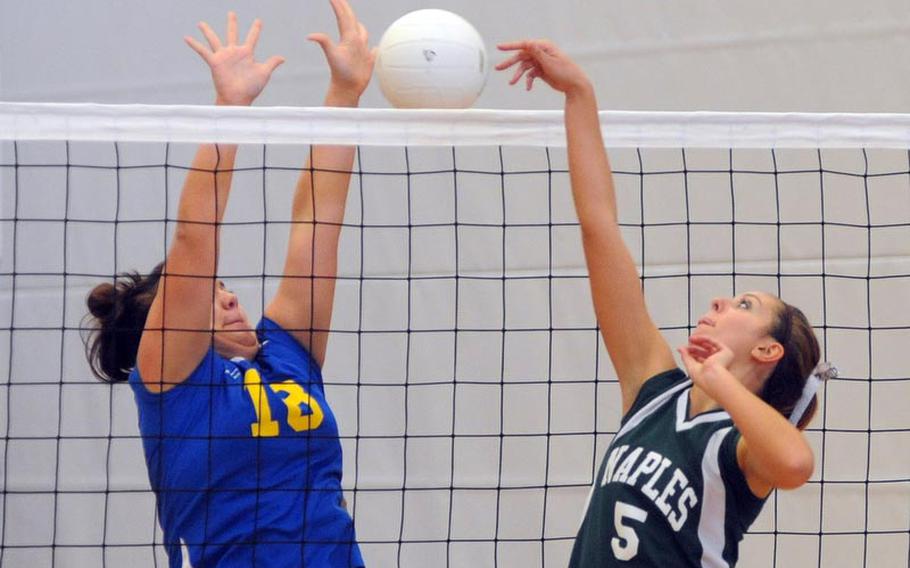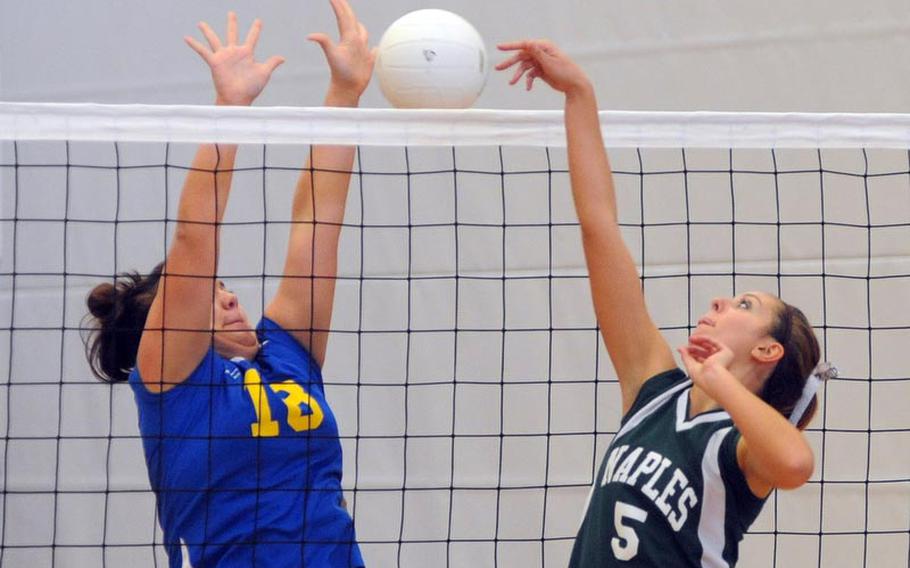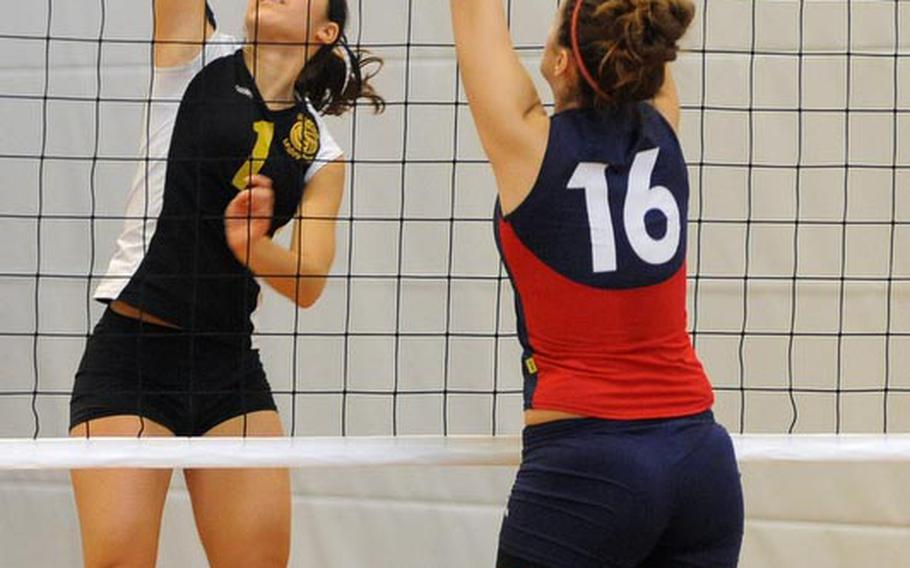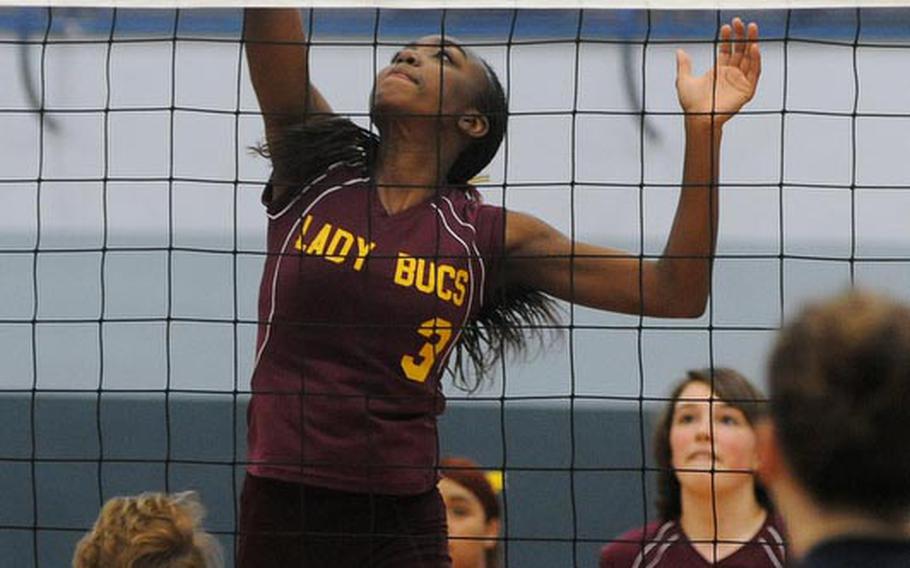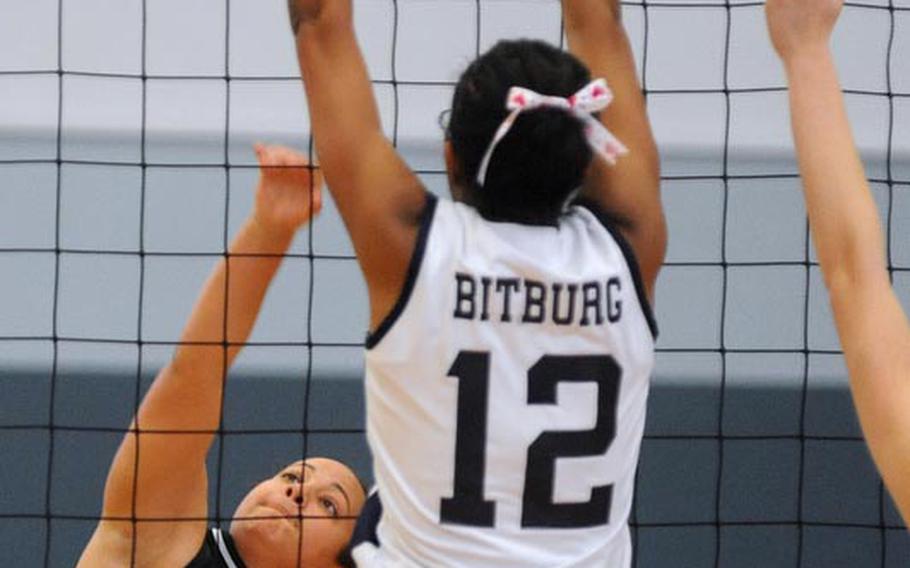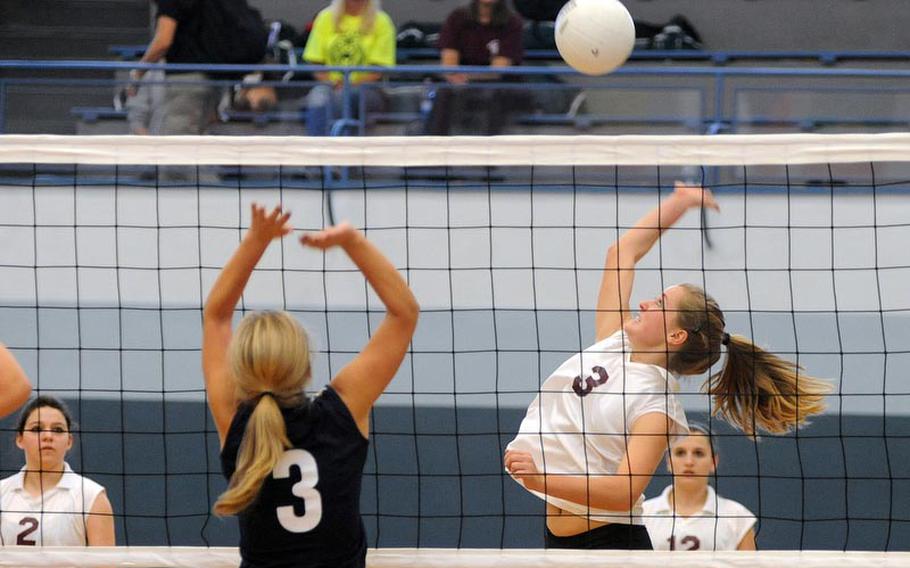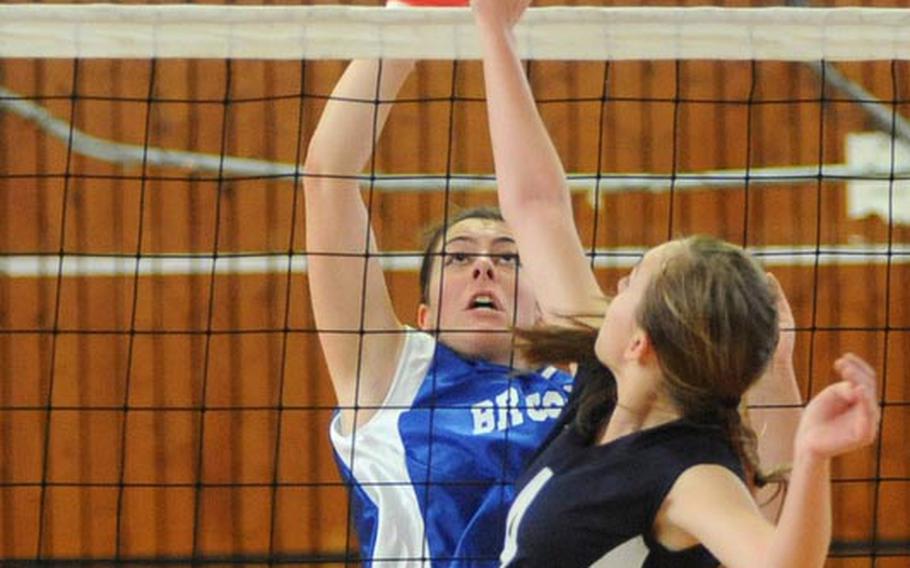 KAISERSALUTERN, Germany – Eight hundred-fifty miles from home, the Vicenza Lady Cougars found the terrain here more than familiar Thursday on Day 1 of the 2011 DODDS-Europe volleyball championships.
Vicenza, seeded third in its pool, posted straight-sets victories over American Schools in Italy League rivals Aviano, No. 1 in the pool, and Marymount International School of Rome in their morning pool-play openers of the Division II event.
"It helped playing teams we knew," said Vicenza senior Danielle Ellis after her team completed a sweep of the two American Schools in Italy League teams they'll face in the pool-play portion of this three-day, three division event which ends Saturday at the Ramstein Southside gym. "We knew their spots. It helped us get comfortable."
Vicenza, which split two matches with Aviano during the regular season, dispatched its neighborhood rival 25-21, 25-20 in their opening match, then came back to subdue the Marymount Lady Royals, a team they beat twice during the season, 25-13, 25-20.
Vicenza was to face two-time defending champ Black Forest Academy and pool No. 2 Bitburg later in the day, and Ellis and her teammates hoped to ride the key to victory over Aviano to the pool's top berth in Friday's semifinals.
"We played together as a team," Ellis said. "We really talked to each other."
Aviano was the only high seed to stumble in the early going. Naples, the ASIL champions seeded No. 1 in the other D-II pool, posted straight-sets victories over Ansbach and the American Overseas School of Rome in its openers.
In Division I, a round-robin event, No. 1 Heidelberg walloped Kaiserslautern 25-12, 25-12 and then was extended to three sets by No. 5 SHAPE, 22-25, 25-19, 25-17.
Heidelberg's All-Europe duo led the way. Senior Allison Gunsch totaled 20 kills in the twin-killing, 12 of them against SHAPE, and Rebecca Luna handed out 42 assists, 27 of them, along with two kills, against the Lady Spartans.
Heidelberg, unbeaten so far this season, also benefited against SHAPE from 13 kills and two aces supplied by junior Emma Roberts, who brought her game with her to Heidelberg when Mannheim shuttered its doors last June.
Ramstein, the No. 2 seed in D-I, had the most impressive opening of the big schools, posting straight-sets victories over 2010 runner-up Wiesbaden, Lakenheath and Kaiserserlautern.
Top-seeded defending champ Rota flexed its muscles in the early going of the Division III pool-play event, thumping Ankara 25-4, 25-12 and Sigonella 25-11, 25-9.
Although the overall game of sophomore All-European Aspen Luna, especially her jump-serve, monopolizes the spectators' attention, Luna seamlessly blended her exceptional talents into a harmonious team performance Thursday morning.
"We know we're a good team," said senior Gabriela Rivera, "but we try to stay humble. We know we have to concentrate."
In the other D-III pool, pool No. 1 International School of Florence downed Menwith Hill, the 2010 D-III runner-up, Lajes and Incirlik in straight sets to all but clinch the pool championship.
Play in all three tourneys continues today, beginning at 8:30 a.m. at the Vogelweh and Kaiserslautern High School gyms on Vogelweh, and at 9 a.m. at the Ramstein Southside gym.
A Division III quarterfinal quadruple header is scheduled to get under way at 11 a.m.. The D-III schools then play their semifinals on the same floor at 3 p.m., with the Division II semis to follow at 6:30 p.m.
Saturday's championship games, also at Ramstein Southside, are scheduled to be played consecutively in III-II-I order beginning at 11 a.m.
---
---
---