Far East volleyball
Morrison, Kinnick upend defending champs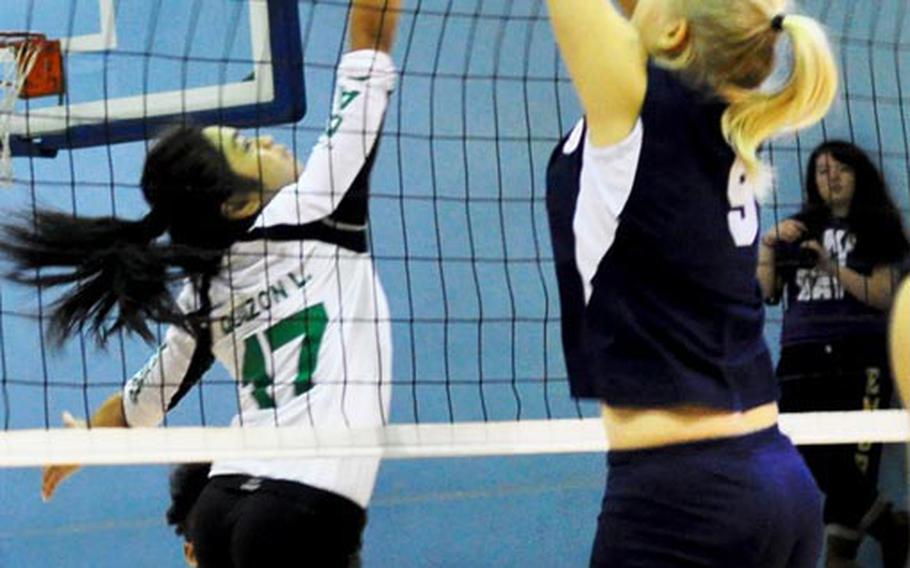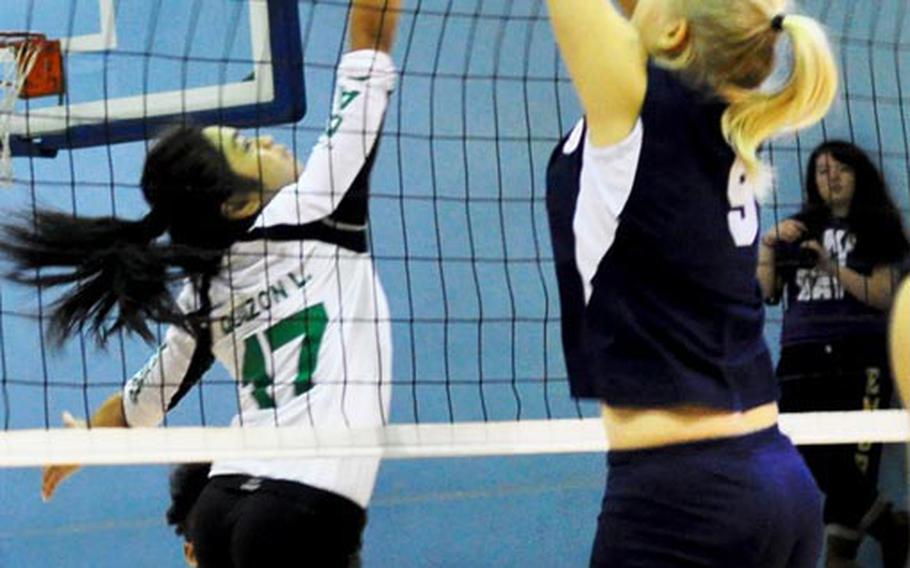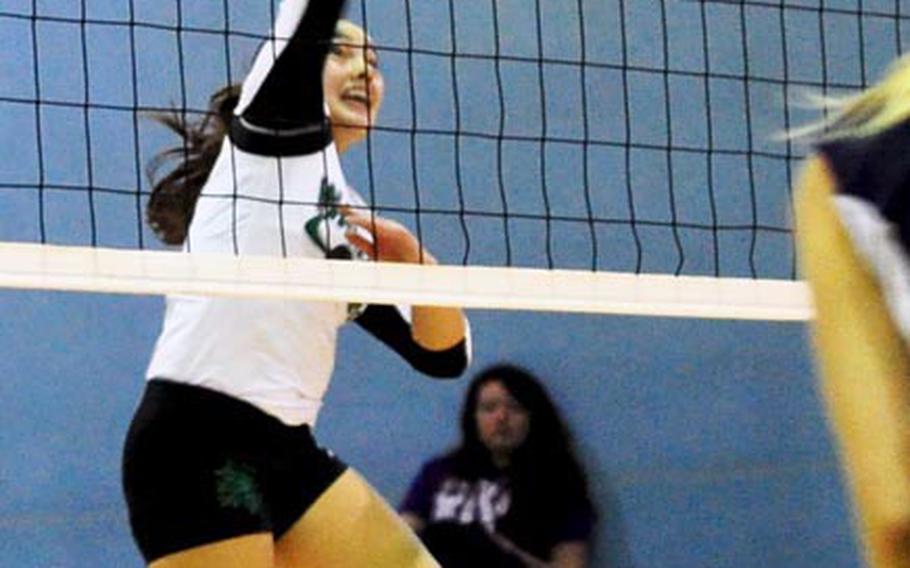 They'd had enough, Lauren Van Singel said, of playing second fiddle in the Far East High School Girls Division II Volleyball Tournament – four straight years of it, in fact.
So, the senior middle blocker and her Morrison Academy teammates of Taiwan did something about it Friday. They came out of the loser's bracket to dethrone defending champion Daegu High in a two-match final, winning 25-14, 25-19, 26-28, 25-22 and 25-12, 25-20, 22-25, 25-23.
"We've been waiting for this for so many years," said Van Singel, whose Mustangs had lost in 2007 and '08 to Osan American and 2009 and last year to Daegu. "It feels so good. I'm so happy."
"The seniors who hadn't won a Far East tournament, they're so shocked. It feels like a dream for them," said sophomore Diean Manu, who served two straight aces to seal the match.
It was not a good day for defending champions of both volleyball divisions. Seoul American, which won its only Division I title last year, fell in straight sets to Nile C. Kinnick in Friday's semifinals.
"We just didn't finish," said coach Joanna Wyche of a Warriors team that fell short in its bid for a third straight title. "I told the girls, nothing's going to be handed to you. They're not going to want to place second again. They took advantage of every opportunity."
The two matches pretty much mirrored one another in that Morrison, which last won the tournament in 2006, started strong, only to have the Warriors snatch the third set before the Mustangs prevailed.
Things looked bleak for Morrison in the fourth set of the second match, when Daegu raced to a 16-7 lead. But Van Singel and Karen Yates kept chipping away at the lead until a Van Single spike kill tied it 23-23.
"We got together and told ourselves that we worked so hard, that this was our year," Van Singel said.
Manu admitted to nerves when she stepped to the service line at 23-23. "I thought we were going to lose that set. I kept reminding myself to take it one point at a time and block out the noise," she said.
"They came to play," Wyche said. "Awesome players, awesome coaches, an outstanding group of winners."
At Seoul American's Falcon Gym, middle blockers Emily Stith and Mashiya McKinney combined for 29 spike kills and Jerimae Capuyan had a school-record 39 assists as the Red Devils reached the Division I final for the first time in school history, beating the Falcons 25-17, 25-18, 29-27.
"Finally," Kinnick's fifth-year coach Al Garrido said. "Surreal. It feels very surreal. My girls, they're a blue-collar team. They just work, work, work and work. If they win, it's because of work. If they lose, it's because the other team played better than them."
Kinnick faces American School In Japan, which has beaten the Red Devils twice this season, in Saturday's gold-medal match at Falcon Gym. "We'll see if it (work) makes a difference tomorrow," said Garrido, a two-time Far East tournament-winning coach with Southern of Guam.
---
---
---