Misawa reaches third straight Torii Bowl
by
Dave Ornauer
September 4, 2006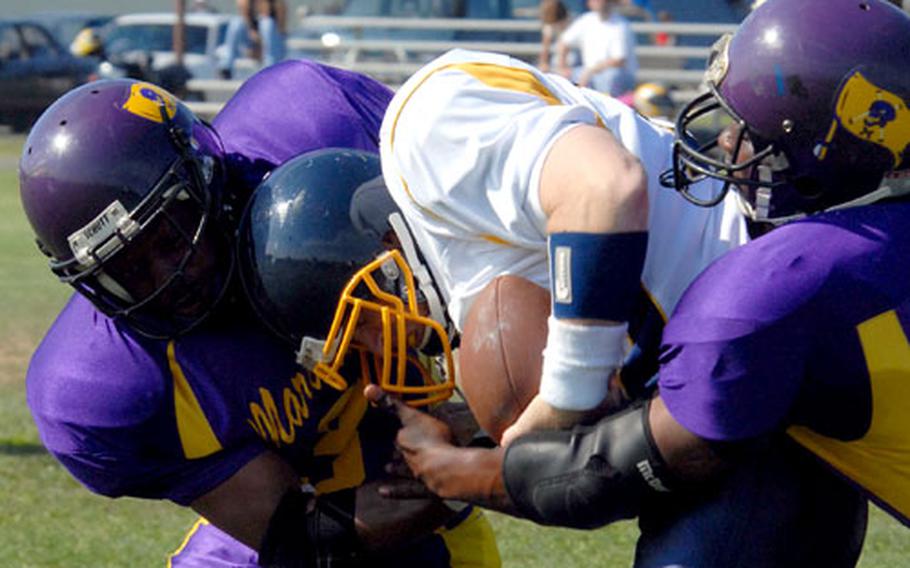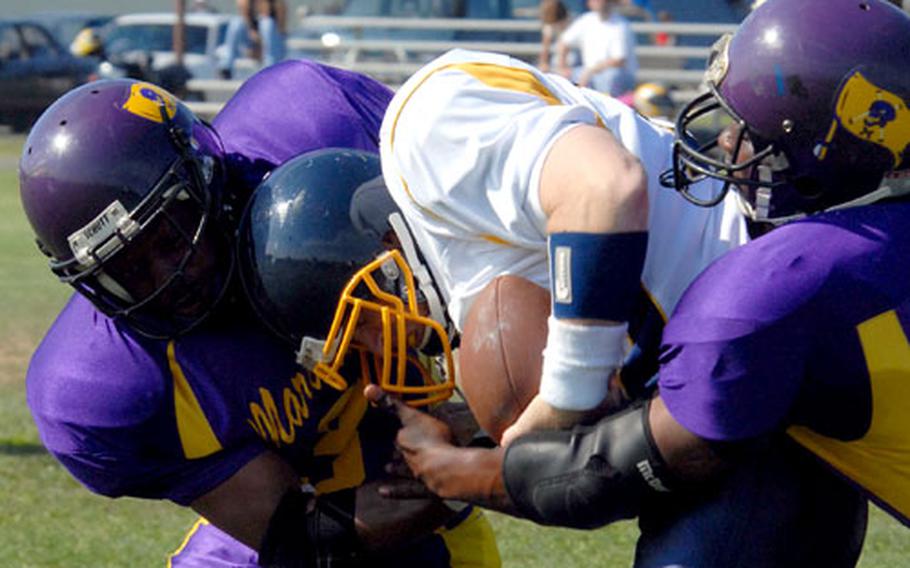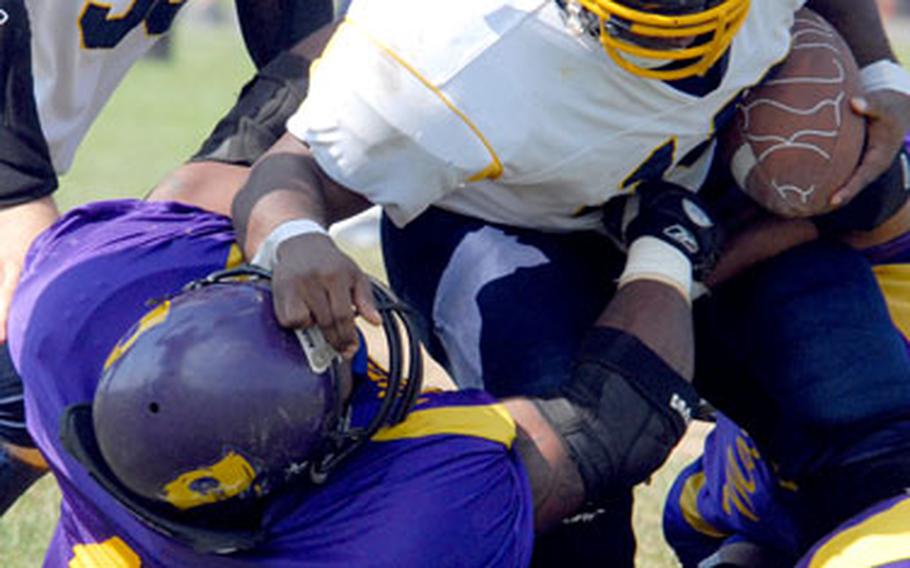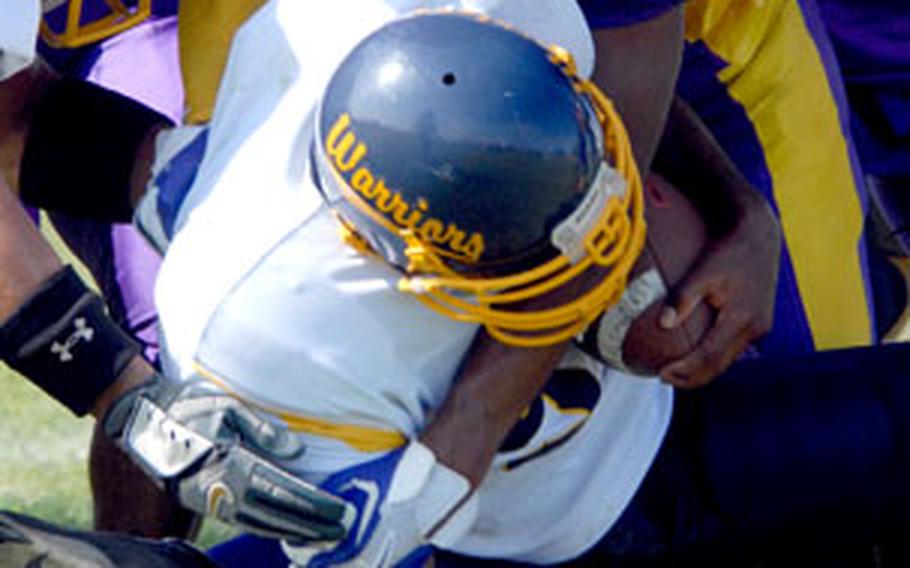 MISAWA AIR BASE, Japan — Thanks to a stingy defense and running back Jamey Crawford's nose for the end zone, the Misawa Marauders returned to the U.S. Forces Japan-American Football League championship game for the third straight year with a 13-0 semifinal victory over Yokota at Marauders Field.
Crawford, the reigning league MVP, racked up 189 yards on 19 carries — including 10- and 35-yard touchdown runs — and the Marauders' defense slammed the door on Yokota. Misawa forced three turnovers and held Yokota to 98 yards.
"It feels great," Misawa coach Dwight Abel said of his team again reaching the Torii Bowl, which they won in 2005 over Yokota but lost in 2004 to the Yokosuka Seahawks.
It's to Seahawks turf that Misawa will travel Saturday. The victory over Yokota, Abel said, prepared his team for the Torii Bowl as no other game could have.
"We hadn't played in a month," he said.
"Yokota knocked the rust off. We needed a good, tight game and they gave it to us."
Misawa also enjoyed a measure of revenge for its 8-6 season-opening loss on June 3 to Yokota — after which the Warriors' players and coaching staff ran up a small knoll near the field, considered sacred ground for the Marauders, who do everything from calisthenics to postgame celebrations on "the hill."
"That was the game we had hoped to have," Abel said, as the team made its way to "the hill" for a long-awaited victory dance. "We're ecstatic."
Saturday's game began as a defensive struggle, with each team misfiring on two trips to the opposing team's side of the field — Yokota reaching the Misawa 1-yard line before the Marauders stuffed Warriors running back John Knight for no gain on fourth-and-goal.
Crawford finally broke the scoreless tie with 8:06 left in the third quarter. After taking a handoff from quarterback Fred Ellis and seeing no hole, Crawford bounced outside left and veered toward the corner, just getting inside the pylon. Robert Baer's extra point made it 7-0.
Crawford capped the scoring with 2:21 left. Again seeing the tackle gap closed, he rambled around the right corner, outracing Yokota's secondary to the end zone. Misawa didn't convert but the damage was done.
"An outstanding athlete," Abel said of Crawford.
"He's the reigning MVP and I foresee him being this year's MVP. He and fullback Mat Hildreth, those guys give me 110 percent."
Ellis went 8-for-18 for 129 yards, Jon Hall caught two passes for 43 yards and Crawford two for 17. LeRoy Moody recovered a fumble and recorded a sack, Cornelius Walker bagged an interception, Direck Sorrell a fumble recovery and Ian Evans a sack.
Yokota's season ended bitterly at Misawa for the second straight year. The Warriors brought just 22 players, some playing through illness and injury. Knight led Yokota with 63 yards on nine carries.
"Too many missed opportunities," said Yokota coach Chris Bell, who missed half the contest due to a stomach flu. "We got out of our game in the fourth quarter. We got impatient."
Still, Bell expressed pride in his troops. "We rode up here for 9½ hours with 22 guys who put up a good fight. Misawa is a solid team. … If they take that team to Yokosuka and click on all cylinders, they'll win that game."
Misawa 13, Yokota 0
At Misawa Air Base, Japan
Yokota 0 0 0 0 — 0
Misawa 0 0 7 6 — 13
Third quarter
Misawa-Jamey Crawford 10 run (Robert Baer kick), 7-0, 3:54
Fourth quarter
Misawa-Jamey Crawford 35 run (kick failed), 9:39
Yokota Misawa
First downs 3 17
Rushes-yards 20-73 37-213
Passing yards 25 129
Comp.-Att.-Int 4-16-1 8-19-0
Total offense 36-98 56-342
Returns-yards 4-80 2-39
Total yards 178 381
Fumbles-lost 4-2 2-0
Sacks-yards lost 2-20 1-11
Penalties-yards lost 10-60 8-50
Individual statistics
Rushing: Yokota, John Knight 9-63, Kevin Hill 6-19, Jay McNulty 5-(minus-9). Misawa, Jamey Crawford 19-189, Mat Hildreth 12-33, Adrian Outlaw 1-1, Fred Ellis 5-(minus-10).
Passing: Yokota, Jay McNulty 4-16-1-25. Misawa, Fred Ellis 8-18-0-129, Robert Baer 0-1-0-0.
Receiving: Yokota, Bruce Turner 2-19, Ronald Carmichael 1-6. Misawa, Jon Hall 2-43, Jamey Crawford 2-17, Kedrick Monson 1-35, Robert Yaus 1-14, Josh Dinger 1-11, Clarence Carey 1-9.
USFJ-AFL playoffs
Semifinals
Saturday, Aug. 19
Yokota at Misawa, ppd., transportation problems.
Saturday, Aug. 26
Yokosuka 18, Atsugi 0
Saturday, Sept. 2
Misawa 13, Yokota 0
Torii Bowl
Saturday, Sept. 9
Misawa at Yokosuka, 6 p.m.