Misawa pummeled by X-League team in Marine Bowl
by
Dave Ornauer
May 5, 2003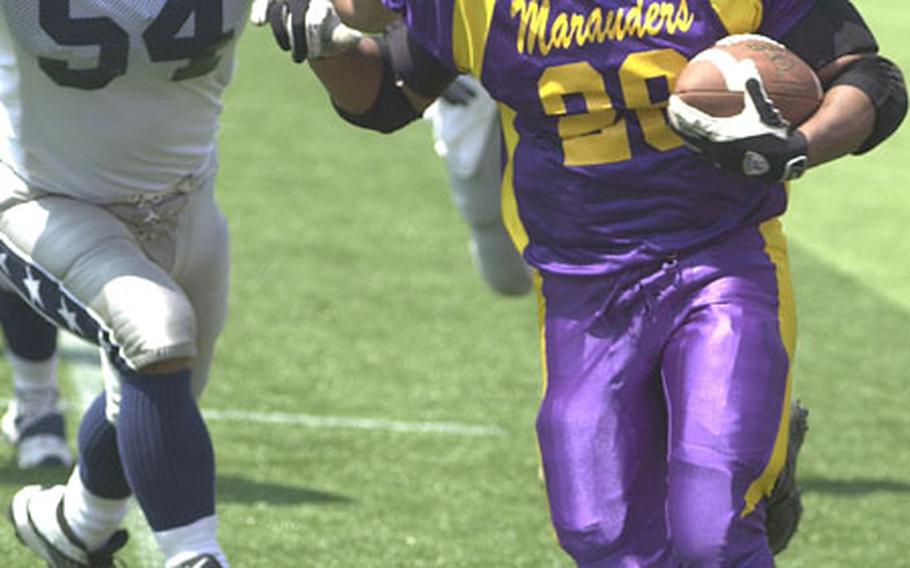 YOKOHAMA, Japan — The Misawa Marauders endured a bus ride of nearly six hours through Golden Week traffic on Saturday to get from Yokota Air Base to Yokohama Stadium.
What followed on a scorchingly sunny afternoon was even more devastating, as the Marauders, last season's runners-up in the U.S. Forces Japan-American Football League, were pounded 56-12 by the Asahi Silver Star, a semi-pro team in Japan's corporate X-League.
The rout in what the Japanese billed as the Marine Bowl marked the fourth time since 1999 that a USFJ-AFL team was shelled by an X-League power.
• Japan's national team, composed of X-League all-stars, beat the Yokosuka Seahawks 84-0 in May 1999 at Yokohama. Japan went on to win the World Cup of American Football.
• In June 2000, Asahi beat the Atsugi White Dolphins 56-6.
• And in the 2001 Marine Bowl a team composed of Seahawks, White Dolphins and Yokota Raiders fell 35-0 to Asahi.
Statistically, the teams weren't far apart. Asahi amassed 332 yards on 42 plays and Misawa 310 on 36.
But the long drive to Yokohama — which began at 5:30 a.m. from Yokota after a day-long drive from Misawa on Friday — coupled with Asahi's skilled blocking and better field position, spelled doom.
"Their linemen are so aware of their blocking assignments," John Hemphill, Misawa's first-year head coach, said. "They take very good angles, they double-team well to the linebackers. If you're just standing in there toe-to-toe with them, they'll eat you alive. You have to stunt and blitz them. A very sound, fundamental line."
Asahi scored the first four times it had the ball, never started inside its own 32-yard line and began six drives in Misawa territory, producing points each time.
Misawa never began a drive outside its 30, turned the ball over twice, was sacked six times and penalized seven times for 55 yards. Asahi suffered two turnovers, punted just once and was never flagged.
The only bright spot for the Marauders was three-time all-USFJ-AFL receiver Terry Lang. The multi-purpose star ran for 19 yards on his only carry, had two returns for 33 yards and caught touchdown passes on fly patterns covering 93 and 88 yards.
"I told them to throw it up there. Jump ball every time," said Lang, who finished with four catches for 207 yards. "They're only about this tall," he added, pointing to his chest while referring to Asahi's defensive backs.
"He can pick 'em up and put 'em down," Hemphill said of Lang, who doubles as a safety. "He has such knowledge of the game, from the safety and wide receiver point of view. He can exploit coverage and is extremely fast."
It was far from enough, however, to slow the Asahi attack, an assault not unexpected, according to a veteran of USFJ-AFL and X-League football.
"It's their job to play football," said Robert Sloan, a civilian counselor at U.S. Naval Hospital Yokosuka who led the Seahawks to the 2001 USFJ-AFL title as a quarterback before joining the X-League's Renown last summer.
Sloan has since moved to Fuji Xerox of the X-League's second division. His team played the second of two scheduled Marine Bowl games Saturday, and he observed much of the Misawa-Asahi contest.
"These teams get the very best of the best university players, they have fiscal support, they're managed and coached very well," he said. "It's all about execution. They don't tolerate mistakes. You can lose your position over one dropped pass.
"The USFJ-AFL has a lot of raw talent but it's not harnessed, and a lot of it is because the guys are busy with their jobs. They have such a hodgepodge of players and they have to spend a lot of time learning technique, instead of strategy and tactics. It's a year-to-year thing."
Despite the lopsided outcome, Hemphill found positives, such as an ability to pass.
"We found a strong point," said Hemphill, whose passing attack was led by Herman Coleman (5-for-8, 132 yards) and Cullen Gazda (1-for-2, 88 yards). "We're going to put some emphasis on that in practice, to help keep them [opponents] honest, instead of them ganging eight or nine men in the box."
He called the Marine Bowl "very good preparation" for the USFJ-AFL season, which opens May 24.